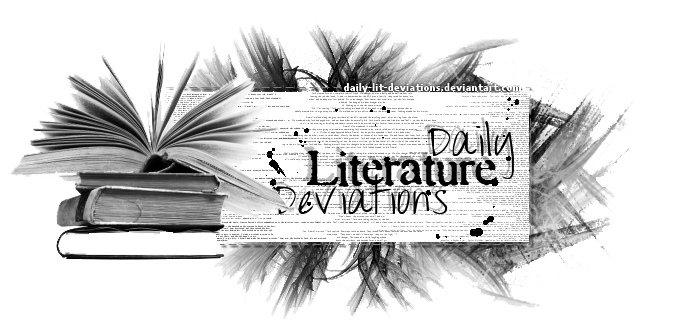 Guidelines
|
How to Suggest a DLD
|
Group Administrators
|
Affiliation
|
Chatroom
|
Current Staff Openings
Saturday Spotlight for January 12th, 2013
Daily Literature Deviations is proud to feature this special recognition article!
You can show your support by

ing this News Article. We hope this gives you some insight into the person behind the art. Please comment and

the features and congratulate the artist!
Artists will be featured in a special news article every Saturday. Major points to
SilverInkblot
and
DrippingWords
for doing the hard work and research that goes into these articles!
Today's featured deviant is:

dwkeiko
!

Questions
1. Tell us a bit about yourself and your writing.
My name is Dominique Weldon, lover of literature. I've been writing since I was a child and has always loved it. I try to write about a little of everything, but what really interests me is horror and paranormal. I can only name a few things that are more amazing than the chill from a good piece of writing. I used to consider myself as a prose writer; however, I've recently gained interest in poetry as well, so I don't completely fall into either category.
2. How do you feel about dA as a literature community?
Even though I've had a deviantart account for a while now, I haven't used it at all until now. That's why I've just learned about how wonderful the writers on dA are. There are plenty of work shopping groups, which are full of serious and talented writers. I love how support is always offered, critiques can be given and basically, seeing their work inspires me to improve my own writing!
3. Have you ever written a piece that was "difficult?" Whether because it wasn't ready to be written or something too personal to write about? How do you deal with writing something like that?
Actually, both of those things have happened to me. At the moment, I'm writing a zombie-like apocalypse story and it has come with great difficulty. The problem with this piece is trying to find something new and original with it, for the idea has been done so many times.
Another instance where I've stumbled across difficulty in writing would was when I wrote my heartbreak and healing novel. I based most of it off of a current breakup and I wasn't ready to tear open unhealed wounds. It wasn't the right time, which is why I took a break and came back to it months later. That way, I looked at it not as a diary entry, but as a novel.
4. What is your writing process like?
Well, it has definitely changed over the years. Not too long ago, I used to jump into a novel after having the idea for only a few days. I would develop the characters, setting and plot as I went along.
Now, I realize that my old strategy had a few flaws. If I'm starting a new project today, first I write down a quick overview of the entire story, going over the characters, setting and plot. After that, I jump into heavy character development, getting down their personality, dreams, hobbies and everything in between. Lastly, I write down every chapter in the story and write down a few sentences that cover what it's about; although, that's always prone to change, but that way, I avoid the dreaded writer's block.
5. What themes do you like to incorporate in your writing?
A couple of them reoccur in my writing every now and then. It's never planned, considering I don't think about the theme until after the first draft is finished. One that's appeared in several of my works is "Friendship and Love Conquers." After all, who doesn't enjoy a good love story. I'm a sucker for writing those kind of novels. Another one that I really enjoy writing is the theme that could be labeled as "Falling from Grace," where a character acts as only God should. It's so much fun to create characters with that kind of mentality and power. The story really takes off on its own.
Poetry

Life of a WriterIronic, isn't it,
creating worlds with only pen tip,
lives spun from fragile mind?
Being a writer
is the burden nobody grasps.
Breathing life into human beings,
faith in palm's hands.
They face challenges,
live lives,
follow dreams.
Mock, call us simple,
but try, carry this burden,
world's weight upon shoulders.
Until that day,do not
mock the life of a writer.
"Life of a Writer" by
dwkeiko
"Sticks and Stones" by
dwkeiko
Prose

Cold ProseWhite crystals fell from the sky, landing before her boots. They melted into warm water when brushed against her skin. It filled the night with beauty, a beauty uncomparable with the moon high above her head.
She sat on the park bench, surrounded by pure elegance. The hour grew late, and she knew the time to depart passed hours ago. Not that it mattered anymore, nobody would be looking for her. After it was all said and done, she'd leave the park alone, returning without a single soul's company.
Snow's companionship left behind that needed comfort. Their alluring charm lightened her heart, but the bitterness stung fingertips. They made her remember that she was alive.
She had a job to waste countless hours on, acquaintances to force smiles upon and bills to throw money at. Still, all of those things couldn't compare to what she had to do next. She would return to an empty apartment, a desolate bed to sleep in tonight.
The moon held her interest one last time, a glass orb in the sky. Sh
"Cold Prose" by
dwkeiko

Sliced

Blood, bright as cherries, traveled down my arm.
The incision was quick. The knife barely broke the surface but the damage showed. Though the small bathroom huddled in a blanket of darkness, the liquid shined bright, dancing.  Drops stained the floor by my feet. Seconds later I was sitting in it.
The cut, so delicate, hardly stung. The knobs of the sink's bottom cabinet did more damage, digging into my back. The knife's sting was what I needed. It's the proof that I finally have control over something in my life.
Why don't you keep your mouth shut, girl?
Do something good with your life and disappear?
A strangled cry rose to my lips, but I held it back. Crying showed weakness, and I couldn't afford that anymore. I was done.
The knife pulled back from my wrist, leaving behind a stain of red-- only for show. This next one is what counts, it's my final act. Everyone will finally understand what they've done. After all these years of torture they'll get what's coming to them. I'll show the
"Sliced" by
dwkeiko
For more information, including how to suggest a Deviation to be featured, please visit us at
DailyLitDeviations
.
Thanks so much for supporting the lit community and this special feature project!
~ The
DailyLitDeviations
Team ~
Prepared by: DrippingWords