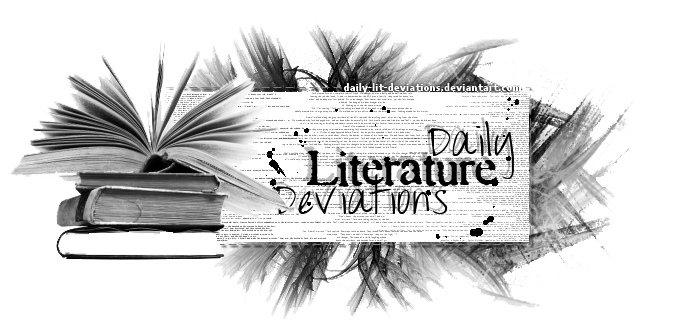 Guidelines
|
How to Suggest a DLD
|
Group Administrators
|
Affiliation
|
Chatroom
|
Current Staff Openings
Saturday Spotlight for October 6th, 2012
Daily Literature Deviations is proud to feature this special recognition article!
You can show your support by

ing this News Article. We hope this gives you some insight into the person behind the art. Please comment and

the features and congratulate the artist!
Artists will be featured in a special news article every Saturday. Major points to
SilverInkblot
and
lion-essrampant
for doing the hard work and research that goes into these articles!
Today's featured deviant is:

a-secret-key
!

Questions
1. Tell us a bit about yourself and your writing.
To me, writing is synonymous with escapism. Where I come from [N. Ireland], the world is steeped in stories. Not only old tales: modern legends can be created constantly from very small events as long as the right person is telling the story. In the same way, warnings to children are told as superstitions. As a child, the whole world seemed very magical, except the bits of it that I saw firsthand: so consequently I translated everything around me into a grand saga that I'd write in my head or act out with imaginary friends. This was me beginning to write, and I did it as an act of rebellion. Some people need to write to function, but I write not to function: to indulge in a world where there is always more than what we see.
This has bled into my poetry, and as a result I have two themes which I always include in my writing: the mystical, old or romantic and the raw, harsh or real. These themes can take the form of sounds, images or ideas, but they are always present. The dream world and the real one, at war.
2. How do you feel about dA as a literature community?
dA is really wonderful as a literature community. The instant connection with so many readers and other writers is something I value an awful lot- there is no support network offline that compares, especially when you begin to write and you're quite shy about it.
Getting comments and feedback within a short space of posting is something that I love, because I'm a huge sucker for instant gratification. It's really difficult to get criticism offline, and even if you publish something, it's not like you have a connection or a username right in front of you that says somebody has read this. It's nice to see it out there. I find I need that motivation.
Groups like feature like DLD does are brilliant. Before dA I hadn't read any modern poetry, because it is kind of closed off when you're young and broke and not that interested, but as I built up my watch list I found all kinds of styles and writers I would never have glimpsed if it were not for dA.
People complain that the literature community on here is somewhat neglected, but I really can't say anything bad about it, because it taught me to write.
3. What is your writing process like?
Most of the time I begin with an image, or a phrase that pops into my head. Sometimes it's even just a word. I'll keep that or jot it down in my phone memo pad and then I'll work from there. It's more like uncovering a poem. I have no idea what I'm writing about until I've written the first draft. Then I run through it again with a focus, a structure: after that it's just nitpicking phrases and words until I feel content. I go through it line by line, or stanza by stanza. Sometimes it comes naturally; sometimes you rewrite a phrase 50 times and wind up scrapping it. I like those complicated ones, they feel like a challenge. But yeah, I'm pretty awful at planning or beginning with a strong focus, and that only happens rarely or if I have a prompt or something.
4. What do you consider to be your highest literary accomplishment?
It's hard to choose: My first DD, the first time I was published: both of those I'm really proud of. Also, completing NaNo WriMo last year was something I was thrilled with because I'm usually really fickle with ideas. I sort of felt that if I could do NaNo WriMo, I could do anything. To quote Joey Tribbiani: it was my Everest.
5. Where do your best ideas come from? Is it mostly internal, or do you prefer to pull from your environment?
Usually the concepts that I work with come from my head. I deal in ideas more than people stuff. Saying that, there is A LOT of other people's thoughts in my head, because I read one book a day. It's a steady supply of fuel. My images and metaphors come from my environment, and fortunately I have a lot to work with. For instance, there's a lake at my house which is practically my muse most days. I think it'd take a while for me to completely run out of ways to use it.