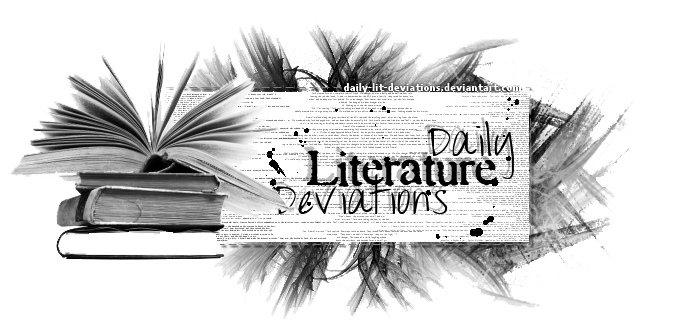 Saturday Spotlight for October 13th, 2012
Daily Literature Deviations is proud to feature this special recognition article!
You can show your support by

ing this News Article. We hope this gives you some insight into
the person behind the art.
Please comment and

the features and congratulate the artist!
for doing the hard work and research that goes into these articles!
Today's featured deviant is:

Bark
!

1. Tell us a bit about yourself and your writing.
I've written all of my life, beginning with songs (I played guitar)and short stories. I became serious about poetry three years ago, as an outlet for my grief when my wife died. I've come a long way from the confessional style that I began with, after reading the surrealists and especially Max Schomburg. As far as how I write, it seems to me that if I come up with a good first line, the rest just flows. If not... well, I have trouble. I don't believe in going back and editing much, I usually find that I've said what I want to in the way that I wanted without a lot of tinkering about.
2. How do you feel about dA as a literature community?
I think that DA has developed a fine literature community. I'm amazed at least once a day by the quality of the writing I see. It's a friendly place for emerging writers and poets to get feedback on their work. Without the encouragement of DA friends, I might not be writing today. The one problem that I've noticed is that people tend to shy away from extra-long work; maybe that's because there's so much to see in a day.
3. Do you still play guitar and write songs? Does music ever influence your writing?
I haven't had a guitar in years. I occasionally write lyrics, but I keep them to myself. Unless the reader can hear the melody, they can sound a little trite. Music definitely has an influence on my writing. as one of the examples I've given will show.
4. What would you consider your highest literary accomplishment to be?
Although being published in several magazines has been a thrill, I think my three self-published collections are what I'm most proud of.
5. What advice would you give to a beginning writer?
Just write! Write through blocks, write through pain... take everything that happens to you in life and use it as a tool. The only rule I have is to make sure grammar and spelling are accurate (unless you're doing something wrong on purpose.)
Poetry
Prose
"Quick Fire Sketch" by
Bark
For more information, including how to suggest a Deviation
Thanks so much for supporting the lit community and this special feature project!