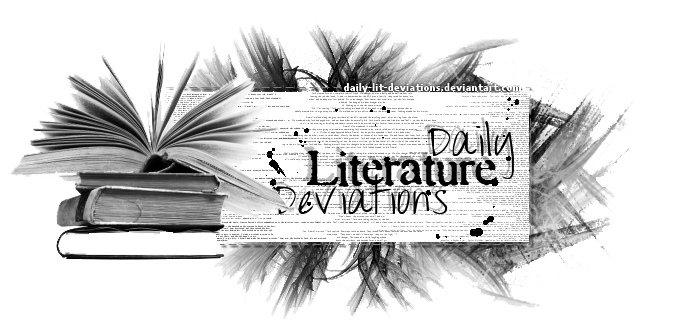 Saturday Spotlight for November 17th, 2012
Daily Literature Deviations is proud to feature this special recognition article!
You can show your support by

ing this News Article. We hope this gives you some insight into the person behind the art. Please comment and

the features and congratulate the artist!
Artists will be featured in a special news article every Saturday. Major points to
SilverInkblot
and
DrippingWords
for doing the hard work and research that goes into these articles!
Today's featured deviant is:
Questions
1. Tell us a bit about yourself and your writing.
I've been writing since I was quite young, and it was mostly badly written fanfiction and fantasy stories, but I only started writing poetry since I started college. Even then the poetry I wrote was speculative (fantasy and Greek myth).
I'm an introvert and have a tendency to keep thoughts and feelings bottled up, so when I got into a relationship two years ago and my boyfriend found out how I write poetry, he encouraged me to write about my emotions and thoughts to get it all out, and express myself. So, I did. Masking it through metaphors, third person and weird imagery, of course. Haha. I eventually decided to join dA, and dare share my work.
2. How do you feel about dA as a literature community?
I was floored by the dA literature community, at first. I wasn't expecting it to be so big and so close knit. It's amazing! There are so many unique writing styles out there, and people explore in their writing, every subject imaginable – no matter how gritty or controversial or surreal. It's inspiring. KaitForest and :Scarlettletters: never cease to amaze me.
3. What is your writing process like?
I don't know if I'd call it a process. I just write, then try to make sense of the random sentences and words I've spewed all over the page.
4. Are there any authors that have influenced your work?
I was introduced to Carol Ann Duffy in college, so she influenced my stuff back then. I suppose dA authors, especially those on my watch list, influence my work now

5. Have you ever written a piece that was "difficult?" Whether because it wasn't ready to be written or something too personal to write about? How do you deal with writing something like that?
I rarely have this problem. The beauty of writing for me is, being able to write about emotional, personal and subjects I find difficult to talk about.
I get writers block, like any other author, but I can broach most matters in my writing and if I do find it difficult to write about, I mask the subject with metaphors.
Poetry
Prose
For more information, including how to suggest a Deviation
Thanks so much for supporting the lit community and this special feature project!