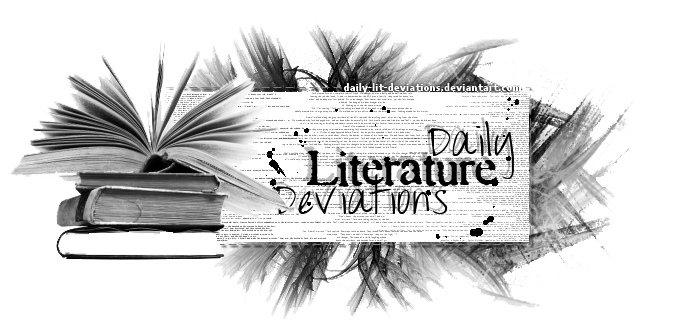 Saturday Spotlight for July 21st, 2012
Daily Literature Deviations is proud to feature this special recognition article!
You can show your support by

ing this News Article. We hope this gives you some insight into
the person behind the art.
Please comment and

the features and congratulate the artist!
Artists will be featured in a special news article every Saturday. Major points to
SilverInkblot
for doing the hard work and research that goes into these articles!
Today's featured deviant is:
1. Tell us a bit about yourself and your writing.
I started writing stories when I was in middle school and that began a path of long, very childish unfinished novels. As I progressed through high school, my writing skills improved somewhat and I stopped writing unfinished stories at the very least. Now I write both poetry and prose, but I guess you could say I'm a bit more of a perfectionist than I used to be when it comes to writing. I want my writing to be unique and coherent, which is sometimes hard to do (especially with poetry - there is a huge difference between published poetry and the "popular" stuff that often clouds dA), so I am careful as to what I write and to what I post.
2. How do you feel about dA as a literature community?
I think that for those seriously wishing to improve themselves and their writing, dA is a great place to share writing. But you also have to be very open to being critiqued and taking other people's thoughts on your work into consideration. It also takes work and TIME to get recognized. I've seen so many deviants who call themselves writers who nearly spam people asking for feedback and want Daily Deviations so badly. This can be detrimental because it is wonderful to share your writing with other people, but you also (in some aspect) must be comfortable writing for yourself. So, I guess what I'm saying is, the lit community here is great, but effort must be put in to really get involved in it.
3. You're a fairly recent addition to the DLD team; what's that been like for you? Any notable experiences worth sharing?
I have to say that I've really enjoyed being an admin. It's helped me get a lot more involved with the lit community here on dA and I enjoy it immensely. It's great to feature people who really have talent on this site. It's always especially exciting to receive excited thank-yous from people I've featured. That always makes me happy.

4. Do you have any literary goals?
I'd like to get published someday, I think - my personal goal is to be published within the next five years; either prose or poetry. But right now I'm working on being more intentional about my writing habits.
5. What would you say is your strongest feature as a writer? Your weakest?
One of my stronger points as a writer is that I have a very good grasp of grammar and spelling, so when I'm editing that's never a problem. My weaker points are that I have problems conveying emotions and also finding a good balance in my writing (mainly in fiction - balancing imagery, description and dialogue, for one).
Poetry
Prose
For more information, including how to suggest a Deviation
Thanks so much for supporting the lit community and this special feature project!