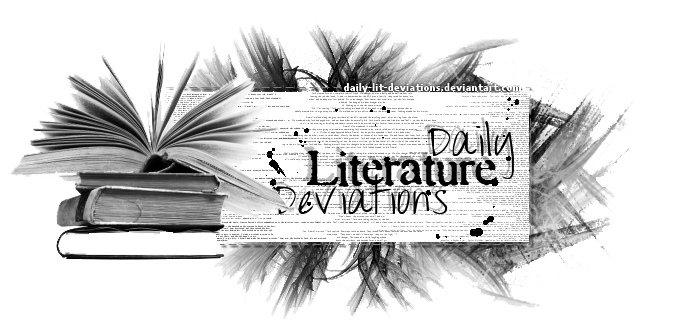 Guidelines
|
How to Suggest a DLD
|
Group Administrators
|
Affiliation
|
Chatroom
|
Current Staff Openings
Saturday Spotlight for January 5th, 2013
Daily Literature Deviations is proud to feature this special recognition article!
You can show your support by

ing this News Article. We hope this gives you some insight into
the person behind the art.
Please comment and

the features and congratulate the artist!
Artists will be featured in a special news article every Saturday. Major points to
SilverInkblot
and
DrippingWords
for doing the hard work and research that goes into these articles!
Today's featured deviant is:

BeyondJen
!

Questions
1. Tell us a bit about yourself and your writing.
I began writing little stories back in 2nd grade, but I never had the imagination to piece together anything coherent. That's probably why I switched to poetry; "Roses are red, violets are blue"-type rhyme was so much easier. Thankfully my poetry evolved over the years and I started to love free verse and eventually became at home with it.
In my mid-20s, I first tried my hand at creative non-fiction. After years of close friends and family urging me to write a book about my very odd, dysfunctional family, I took a chance and started writing my memoir. It was a disaster; the beginning looked like the opening to an awful essay and everything that followed looked something akin to spray cheese. Many years and even more re-writes later, I finally found my voice and began to make some real progress. I still have a very long way to go, but I'm very proud of it and intend to have it published someday.
I consider myself more of a poet than a non-fiction author, though creative non-fiction prose is something I like to dabble in. I think it'd be amazing to become an actual paid author someday, although I'd always remain a poet at heart.
2. How do you feel about dA as a literature community?
Wow. I don't know where my writing would be without the literature community here. I've learned so much, gained so much valuable feedback, been exposed to so many different writing styles and viewpoints, and I've made wonderful friends here. My poetry has grown more in the nearly three years I've been active on dA than at any other time. To me, the literature community is invaluable, and I know I've barely scratched the surface of what's available and possible here.
3. You received a DD on a piece recently - what is that experience like?
It's humbling to have your work recognized by your peers. I'm still a bit speechless about it. This recent one was my second DD and it's just as unbelievable as the first I received. Any time my work is featured or recognized in any way, even with just a thoughtful comment, I'm always left feeling grateful, a bit excited, honored, and thankful. There's so much a writer can learn from those reading and commenting on their work. I've received comments from some deviants stating they don't normally get into poetry, but they saw my piece and enjoyed it or connected with it. That's an amazing feeling, and so I'm thankful for the opportunity to have my work featured with the greater exposure a DD offers.
4. Are there any authors that you feel have been an influence on your work?
Gosh, I think I've gained something from every piece of literary work, from every author, I've ever encountered, so it's hard to narrow it down; Neruda and Angelou stick out in my mind.
One author I know has been a very large influence in writing my memoir is Dave Pelzer, author of A Child Called "It". I would say after reading that book, I finally found direction with my own.
5. What advice would you give to a beginning writer?
Write! And then write some more. And keep writing, every day. Read aloud what you've written. Read other's works, and then write even more. Expose yourself to different authors and different styles and be open to criticism but, always stay true to yourself. That last part, that's maybe the most important: stay true to yourself. We all have our own style and it's going to appeal to some and not others, so it's important to understand and accept that, rather than trying to force your writing to fit a global audience. Find your own "voice" and be proud of it.
Poetry

PlowIt's finally snowing again,
blankets of peace falling
with a freshness that lacks innocence.
Nearly forgotten, they're here as expected,
clearing the streets,
trying to push aside all the worry
that makes things unsafe, but
the steel mouth askew grates against my heart;
its thick bass scrape pushing more than piles of white aside,
it pushes my blood aside too,
piling it up in the corner of this pumping vessel that falters,
ice-caked and bitten, stiffened,
and keeps faltering,
again,
and again,
and again,
until the air is silent
and the street no longer shivers in torture.
The only evidence is the blanket of white
that keeps falling,
like fluffy stuffing that's been yanked out.
All is silent,
except the fond memories that peel away
from my heart in little shreds,
and the plows, scraping fresh wounds again.
--
1/20/2012, 1/22/2012
Copyright © 2012 Jen Fowler
All Rights Reserved
"Plow" by
BeyondJen

MapsRed and blue and green and black veins stretch
across pages, spider-webbing out across expanses,
across golden fields, green pastures,
and evergreen blanketed hillsides
that reach towards mountain tops.
The cardinal nor the rose can claim us.
We are more free than these boundaries insist upon,
free to break through their dashed lines;
it's all just an illusion, like so much else
between destinations and dreams.
We speak of wants and desires so freely
until we submit to being folded into creases,
never neatly, and always with a struggle
to open up and expand beyond outstretched arms.
Our seams will never touch like this, never flourish
into roots of family trees in gardens of our choosing.
I wish the wind would whisk us away on clear currents,
and toss us to fate and chance; hardships be damned!
Why do we never take our chances one step further,
testing the strength of our confines?
--
1/27/2012
Copyright © 2012 Jen Fowler
All Rights Reserved
"Maps" by
BeyondJen

The Fall of Autumni felt a crack rip through my insides
veining down the interior of my heart
spiderwebbing out like the roots of a tree
unearthing a reminder that it could all be lost so quickly
a turn of the seasons, falling from family branches
as it already had for me
i felt the reverberations of the splinter
sending slivers out into the fear
not for me but for those I love
and for those they love more so than any other
because love is like that
i felt the helplessness of the autumn set in
letting loose the leaves from fragile twigs
draining color from the foliage of families
and quietly preparing for the turn into the dirt
because everything is deciduous here
i prayed for an indian summer
anything to prolong the someday expected
to extend the beauty this life seeds and protects
so shallow roots could burrow deeper before the cold sets in
as it already had for her
--
9/28/2011
"The Fall of Autumn" by
BeyondJen

Star GazerThey mapped the stars with charts long ago,
but I can't find you there amongst the others,
trading longing wishes and desires.
The constellations weep for me,
trying to scoop up fragments of my
voided eyes; they know emptiness.
Not even telescopes or satellites
can find your distant stare reflected
in the moons or Saturn's rings.
Polaris guides you home, but it lies to me;
you don't gaze upon these stars for me,
and I am lost.
--
1/27/2012
Copyright © 2012 Jen Fowler
All Rights Reserved
"Star Gazer" by
BeyondJen
For more information, including how to suggest a Deviation
to be featured, please visit us at
DailyLitDeviations
.
Thanks so much for supporting the lit community and this special feature project!
~ The
DailyLitDeviations
Team ~
Prepared by: SilverInkblot