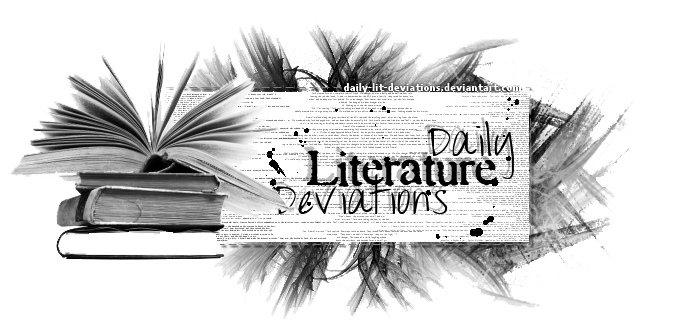 Guidelines
|
How to Suggest a DLD
|
Group Administrators
|
Affiliation
|
Chatroom
|
Current Staff Openings
Saturday Spotlight for January 19th, 2013
Daily Literature Deviations is proud to feature this special recognition article!
You can show your support by

ing this News Article. We hope this gives you some insight into the person behind the art. Please comment and

the features and congratulate the artist!
Artists will be featured in a special news article every Saturday. Major points to
SilverInkblot
and
DrippingWords
for doing the hard work and research that goes into these articles!
Today's featured deviant is:

OfOneSoul
!

Questions
1. Tell us a bit about yourself & your writing.
My name is
Kimberly
& I am a
wannabe
novelist who has yet to finish a novel.

All the same - I have not lost hope in my writing. Every day & every story brings me a little closer to my future goals. I've gone from a
high school student
who wrote a column for the city newspaper, to a
film major
who had dreams of screenwriting.
That was then changed entirely when I decided to major in
Creative Writing
and be a
true
artist. Even now I'm teetering on the decision to change my major to
Art Education
& work on my books during my free time.
All of these hopes stem from a dream I had when I was a child. I dreamt of a magical place where a deer was my heroine. She lived in a great wood & searched aimlessly for her sister with the help of dragons & the hindrances of poisonous trees.
Needless to say - my writing has surely advanced.

However; I will never forget those first steps I took into this hobby and eventual profession. That morning when I awoke & logged onto my computer; I began typing the first book I would ever begin.
Woodland
, as I have now titled it - has greatly advanced in the last 11 years. But my hopes & my method of inspiration will always be the same...
- I find all answers in my dreams.

2. How to you feel about dA as a literature community?
Although I feel that the
dA Literature Community
is the most underrated, unrecognized community on the site...
- it is
not
because of our lack of
talent
or
leadership
.
We have some of the most supportive & honest
Gallery Moderators
I have yet to meet on this site. Though they may not follow me, I :dev+watch: them all and can tell you from experience that they guide their fellow lit. artists with a creative, kind, but firm hand.
But are they the backbone of this great community? A community that, despite its lack of recognition, thrives off of the support of others?
For me, what drives this community are the writers themselves. Out of everyone on this site we are willing to sit back, read a piece, and critique it in the most honest, but kindest way possible. How often can you truthfully say that about other galleries?
Not to bash the other great communities of dA... but how many can claim to have deviants like
betwixtthepages
,
LadyofGaerdon
,
BeccaJS
,
LadyLincoln
, &
HugQueen
in their ranks?
Our active deviants is what makes us the best community on this site.
3. Are there any authors that have influenced your work?
I am a
huge
fan of
young adult fiction
... so sue me.

Authors of that genre that I greatly respect & admire are
Vivian Vande Velde
,
Amelia Atwater-Rhodes
,
Annette Curtis Clause
, &
Holly Black
. I also respect the <s>Hell</s> out of
Anne Rice
&
Mary Higgins Clark
.
But my absolute

author of all time?
Agatha Christie

The mother of mystery.
4. What do you consider to be your highest literary accomplishment?
As of right now during my
21st
year of life...

I'd have to say my greatest accomplishment is writing for a city newspaper for a year to earn a scholarship. I had my own column and everything.

I had to audition for the spot & once I was chosen I had to keep an up-to-date feature column posted every week.
It was difficult - but after a year I received my scholarship
and
a plaque for my
exceptional success
in the article.

5. Do you have any literature-related goals?
As most writers desire at some point - I've always wanted to write a
novel
. When I was young, it was all about
getting published
,
being the next Harry Potter
, etc. Now I simply desire to
finish
one of my stories. Not so much for the sake of getting published... but to have something out of my head so that other people can read & enjoy it. And to finally be able to say...
"Why yes, I've written a book."

Poetry

Submerged in Swan LakeSwans and wings are floating by
on a breeze imbued with jasmine and
willows outstretching their arms in welcome.
Through deep breaths he arrives
plunged in murky, pungent water.
A quiet whisper, and he prays -
"Please... may I linger here?"
Willows lower their arms
and jasmine falls to the Earth
where the wind dies and finally rests.  
The crows are cawing hymns,
begging to be swans.
But only the duck submerged in Swan Lake
has delved the desired shore.
Its waters dangerous and plagued
by monsters baring their teeth;
most ghastly and putrid they are
that no crow may ripple its surface
nor any songbird seeking beauty fair.
The Swan Maidens bare their chests
and open their wings in veneration -
for the duck has sought beauty through courage
and earned his guise of grace and virtue.
"Submerged in Swan Lake" by
OfOneSoul

The Bride of AtlasShe met him when the world was new;
when wars were fought in the cosmos
and celestial beings deigned expose
and visit themselves upon the mortals.
In darkness he came to her;
somewhere between fantasy and the real,
disguised as a human, burly and firm
with want of a lover and yearning for release.
She knew him as a man
and he loved her as his wife.
A Titan he had always been
at battle with Olympians
who garnered all of humanity's love
and chose war over peace to keep it.
As lightning struck, thunder roared,
and waves destroyed the earth,
all grew quiet as Olympus rejoiced
and she knew that he had lost.
Zeus then rest upon his shoulders
the weight of the world eternal.
A punishment made more severe
by lack of warmth from her mortal heart.
He carried his punishment made unending
as Earth's coarsened face gouged his back.
The insects and beasts stung and mauled
and the humans warred and burned his flesh.
Still he held the world atop his shoulders
and severed it from t
"The Bride of Atlas" by
OfOneSoul
Prose

The Doctors In"He's probably dead," Roger exclaimed as the two kittens giggled mischievously behind him.
Krystal and Amanda had arrived at Coleman Park appropriately attired for the evening. Their previously decided-upon costumes seemed much sexier in person than when Roger was helping them choose outfits at Wal-Mart. Being the edgy person that he was, he had politely declined their offer of buying a disguise for him. He had never celebrated the holiday, and instead purchased a t-shirt that furthered his rebelliousness with bright yellow text that read, 'I don't do costumes.'
His head down and his hands in his pockets, he paced himself up the paved hill that lead to the local, haunted legend. Krystal swung her faux tail playfully and adjusted the large black ears that wouldn't stay in her curly hair despite the obscene amounts of hairspray she had employed. Amanda clicked her heels across the ground. She sprinted in front of Roger and slowed to a smooth strut seemingly fo
"The Doctors In" by
OfOneSoul

Dear Daddy's GirlDear Naive 15,  
You're ignorant as Hell.
You dress in baggy blue jeans, wear an oversized hoodie every day, and never let your hair down. Students at school, and even your mom, think you're gay… and you don't even know.
All of your classmates blame you for a burn book that circulated after that Mean Girls movie. Everyone thinks you're a jealous bitch and secretly they mock you. How can you not see that?
Your teachers are all positive that you cut yourself and that you're always on drugs. Even now you have no idea why they ask you to take your jacket off during class. Could it be that you always wear long sleeves?
It's okay, sweetheart. I had to find out the hard way, too.
Right now you're probably wishing your dad was home. He's the only one that will read your stories and tell you how creative you are. You don't have to beg him to watch movies with you, and he'll listen to your favorite songs without calling you suicidal. Right now, living wi
"Dear Daddy's Girl" by
OfOneSoul
For more information, including how to suggest a Deviation to be featured, please visit us at
DailyLitDeviations
.
Thanks so much for supporting the lit community and this special feature project!
~ The
DailyLitDeviations
Team ~
Prepared by: DrippingWords