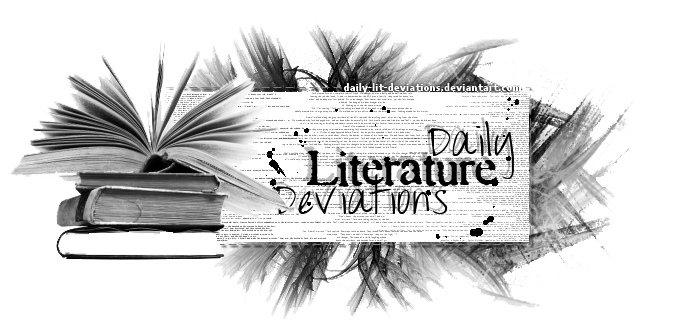 Guidelines
|
How to Suggest a DLD
|
Group Administrators
|
Affiliation
|
Chatroom
|
Current Staff Openings
Saturday Spotlight for February 2nd 2013
Daily Literature Deviations is proud to feature this special recognition article!
You can show your support by

ing this News Article. We hope this gives you some insight into the person behind the art. Please comment and

the features and congratulate the artist!
Artists will be featured in a special news article every Saturday. Major points to
SilverInkblot
and
DrippingWords
for doing the hard work and research that goes into these articles!
Today's featured deviant is:

NocturneJewel
!

Questions
1. Tell us a bit about yourself and your writing.
Writing is my heartbeat and breath and lifeblood. If you were to open up my veins, I think I would bleed poetry. Someone once said to me that when you read poetry you're reading that person's soul. And that is so true for me! My poetry is the diary of my heart and soul.
I've been writing for most of my life, short stories and poems, but I became really prolific in 1997. There was just something inside me urging me on to write, something I had to do, a calling I couldn't ignore. My early influences was a radio program on CHFI called "Lovers And Other Strangers". They provided so much atmosphere and inspiration during the 10 years that I listened to them in the evenings. I was also influenced by the great romantic and classical poets- Keats, Shelley, Lord Byron, Shakespeare, Emily Dickinson, Elizabeth Barret Browning. And currently, I am inspired by all the other great poets on dA!
My favorite atmosphere for writing poetry is at night. Since "Lovers And Other Strangers" is no longer on the radio, I listen to a CD, light candles, drink tea, play with my crested geckos, and read the poetry of others for inspiration
As I've said, my style is mostly free verse, but I like to experiment with rhyme too. Some people have a problem with my writing style because I don't follow any set format for poetry (but I do, my style is NocturneJewel's style). And I've been criticized for it. But as one of my watchers once said to me "it would be very boring if everyone wrote poetry in the same way". And I agree.
2. How do you feel about dA as a literature community?
I think the dA literature community is a great place to make connections with other poets/writers, to gain new inspiration from all of the wonderful writing out there and to learn from others as you share your own soulful writing.
3. What do you consider to be your highest literary accomplishment?
Without a doubt, my highest literary accomplishment was when I was asked to read my poetry on 89.5 FM, a Toronto-based radio station in 2008, and again in 2009. That was my proudest moment.
4. Do you ever re-write your pieces, or do you let them come as they will? How long do you have to work on a piece before you can consider it "finished?"
I don't wait for the inspiration to come to me though. I actually sit down at my kitchen table (which is next to my stereo and my shrine to the Muses) with the intention to write. I do this because I don't want my poetic skill and creativity to get rusty. I feel that to improve and grow as a poet I need to keep writing, searching out the inspirational material from my own moods and the feelings provoked in me from reading the poetry of others. On average, I write 6 new poems a month.
Once I create my "poetic atmosphere", a lot of my poems are written in one night. Some take a few days longer-depending on my mood and where I am emotionally and mentally-some poems are a lot harder to write than others. When that happens, it helps to leave it for a week, then come back to it and read it with "fresh eyes". Often, when I do that the poem reads fine, or if not, I can rework the lines that need to flow better.
As one grows and changes with the passing of years, so does one's writing style. And I'm no different. A lot of my early poems I'm no longer happy with and they need to be reworked-sometimes with several revisions. So I don't know if a poem can ever be considered "finished". I can say that a poem is finished for now, but who knows how I'll feel about it in 2 years?
5. Do you have any literature-related goals?
In 2011, I self-publlished my first book of poetry called "MIDNIGHT MUSE". I will like to publish more. I'll have to see what the future holds for me...
Poetry
"MY WINTER EQUINOX" by
NocturneJewel
"LIVING WITH FEAR" by
NocturneJewel
"DAISY CHAINS" by
NocturneJewel
"GECKO LADY" by
NocturneJewel
For more information, including how to suggest a Deviation to be featured, please visit us at
DailyLitDeviations
.
Thanks so much for supporting the lit community and this special feature project!
~ The
DailyLitDeviations
Team ~
Prepared by: DrippingWords