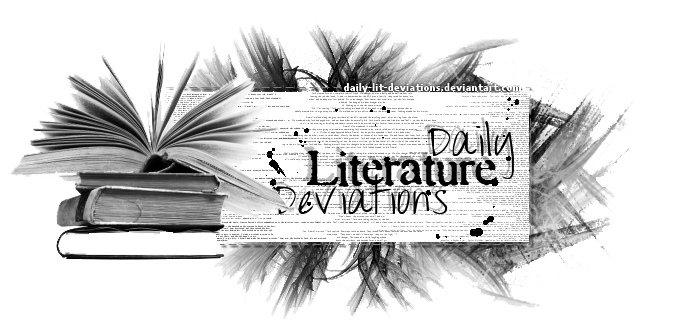 Guidelines
|
How to Suggest a DLD
|
Group Administrators
|
Affiliation
|
Chatroom
|
Current Staff Openings
Saturday Spotlight for February 2nd 2013
Daily Literature Deviations is proud to feature this special recognition article!
You can show your support by

ing this News Article. We hope this gives you some insight into the person behind the art. Please comment and

the features and congratulate the artist!
Artists will be featured in a special news article every Saturday. Major points to
SilverInkblot
and
DrippingWords
for doing the hard work and research that goes into these articles!
Today's featured deviant is:

NocturneJewel
!

Questions
1. Tell us a bit about yourself and your writing.
Writing is my heartbeat and breath and lifeblood. If you were to open up my veins, I think I would bleed poetry. Someone once said to me that when you read poetry you're reading that person's soul. And that is so true for me! My poetry is the diary of my heart and soul.
I've been writing for most of my life, short stories and poems, but I became really prolific in 1997. There was just something inside me urging me on to write, something I had to do, a calling I couldn't ignore. My early influences was a radio program on CHFI called "Lovers And Other Strangers". They provided so much atmosphere and inspiration during the 10 years that I listened to them in the evenings. I was also influenced by the great romantic and classical poets- Keats, Shelley, Lord Byron, Shakespeare, Emily Dickinson, Elizabeth Barret Browning. And currently, I am inspired by all the other great poets on dA!
My favorite atmosphere for writing poetry is at night. Since "Lovers And Other Strangers" is no longer on the radio, I listen to a CD, light candles, drink tea, play with my crested geckos, and read the poetry of others for inspiration
As I've said, my style is mostly free verse, but I like to experiment with rhyme too. Some people have a problem with my writing style because I don't follow any set format for poetry (but I do, my style is NocturneJewel's style). And I've been criticized for it. But as one of my watchers once said to me "it would be very boring if everyone wrote poetry in the same way". And I agree.
2. How do you feel about dA as a literature community?
I think the dA literature community is a great place to make connections with other poets/writers, to gain new inspiration from all of the wonderful writing out there and to learn from others as you share your own soulful writing.
3. What do you consider to be your highest literary accomplishment?
Without a doubt, my highest literary accomplishment was when I was asked to read my poetry on 89.5 FM, a Toronto-based radio station in 2008, and again in 2009. That was my proudest moment.
4. Do you ever re-write your pieces, or do you let them come as they will? How long do you have to work on a piece before you can consider it "finished?"
I don't wait for the inspiration to come to me though. I actually sit down at my kitchen table (which is next to my stereo and my shrine to the Muses) with the intention to write. I do this because I don't want my poetic skill and creativity to get rusty. I feel that to improve and grow as a poet I need to keep writing, searching out the inspirational material from my own moods and the feelings provoked in me from reading the poetry of others. On average, I write 6 new poems a month.
Once I create my "poetic atmosphere", a lot of my poems are written in one night. Some take a few days longer-depending on my mood and where I am emotionally and mentally-some poems are a lot harder to write than others. When that happens, it helps to leave it for a week, then come back to it and read it with "fresh eyes". Often, when I do that the poem reads fine, or if not, I can rework the lines that need to flow better.
As one grows and changes with the passing of years, so does one's writing style. And I'm no different. A lot of my early poems I'm no longer happy with and they need to be reworked-sometimes with several revisions. So I don't know if a poem can ever be considered "finished". I can say that a poem is finished for now, but who knows how I'll feel about it in 2 years?
5. Do you have any literature-related goals?
In 2011, I self-publlished my first book of poetry called "MIDNIGHT MUSE". I will like to publish more. I'll have to see what the future holds for me...
Poetry

MY WINTER EQUINOXFalling, slowly falling, snowflakes intertwine
themselves with the crystal maelstorm in my veins,
I feel them melt the noisy grime from my skin
moonlight pale, sometimes I wish I could glaze me
in the tears and haze of Spring's gentle unfurls-
but Winter has always been more real to me, her
bloodline pulses with the essence of Purity,
and Eternity pine-scented, her snowflakes help me
to find my tears as she melts me into an endless
kiss, but I still wish for the frosty Stars to
smile their light on my bruised lips and cleanse
away the blemishes from my warm white interpretations
-then I would be free, I feel her compel my hurt
to shine like Starlight in the shadows, caressing
my self-induced prison into a new independant state...
I can taste the cold defrost its virtues on my tongue,
a duel of silver notes and blank pages as yet unsung,
into my eyes snowflakes melt-until I can see where
Winter walks by, my reflection leaves footprints for
my equinox to follow-deep thoughts and ideas ha
"MY WINTER EQUINOX" by
NocturneJewel

LIVING WITH FEARFear trips across the nervous wires that
crisscross through my body, haunting these
hallways that have grown accustomed to
the static of adrenaline burning, constantly
burning the dissembodied echo of my steps
as I try each door-but Fear has bolted them
tightly shut, my lonely torchlight flickers
"oh please don't go out" I pray in the
Darkness as the detonations of panic ignite
in my chest, Fear has slowed my syllables
into an incomprehensible stutter, the silver
lining has slipped away from my tongue and
my eyes swell with tears, Fear has stolen
the brine from my bones, bolting me ajar
as butterflies fill the hollow in my belly,
I feel them fluttering madly inside-
but I don't know how to calm them or myself
from coming undone, my palms meet in prayer
as I pray for an end to my torment.
The mist seethes about me like bedsheets
I try to kick away when I wake from a nightmare,
but this nightmare is sitting on my chest
and I am too tightly tangled in these sheets
to free myself, I feel t
"LIVING WITH FEAR" by
NocturneJewel

DAISY CHAINSThe Sun was butter upon my skin, dying
my days simple and good, I lived trickling
free with the evening shade as I searched
for a meadow where my imagination could
graze, at last the Sunlight shifted, trying
to find a lick of edible amber or a home-
made creamsicle stick-among the bruises
and blisters that silenced my Sky-but the
Silence was the only thing that was golden
after surviving a paradox of preteen taunts
and broken dreams, this silent meadow was
my childhood delivery, it was here that I
learned how to make daisy chains from the
seams of my juvenile sight, sweetly twining.
I sought out these eyes of summer days to
make a chain, honest and sincere as daisies
and every child's virtue-but this child's
velvet vermilion life had been assaulted,
not knowing any other way I made daisy
chains from my worries and fears and doubt,
my insecurities and careless escapism, I
wove daisies into chains seeking their
purity to purify my childhood days into
a new shade of white, but their petal
"DAISY CHAINS" by
NocturneJewel

GECKO LADYWhen Time has stolen the blush from my bloom
and my skin has withered into creased crinoline,
I'll be the loony gecko lady people gossip about
when they see me-climbing a tree so I can catch
a stray beam of sun in my teeth-or basking at
Midnight-soaking up a shot of lunar brilliance,
I will dwell in a room concocted from the stuff
of poesy and live off of chocolate seashells,
I will be the neighbourhood eccentric who
shuns people and is only gregarious with geckos,
who never wears panties or carries an umbrella
and howls at the Moon-even when she's sleeping
at the break of noon, I will laugh for no reason
in the elevator and never dust for fear of
disturbing the spiders from their cobwebs.
I will be the crazy lady who keeps 23 geckos
and gives them names like Hibiscus and Hyacinth,
Cadbury and Cappuccino, and writes poetry with
a gecko named Peaches perched on top of my head,
I will talk and sing to them, shower each one
with kisses until they're wearing my lipstick too,
Ginger my best
"GECKO LADY" by
NocturneJewel
For more information, including how to suggest a Deviation to be featured, please visit us at
DailyLitDeviations
.
Thanks so much for supporting the lit community and this special feature project!
~ The
DailyLitDeviations
Team ~
Prepared by: DrippingWords