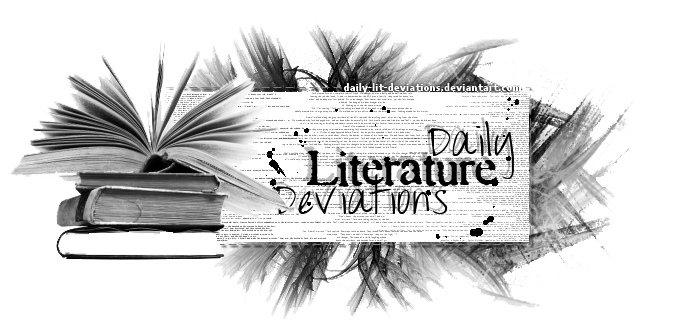 Guidelines
|
How to Suggest a DLD
|
Group Administrators
|
Affiliation
|
Chatroom
|
Current Staff Openings
Saturday Spotlight for February 21st, 2014
Daily Literature Deviations is proud to feature this special recognition article!
You can show your support by

ing this News Article. We hope this gives you some insight into the person behind the art. Please comment and

the features and congratulate the artist!
Artists will be featured in a special news article every Saturday. Major points to
SilverInkblot
and
lion-essrampant
for doing the hard work and research that goes into these articles!
Today's featured deviant is:

saltwaterlungs
!

Questions
1. Tell us a bit about yourself and your writing.
Hello! I'm Hannah. I've been writing since I could pick up a pencil, and reading for even longer, thanks to my lovely parents. I've been writing short stories since I was very young, and I give most of the credit for my growth to my second grade teacher. She read one of my stories at a teacher-parent conference, and shortly afterwards started an activity in class where, if you had finished your work, you could write a story that she would type up later, leaving room for illustrations. Of course, every teacher I have had since then has nurtured my ability, starting back in elementary school and going all the way to my eighth grade teacher who introduced me to poetry.
2. How do you feel about dA as a literature community?
dA's literature community is absolutely wonderful! I've been a part of many writing websites in my time, and I have never found one as welcoming and supportive as this one. I did recieve kind words on other websites, but I never made as many close friends or deep connections to others than on this site. Almost every person I have met so far is overwhelmingly supportive and helpful on here, as well as abunding with talent. Though the lit community might be a minority on dA, we are a strong, tight-knit community. I wouldn't leave for the world!
3. You write both poetry and prose - do you have a preference for one over the other?
I prefer writing poetry. It doesn't take as long for me to write, and it's very therapeutic for me. I tend to get more poetry ideas than prose ideas too. If you've seen Sherlock Holmes, you'll know what I mean when I say I have a mind palace, except, rather than facts or memories, it's words. I pull out certain phrases and words from the corners of my mind and string them together to create something, whether it be a feeling or a picture. With prose, it's very technical, and it's mostly characters and plot, not so much emotion and pretty images, which I am inherently better at.
4. Are there any authors that have been an influence on your work?
I'm certain that everything I have ever read has influenced me oin some minor way. "Nothing of me is original. I am the combined effort of everyone I've ever known." Chuck Palahniuk. This quote applies to my character, as well as my writing too. I love slam poetry, so Sarah Kay, Neil Hilborn, Megan Falley, and Johannah Hoffman have inspired me with their passionate words that evoke emotion like nobody else, as well as classic poets with their wordbending talents that have merited them eternal fame and glory like Emily Dickinson, E. E. Cummings, Edgar Allan Poe, William Shakespeare, and Walt Whitman. There are deviants on here that inspire me daily as well,
oaklungs
,
DearPoetry
,
your-methamphetamine
,
ssensory
,
toxic-nebulae
,
imaginative-lioness
,
Sammur-amat
,
UntamedUnwanted
, and
momomadness
.
5. Do you have any literary-related goals?
In my mission statement on my page, I say that I don't necessarily want to be published and famous; I want to mean something to people instead. I wish for my poetry to resonate with them as they keep reading throughout their lives. Sometimes I remember this story I read once, and though it might have been years ago, I remember it and I crave to read it again. I want my work to be like that. I want for them to see the pictures I've been seeing, feel the way I've been feeling, and I want them to keep these feelings as they continue through their days. I want them to feel connected to it emotionally, and I want for them to print out my poems and thumbtack them onto their walls or bulletin boards becuase they mean something to them. Maybe this is even more ambitious than simply wanting to be published, but it's something I keep in mind with every poem I write.
Poetry

To My Biology TextbookOn page 159 of my biology textbook, it reads,
"...cancer is the uncontrolled growth of cells"
as though that could explain everything,
and I thought it did for a time.
But my textbook never warned me
that his skin would pale
to a point where I could see
the blue freight trains
carrying eighteen pills
throughout his frail body.
My textbook never warned me
that his watery irises would freeze over,
that he would hurl insults like knives,
and that he would clench his jaw
as tightly as his fist clenched his wine glass
because the only person to blame is himself,
and he can't swallow that as easily
as he can the olives in his martinis.
And my textbook never warned me
that it would be this difficult to breathe
because of my acute awareness
that his breaths are limited,
and that there would be nothing I could do
but soldier on searching for that silver lining
clinging to these foreboding thunderheads.
"To My Biology Textbook" by
saltwaterlungs

honey-filled heartshe asked her if she loved him
and she looked at that golden boy
with a bumblebee smile and sad veins
like good champagne leaking onto the stars
only a million words were left unsaid.
"honey-filled hearts" by
saltwaterlungs

symphonymelodies are etched into our palms
and harmonies are stuffed
between each vertebrae.
our bodies sing to each other,
and we are deaf composers
with a knack for symphonies.
"symphony" by
saltwaterlungs

the first raini swung my dragon head back
and swallowed the sweltering sky
and i swear it tasted just like strawberry wine
and the sillage of summer being left behind
"the first rain" by
saltwaterlungs
For more information, including how to suggest a Deviation to be featured, please visit us at
DailyLitDeviations
.
Thanks so much for supporting the lit community and this special feature project!
~ The
DailyLitDeviations
Team ~
Prepared by: SilverInkblot