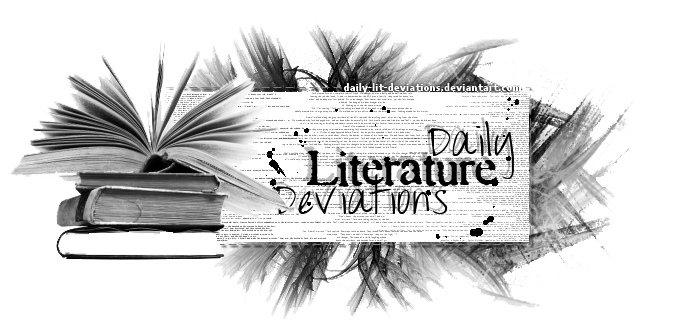 Guidelines
|
How to Suggest a DLD
|
Group Administrators
|
Affiliation
|
Chatroom
|
Current Staff Openings
Saturday Spotlight for December 22nd, 2012
Daily Literature Deviations is proud to feature this special recognition article!
You can show your support by

ing this News Article. We hope this gives you some insight into the person behind the art. Please comment and

the features and congratulate the artist!
Artists will be featured in a special news article every Saturday. Major points to
SilverInkblot
and
DrippingWords
for doing the hard work and research that goes into these articles!
Today's featured deviant is:

Synesthi
!

Questions
1. Tell us a bit about yourself and your writing.
I am a Synesthete (a person with synesthesia) and am seventeen years old. I spent the first fourteen years of my life steadily realizing that I am different but not knowing why. I was terrified to tell anyone, and so many characters in my writing who are young are scared, insecure people. They are my way of dealing with a part of myself that was damaged first by hiding and then by subsequent bullying.
I do two sorts of writing: slate writing and collection writing. Slate writing is something that I want to say, and most of my better-known pieces are slate writing. Collection writing is when I just want to write, and I incorporate little fragments that I collect all day into my writing. The best examples might be a piece where it seems like a collection of things you'd see in a day. Slate writing is when life turns into a piece. Collection writing is when you build a piece out of life.
2. How do you feel about dA as a literature community?
I think dA is a great place to write, but I often feel that literature is an afterthought, compared to say paintings or photos. It isn't integrated. Take the representation in DDs for example. Literature people read literature DDs. Painting people often don't.
That being said, dA is without a doubt one of the most supportive communities I've ever been part of, and I'm happy to be here!
3. What advice would you give to a beginning writer?
Always remember that no one can write what you are writing. You are a whole, reverberating universe in a human frame, and everything you have to say is yours. It isn't mine, it isn't your best friend's, and it isn't your English teacher's. And this means that your writing is worth it. Your writing matters. I think if you can remember that, you can accomplish a lot.
4. What themes do you like to incorporate in your writing?
Mortality, destruction, and hope through an unexpected source. I wouldn't call synesthesia a theme, but rather a subject matter, but that does come up a lot.