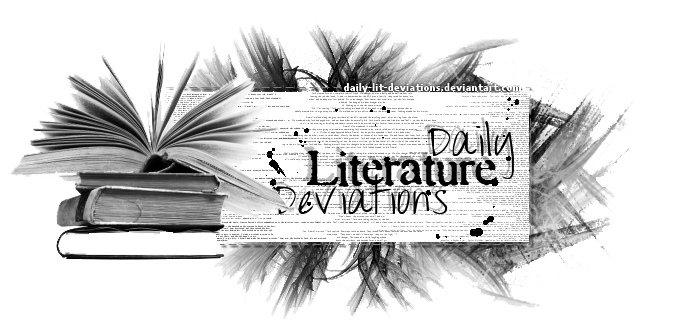 Saturday Spotlight for March 24th, 2012
Daily Literature Deviations is proud to feature this special recognition article!
You can show your support by

ing this News Article. We hope this gives you
some insight into the person behind the art.
Please comment and

the features and congratulate the artist!
Artists will be featured in a special news article every Saturday. Major points to =
SilverInkblot
for doing the hard work and research that goes into these articles!
Today's featured deviant is:

~
Solarune
!

Questions
1. Tell us a bit about your writing.
I've been making up stories for as long as I can remember, but I generally only wrote when the occasional book idea hit me or when I wanted to enter a competition. I starting writing more consistently in my early teens, through a story-based roleplay with my friend ~
K-LFraction
(which is still going today).
I mostly write fantasy and science fiction (prose, I have dabbled in poetry but usually just to experiment) – playing with alternate worlds, societies and ideas fascinates me. I always seem to stick something a bit unreal into what I'm writing – I find it quite difficult to write about something completely "normal", perhaps because I don't lead a particularly normal life myself!

I love playing with ideas – I kind of think that writing is like playing in a sandbox in that it gives you the creativity and freedom to do that, so why stop at the story & characters? Why not go all the way and design the sandbox, so to speak – write about something that wouldn't happen (or maybe it would, who knows
) in real life? Anything abstract fascinates me.
I have quite an obsession with the nitty-gritty of writing prose – the flow of the language, the descriptions, etc. I try to make descriptions "tight" and unique so they will stand out to the reader, although I can sometimes get caught up too much in this and neglect important things like Plot. This results in much head-scratching on the reader's part and much head-desking on my part.
2. How do you feel about dA as a literature community?
</p>
I have huge amounts of love for the lit community on dA, because through it I've become a better writer, met wonderful people and found a sort of community-family through being an admin for #
theWrittenRevolution
.

I'm not massively involved in the lit community, so am not really in a position to talk coherently or at length about it, but... I feel like there's a sense of "literature is ignored/doesn't get the spotlight" on dA, which is true partially because literature takes longer to appreciate and read on a screen, and partially because dA's primarily a visual art site, and the lit community is perhaps closer-knit because of that. I think there are probably good things and bad things both about this, although I've not myself come across anything particularly negative about it. Some amazing initiatives (like DLD!

) seem to have sprung up because of it.
What I love the most is that the majority of people here are friendly, care about writing and the community and want to discuss any issues and try to resolve them. For example, the lit community can feel a little elitist at times... and now a bunch of wonderful people have made
#
Expose-Lit
happen to deal with this very thing. Positive change is always possible if people believe in it.
3. You definitely have a lot of variety in your gallery - how do you manage to write about so many different things/ in so many different styles? Can you give us a summary of what your writing process is like?
I think a lot of the variety in my gallery comes from the fact that I've had a
project
going (for ages now, I should really finish it

) to write a number of short pieces in different genres. I thought it would be a fun way to try things I hadn't tried before. I like doing something new every time! Also, works on here have inspired me – I never read much poetry, abstract prose or flash fiction before dA.
I'm not sure quite how to explain the different-styles thing. I suppose I start with an idea, and atmosphere is quite a big thing for me – so for example, when I was writing Antes, which is a fantasy dinosaur apocalyptic story, I knew I wanted it to be mythological and high fantasy-like, so I went for a Tolkien-esque and-then-they-did-this and-then-they-did-that feel.

Whereas when I was writing Snagger's Gambit, which is more sci-fi/futuristic/crime, I felt it would make sense if everything were as sharp and snappy and possible, so I focused on making the dialogue and descriptions really succinct and pared down.
Writing process – it varies, but I tend to get an idea, let it stew for a bit (maybe write down some random half-thoughts or passages) and busk it from there. Often more ideas happen while I'm writing. For pieces I post on dA, I generally go through about three or more edits, and I try to space them out a bit so I can look at the piece with fresh eyes. I find it helpful to open a new document next to the original edit and write the piece again, rather than cutting out words from the first one – it makes it easier to get rid of stuff that way

4. Are there any authors you feel have been an influence on your work?
Eep I could name several. Um. Cornelia Funke's and Philip Reeve's books taught me about beautiful writing and strong characters. Philip Pullman's His Dark Materials books are some of the best speculative fiction I've ever read and their creativity has always stayed with me, so I expect they have influenced me. B.R. Collins, who writes emotions and stark, sparse descriptions brilliantly. And I know he's more a director than an author, but the stories of Hayao Miyazaki's films have inspired & fascinated me since the first time I saw them – they're so creative and the characters have an amazing humanity and inner strength to them. William Nicholson, Cliff McNish, J.K. Rowling, Arthur Conan Doyle & Winston Graham are some others.
5. What advice would you give to a beginning writer?
Write. Write write write. Regularly, every day if you can. It is the single best way to improve IMHO. Try new things – write in genres or forms that you would never normally try. Read writing guides, tutorials, articles etc. Be open to critique, but make the final decisions about your writing that you feel are right. Keep a notebook. Don't be satisfied with writing about the familiar and the cliché – think about how you could make a character, description or story different from the way it's usually done.
Prose
For more information, including how to suggest a Deviation
Thanks so much for supporting the lit community and this special feature project!