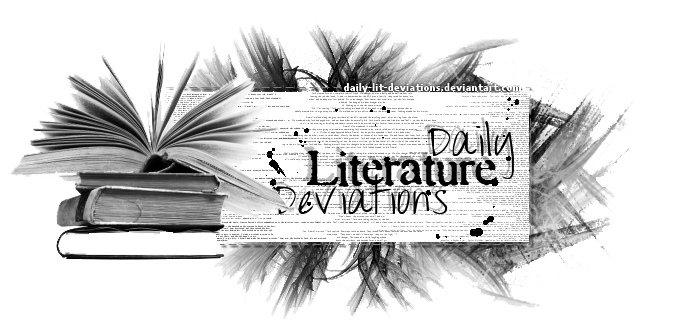 Guidelines
|
How to Suggest a DLD
|
Group Administrators
|
Affiliation
|
Chatroom
|
Current Staff Openings
Saturday Spotlight for March
10th, 2012

Daily Literature Deviations is proud to feature this special recognition article!

You can show your support by

ing this News Article. We hope this gives you some insight into
the person behind the art.
Please comment and

the features and congratulate the artist!
Artists will be featured in a special news article every Saturday. Major points to
SilverInkblot
for doing the hard work and research that goes into these articles!
Today's featured deviant is:

Avallynh
!

Questions
1.

Tell us a bit about your writing.
I've been a storyteller for as long as I can recall. I remember sitting on my teacher's knee at nursery-school, repeating my father's wild, nonsense tales of far-distant lands and bright, strange people -- myth-borrowed at times, his very own at others -- for a rapt little audience to hear, embellishing with abandon along the way. I remember lying awake in bed, fantasising ridiculously long-winded possibilities for my most beloved characters off the television screen or the pages of the countless, countless books I read in years after. I remember always being in love with
what if
, and I remember all the other lives I've lived -- am liv
ing
-- in worlds I've dreamed for my own.
I started writing stories, prose only, in composition classes at school, crammed full of detail and dialogue with gleeful disregard for 'six-hundred words or less', and still wondered if I should push a little further and let my wider world spill onto the page. The turning point, if you will, was when I picked an essay from my notebook and started typing it up: it took on a life of its own and went rambling for ten pages and multiple thousands of words and made me feel pleasantly stunned I'd done it, and suddenly incredibly, implacably restless because there was so
so
much more to tell.
There were a couple of abortive attempts at would-be novels -- utter juvenile
drivel
in retrospect, but one of my closest friends is sentimentally keeping them despite my insistence that she feed them to the first raging inferno she might chance upon. But I digress.
I shifted from prose to verse when I suddenly found my mouth too full of words, and my worlds too full of too-bright moments that wouldn't flow into each other the way things used to. Prose became awkward and restrictive, not nearly fluid and vivid and immediate enough. That's when I was pushed enough to see if I could get away with slashing a few line-breaks through run-ons laced with pretty words where they
looked
right. I did get away with it: once, twice, again -- and I haven't yet looked back or wanted much for prose proper in the year or so that's since been.
2.

How do you feel about da as a literature community?
I love it. I love it to bits. It's been the single platform that I've ever gone even slightly public with my writing on, and the response has been so fulfilling that I can't see myself ever looking for other avenues to exposure. It's inspired me, challenged me, even saved me, and that's all apart from the friends I've made here. They're amazing writers and still more amazing people, and the support they give is ready and unconditional and I honestly cannot ask for more. Most of them, if you care to have a look, are in my watchlist.

They make me want and try as hard as I can to give back, because really, it's the very least I can do.
3.

How "personal" would you consider your work to be? Is it something you slave for days over, or does it just come pouring out from some place intensely private?
It's been a bit of both so far. The more intimate and real pieces spill formed and ready the moment I'm brave enough to put pen to paper with them, and with the less immediate, more indulgent instances I take longer getting every word and verse and such into my version of perfect-fit. It's taken me seconds to finish some things and months to get others right.
4. You've recieved quite a bit of recognition in the short two years you've been a deviant - what is that like for you? Does getting recognized for your work ever get old, or is it always a fresh feeling?
Honestly, I can't quite wrap my head around it still. I've far miles' worth of room for improvement yet, and getting this degree of support and recognition so early on is priceless. I'm humbled and honoured; the dA lit community is chock-full of talent so much of which is still unfairly anonymous that it's more gratifying than I can say to have a foothold here at all. As such, I love sharing my audience with other writers whose work -- oftentimes much, much better than my own -- isn't getting it's due.
It never gets old; it couldn't possibly. That little feedback bubble puts a smile on my face every time. I'm grateful for every fav and comment and feature and watch, and I can only hope I'm worth them all.
5. What advice would you give to a beginning writer?
Read, read, read. Take in the world you live in: it's wide enough that inspiration is seldom a hard thing to come by. Once you've got that, write. Practice is the shortest route to improvement. Keep writing, keep creating, and watch yourself get better. Seek out critique from peers and mentors alike. Here on dA, I'd recommend #
theWrittenRevolution
, #
ProjectComment
, #
Expose-Lit
, #
The-Writers-Review
and #
Critique-It
as excellent platforms for exposure and critique.