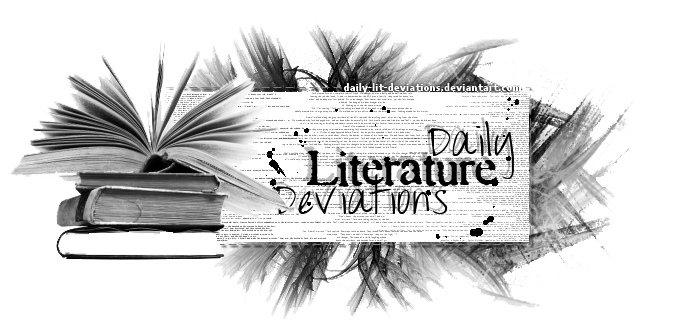 Guidelines
|
How to Suggest a DLD
|
Group Administrators
|
Affiliation
|
Chatroom
|
Current Staff Openings
Daily Lit Deviations for September 2nd, 2013
We are proud to feature today's Daily Literature Deviations!

You can show your support by

ing this News Article.
Please comment and

the features and congratulate the artists!

For all of the featured artists:
If you receive a DD for one
of your pieces featured by DLD please note LiliWrites.
We will include you and your piece in a special recognition news article.

Poetry
Featured by: betwixtthepages

the 'd' wordwhen i was seven years old, my mother, tear-streaks
drying on her cheeks, fingered her wedding band
and told me, "love hurts, sweetie,
that's how you know it's a good love."
two days later, my father came back home.
he was missing his wedding ring
and when he left again,
he left a handprint on my mother's cheek
that she carried with her even after the bruise was gone.
i grew up without a father influence in my mother's world
and without a mother influence in my dad's.
neither of them got remarried.
they had found each other and that was enough.
they had found each other and that was too much.
i grew up a thin string attaching one man and one woman
together in a way arguments and resentment could never snap.
they met in restaurant parking lots and in the bleachers
of my soccer games the way soldiers meet on battle fields,
trading me across the asphalt and steel like a
deadly weapon, a bullet hurdled back and forth.
he took me out to ball games b
the 'd' word
by
MisfitableGrae
Divorce is hard on everybody,
but most especially, on children.
With a unique ending,
this poem will leave readers thinking.
Featured by: SilverInkblot

HaikuWriMo August 20131. Winter Sun
red blood sunrise
reflects onto fallen
snow -- newly spilled.
2. In the Breeze
wind rustles
the clean cut grass
like your hair.
3. Thunder Storms
your skin smells
of rain; nostalgia
and tangled hair.
4. Beautiful Scars
please,
create empty ravines
on my unblemished skin.
5. Rainbow Skies
your tears are
rainbows dripping
from the sky.
6. Spring Fins
little koi dart
through clear water like
hummingbirds in spring.
7. Wallflower
a rose bloom
sits perfectly still
in your iris.
8. Unfocused
water droplets
spill onto leaves.
unfocused galaxies.
9. In Between the Pages
i took your heart
and bottled it up;
pressed flowers.
10. Desert Paintings
a canvas sunset
falls onto painted
brush landscapes.
11. Crying Skies
lightning streaks
across purple skies;
plunging tear drops.
12. Melting
silk feathers
land on the cement
like melted snow.
13. Faulty Architecture
sand castles crumble
while the win
HaikuWriMo August 2013
by
DrippingWords
A fine collection of haiku, one for every day of
the month of August. Have a read and pick your favorites!
Suggested by: Sleyf
Featured by: betwixtthepages
<da:thumb id="393479569"/>
Afternoon Swim
by
MattVoscinar
From the suggester: It's a rare thing to pack so
much dramatic tension into a short poem and have
such a profound effect. With violently raw imagery,
this is a stunning read.
Prose
Featured by doodlerTM

VermontNever let anyone tell you dragons aren't real. They're as real as can be, I promise you that. They used to be everywhere back in the Old World, Europe and the like, but you won't find them there any more. Knights and dragonslayers moved in and that was that. Like the pilgrims later to come, they left to seek a better life in a new land. It was a long trip across the ocean but they made it, eventually landing in a lush green land. There were humans here too, but they didn't fear the dragons and they lived in peace together. Time passed as it always does and the great dragons began to fade. But they didn't leave. They laid down in the forests, letting sleep come upon them. Plants began to grow on their backs, whole forests with trees and teeming with life. You can still see them, if you know where to look, though. And on a cool, clear New England night, you can still see them smoke in their sleep.
Vermont
by
LysCooper
A careful and short yet magical vignette.
Foreign Language
Featured by Exnihilo-nihil

Ma peau se souvientMa peau a une mémoire
Bien plus fidèle que mes neurones
Et retrouverait la tienne
Perdue entre mille...
Elle se souvient du miel
Qui coulait de ta bouche,
Et de tes lèvres
Comme un velours
Elle se souvient de tes mains
Empressées,
Et vives
Comme l'aile d'un oiseau
Et du moindre frisson
De ta peau
Lorsque nous
Nous rencontrions
Ton image est diffuse, ton odeur, dispersée,
Et ta voix, diluée, dans le fluide du temps...
De toi s'est dissipée la saveur
Mais ma peau se souvient.
Sens le plus affûté,
Qui t'a connue et te reconnaîtrait,
Et mettra mille ans à oublier...
Ma peau se souvient.
EP 190813-210813
Ma peau se souvient
by
Ninefiftin
A fine love poem in french,
written with a great sensibility and sensuality...
For more information, including how to suggest a Deviation
to be featured, please visit us at
DailyLitDeviations
.
Thanks so much for supporting the lit community and this project!
~ The
DailyLitDeviations
Team ~
Prepared by: SilverInkblot