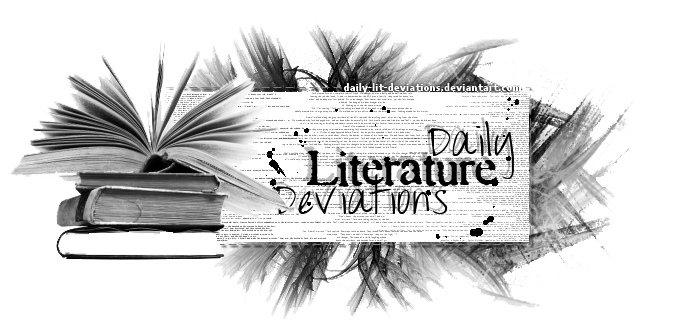 Guidelines
|
How to Suggest a DLD
|
Group Administrators
|
Affiliation
|
Chatroom
|
Current Staff Openings
Daily Lit Deviations for October 9th, 2012
We are proud to feature today's Daily Literature Deviations!

You can show your support by

ing this News Article.
Please comment and

the features and congratulate the artists!

For all of the featured artists:
If you receive a DD for one
of your pieces featured by DLD please note LiliWrites.
We will include you and your piece in a special recognition news article.

Poetry
Featured by: LadyofGaerdon

Let the Sparrows InI.
Blackbirds rest on the power lines,
their silhouettes form the notation
to a dawn song set on the sheet music
of telephone poles contrasted by the sun.
Curled leaves are land mines littered
on the lawn where imprints of twigs
and a nurturing robin's tracks collect.
Branchlets and leaflets stem from
porch step railings and mailboxes;
the numbers read odd on the east,
even on the west side of the asphalt:
seven-seven-thirty-six.
The engraved letters on
the siding reads, "Davis."
This house is home to family
so let the sparrows in.
The house,
with its branching hallways
and
overhanging décor
and
furniture rooted to the floor
is home
to
family, friends, the occasional
neighbor's kid
locked
out from home.
Let the sparrows in; let
the finches
follow.
Let the door's
deadbolt
loosen—let the door stand ajar
and
be let open
to
the night owls and
morning
larks;
let the doves
alone
to pirouette
in pairs in the iridescent
quiet.
Let the sparrows in.
II.
Framed on either side
Let the Sparrows In
by
Nichrysalis
Subtly brilliant, with imagery crisp enough
to taste, quiet yet forceful emotion, and
a gentle, pulling rhythm, that pulses
throughout like the heartbeat of the poem.
Featured by: Carmalain7

for unseeing eyesladen with sky
we stumbled
and painted mockingbirds
on loveless branches
folding in our slender limbs
and ducking under our own
voices, fidgety and frail
against the wall of night.
between the dipping blades
and drawn shoulders
we learned to craft our words
steady-soft,
a drumming rain
that carved canyons
in open hearts and
drew the sunshine to
our supping lips.
keen-eyed, we watched
remembering the weight
of unseeing eyes
and scalding remarks
and we learned to slip
the noose-knots and slide
through the soul-cracks
and somehow
build kingdoms under
upturned noses.
with lyrical uncertainty
and tender determination
we built a pyre of peace
in the shadows
of dissonance
and watched it blaze
the truth across our
pliant hearts.
as solemn
as new leaves still curled
and stretching hands
unfurled in suppliance
we lifted our heads
in broken laughter,
for this light is our burden,
and even a whisper
can shatter silence
and bring the blind
to sight.
for unseeing eyes
by
Pailei
Truly, I can feel all of the weight
of the world in these words. All of it.
Featured by: Carmalain7

writer's blockstranded on an island scantily
dressed in moonlight, you stare
at roiling water resembling a
horizon of interweaving words
but when you lift your right hand,
spirals of silence shackle
the weightless sounds
writer's block
by
helice93
If all writer's block conjured something this
visually emotive and beautiful, writer's block
would be a new poetic form.
Prose
Featured by: SilverInkblot

but here and now i am aliveI was three years old when we moved there, when the wall in my room that moved and the drunken woman next door and the grey grey hight of the flats could not contain my first chubby steps to identity. My parents packed us up for the jumble sale of moving, pricing up our lives and our possessions with tape and cardboard and memories. The grass on the show house became our grass, became our house, while I slept in a new room under old sheets and dreamed of darkness.
I was five and nobody else was five and nobody else was a girl and I was so alone. The cats that roamed were my friends, the weeping willow and the squeak in the wheels of my scooter. The grit of the road was my friend and the broken glass I walked barefoot around in summer was my friend. In the heat, when our street was filled with the musk of people-gone-on-holiday and we were left to our own devices, you grabbed me in your dirty hands and you pulled me up onto your bike. The hot metal burned into my feet, worse than anythi
but here and now i am alive
by
screamsinateacup
Simultaneously intimate and close, but distant
and lonely. A story about growing up.
Foreign Language
Featured by Exnihilo-nihil

Le Pelerin NoirJe voudrais peindre des mains, noires sur la toile.
Qu'elles m'agrippent, qu'elles m'enserrent !
Là en mon cœur et en mon âme,
Doigts squelettiques et bris de verre.
Je voudrais peindre des mains, noires sur la toile.
Je voudrais tracer des stèles, nues sur le papier.
Tombeaux anonymes, pris en terre !
A feu à sang les blanches lames,
Croisés fantômes pour maux lunaires.
Je voudrais tracer des stèles, nues sur le papier.
LND 15 Août 2012
Le Pelerin Noir
by
LNDFrance
"Le pèlerin noir (The black pilgrim) is a short piece,
dense ; between Baudelaire and modernity. LNDfrance talk
us about creation, nightmares and beauty. A beautiful piece."
For more information, including how to suggest a Deviation
to be featured, please visit us at
DailyLitDeviations
.
Thanks so much for supporting the lit community and this project!
~ The
DailyLitDeviations
Team ~
Prepared by: spoems