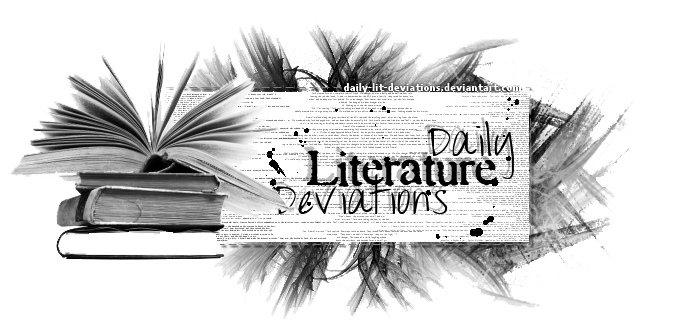 Guidelines
|
How to Suggest a DLD
|
Group Administrators
|
Affiliation
|
Chatroom
|
Current Staff Openings
Daily Lit Deviations for October 14th, 2012
We are proud to feature today's Daily Literature Deviations!

You can show your support by

ing this News Article.
Please comment and

the features and congratulate the artists!

For all of the featured artists:
If you receive a DD for one
of your pieces featured by DLD please note LiliWrites.
We will include you and your piece in a special recognition news article.

Poetry
Featured by: lion-essrampant

InfernoSeptember is a sultry tangle
of curly hair and corduroy jackets stretched
over broad shoulders that I've been leaning on,
metaphorically.
He won't press for answers
and I won't trouble him with my problems.
So he complains about the weather –
he's never gotten used to these sticky, southern delta summers –
while I hold the door
and press the call button.
The half-lit elevator drops us off above Dante's first layer.
I feel sorry for anyone beneath,
but I've indulgences to buy
and my own hell to return to.
But there's a light in my pocket –
abandon not all hope,
and
smile.
"Inferno"
by
SilverInkblot
This piece is full of emotion and wonderful
descriptives. Worth reading out loud, again and again.
Featured by: Carmalain7

(III.1-9)there's something about modern metropolises
& archaic architecture;
the framework of falsified facades
& bullshitted buildings.
there's something else;
a glorified grandeur of utopian understatements
& hallways of half-assed hyperboles.
let's erect temples to emphatic euphoria,
build monuments to manifested mania,
a statue sculpted of sovereign solace.
(is it infrastructure that we speak of still?)
there's something of an acropolis left
remaining in the resilience of a refusal to remember self-reliance
& there's a hammer in your hands,
a hexed holiness in helplessness;
you may knock me down
(just be sure there's something left).
III.1-9
by
successwithhonor
Alliterative sounds and crumbling imagery captures
the essence of the living paradox that is urbanization.
Featured by: LadyofGaerdon

UnlayeringThere are words queuing in line

for the page, simple words, trite

words, words of circumstance, words

the world could have never gone on

without their repeating; as day and night and fear,

the kind of words you never wanted from me,

void of Eutony, a simple psalm

of sound rhythm, but—


they cannot go unspoken any longer:


My heart unfolds like an infinite peel,

an onion pulled fresh from damp earth

that has forgotten it was once fertile.

You wash away packed dirt and tear

roots with your fingernails. The inside

of your thumbs push away at skin, first

the dark layers. You believe there

is something sweet further in, but Lord

only knows why.
God of my mysteries,

yo
Unlayering
by
vespera
&
tonepainter
A seamless collaboration, with
cohesive metaphor and imagery
and turn-of-phrase that will
take your breath away.
Prose
Suggested by WritersInk
Featured by LiliWrites
She Breaks Hearts...
by
nequ
Suggester writes: A short story made of equal
parts humour and imagination. It manages to pack
in answers to some important questions for our time,
like how does a super-heroine survive a relationship?
And when do you know you're in love?
Featured by doodlerTM

Invisible FatMy cold, emaciated body lay on the kitchen floor, the fragile bones extraordinarily visible underneath the snow white skin that seems stretched out over them. I look down at my body in slight disgust, seeing my veins so clearly and still some fat. I thought I had gotten rid of all the fat in my body, but I still see some. No one found my malnourished shell until hours later. The police said that I committed suicide by starving myself for a few days. That is not how it went, I had anorexia nervosa, an eating disorder. My environment was poisonous to my body image, and I had strived to get the perfect body until I passed out, never to wake up again.
Yes, I was messed up in the head. While everyone else was seeing nothing but a walking skeleton, I still saw fat on me. Even now, looking down at my body I still see invisible fat underneath the pink ribbon scars on my hips, stomach, and thighs. Thankfully when in ballet attire they were hidden underneath the pale pink tights. My ballet teach
Invisible Fat
by
PoisonedPlum
It can be difficult to write about problems
such as anorexia, as they have been written about
so often and oftentimes poorly. But PoisonedPlum
presents a vivid, shocking, and fresh narrative on this subject.
For more information, including how to suggest a Deviation
to be featured, please visit us at
DailyLitDeviations
.
Thanks so much for supporting the lit community and this project!
~ The
DailyLitDeviations
Team ~
Prepared by: spoems