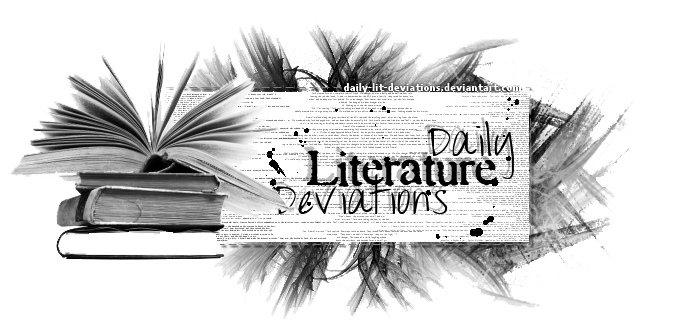 Guidelines
|
How to Suggest a DLD
|
Group Administrators
|
Affiliation
|
Chatroom
|
Current Staff Openings
Daily Lit Deviations for October 11th, 2012
We are proud to feature today's Daily Literature Deviations!

You can show your support by

ing this News Article.
Please comment and

the features and congratulate the artists!

For all of the featured artists:
If you receive a DD for one
of your pieces featured by DLD please note LiliWrites.
We will include you and your piece in a special recognition news article.

Poetry
Featured by: DrippingWords

PersephoneI fed her
pomegranate kisses
and she cried
at every frozen sunrise
for 180 days.
With cracks in my heart
and souls
caught in my hair
I counted 180 more.
"Persephone"
by
xthe-eleanorx
Though short, this poem is
filled with wonderful images and
themes that will keep you coming
back for another exquisite taste.
Featured by: betwixtthepages
:thumb252654151:
Her
by
SasoDeiLover7
According to Her, poetry is more
than just pretty words on a page.
Sometimes, poetry is the side of
ourselves the world would rather
see. Sometimes, poetry is the side
of ourselves we learn to loathe.
Featured by: betwixtthepages

and i'll pretend i'm Leosome days i think you wonder
like i do
the way i thumb my earlobe when i hope that you're not looking
the taste behind my teeth. in
gemini circles, i'd think us a malformed constellation;
being dust specks, i exist as naught but to black hole your world
into other closeness
sometimes i think you're wrong. i can write these words, can i?
i can write them 'cause you never look, you are heavy on me, you are pressed to my hip
and you don't know that I'm writing about you
and yes,
you will miss the point
i think there was a time when you never tried to cover up my voice with other songs.
a box of quartz plucked from the driveway,
i look at it from time to time.
you sway like you're sailing to china—
there are things i can't un-touch and things you'll never understand, the
care and feeding of turtles and why i always
burn of fever, the sickness churns my stomach, your sickness burns my
mouth
In point, counterpoint. we'll never forget
what day you shot my eardrums out, or the
shredded fl
and i'll pretend i'm Leo
by
Judah-Leonardo
With powerful imagery and a subtle
metaphor, Judah-Leonardo reminds
readers that sometimes, you have to put
yourself out there to be seen for who you really are.
Prose
Featured by doodlerTM
:thumb295688148:
Crisp White Linen
by
AimeeRaindrop
A skillfully crafted story that
keeps the reader guessing as to
the situation of the plot until the end.
Featured by doodlerTM

LouieLouie
"Louie," they called her. Not Louise. "Louie, Louie," her father would sing, nonsense syllables bebopping in his mouth, his voice making her nose wiggle like it does when he smokes cigarettes, "Louie, Louie, Louizze. Louie, Louie, Louieooi."
Louie pushes her boat further into the wild blue yonder of the parking lot. She fashioned it out of a torn piece of cardboard, a toothpick crowned with mustard yellow confetti sprung from a Denny's sandwich. It sails brave and bold on a puddle of diet Coke.
Her brother shoots rubber tipped arrows, Comanche Chief specials, at the cars in the lot. One of the arrows hit a wood panel station wagon with a dull ping. "You die. You die," he yells, a David trouncing Goliath.
Louie blows on the newspaper sail. Her mother washes herself in the bathroom sink with rough paper towels and pink liquid soap. She rubs at the shadows beneath her eyes, hoping the shadows are road grit instead of exhaustion and endless Highway 88 talk radio.
They're traveling to
Louie
by
swansisters
A sweet story that reflects on the
naivety and innocence of a small child.
For more information, including how to suggest a Deviation
to be featured, please visit us at
DailyLitDeviations
.
Thanks so much for supporting the lit community and this project!
~ The
DailyLitDeviations
Team ~
Prepared by: LadyofGaerdon