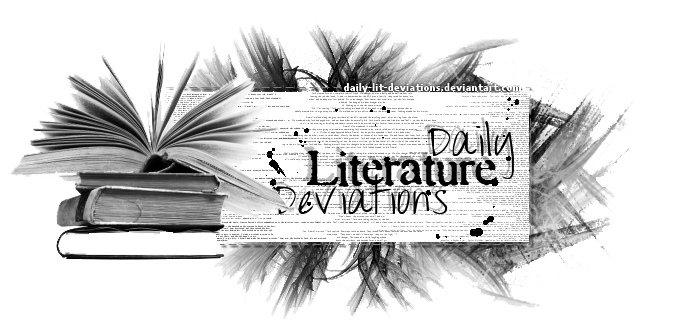 Guidelines
|
How to Suggest a DLD
|
Group Administrators
|
Affiliation
|
Chatroom
|
Current Staff Openings
Daily Lit Deviations for October 10th, 2012
We are proud to feature today's Daily Literature Deviations!

You can show your support by

ing this News Article.
Please comment and

the features and congratulate the artists!

For all of the featured artists:
If you receive a DD for one
of your pieces featured by DLD please note LiliWrites.
We will include you and your piece in a special recognition news article.

Poetry
Featured by: betwixtthepages

The Iron MenI.
Holding hands
Fingers clenched tight,
Tangled
Like knotted hair
We are birds today
With iron
Feathers
And we will never
Breathe
Alone
II.
Yesterday,
We grew
Up.
It was the sort of thing
You don't see coming
Till the needle hits your arm
And your fingers brush stubble
I never wanted
To be
Alone
The Iron Men
by
SugarHeartedGirl
Somewhere between imaginary friends
and being overwhelmed by college, we
realize we're not the people we used to be...
and the friends we grew up with are no
longer around. This bittersweet poem
juxtaposes those two times in life beautifully.
Featured by: SilverInkblot

If I Were a PoetIf I were a poet I'd spin you a line
An embroidery of words etched in silvery twine
A tapestry woven of rhythm and rhyme
And stitch it all up with each tittle and jot
If I were a poet but a poet I'm not.
If I were a poet I'd cook you a stew
A lyrical soup, a most nourishing brew
With couplets for gravy and iamb for my rue
And boil it in a pentameter pot
If I were a poet but a poet I'm not.
If I were a poet we'd take to the seas
With paragraph sails and a literate breeze
And sail on our starship to far galaxies
We'd keep captain's logs of the treasures we sought
If I were a poet but a poet I'm not.
If I were a poet I'd write you a page
Full of musical wisdom so rhyming and sage
A verse to let open the door to your cage
And give you the taste of the freedoms you've sought
If I were a poet but a poet I'm not.
If I Were a Poet
by
CindarellaPop
I don't usually enjoy
sing-songy rhyming poems
this much, but CindarellaPop
shows off how to do it right.
Featured by: DrippingWords

InkYou found me as
A mess of sharp corners
And smudged,
Wrinkly fingerprints.
Someone had wadded me up
And shoved me in the corner,
Trying to forget about
Our shared past.
I guess you were curious
Enough to take a second look,
Smoothing out the worst of the
Wrinkles
And speaking soothingly.
You said you could fix it.
And for a while, you did.
I became smoother,
Less wrinkled,
And some of the rips knitted together.
I was still a bit smudged
By my past,
And had some sharp edges.
They made me
meghan.
And I had a crazy personality,
An odd writing style,
And a habit of not looking
People in the
Eyes.
Those made me
Meghan.
But you
Had other plans.
You made me blunt my corners,
Straighten my lines,
And rip clean my ragged edges.
You made me look at you,
And made me bleed down
To the horizontal blue lines
Of my soul.
Red ink washed the lines away
And grew formless in your hands.
I displeased you,
And you crumpled me up,
Still bleeding,
And shoved me in my old,
Dark corner.
Why couldn't you realiz
"Ink"
by
Synesthi
The metaphor for finding love and
losing it again fits perfectly with the
words the author used to fill the poem.
Prose
Suggested by: betwixtthepages
Featured by: SilverInkblot

Golden TicketThe candy factory? But I'm diabetic.
Golden Ticket
by
Tobaeus
Suggester: "This quirky six word story
will leave readers in a fit of giggles,
especially those who are Diabetic."
Featured by doodlerTM

a need for answers.He looked older than he was. Dim sunlight from the dawn filtered through the open window, and a faint breeze ruffled his dark, wavy locks. His sunken skin gave him a tired, shadowed look, but deep within his eye sockets, black irises glittered with reflected light. The scientist couldn't deny it; the man was an unnerving fellow. Even standing there as he was, he looked out of place. He didn't look much different than the rest of the people here, but there was something about him that made it seem like he did. The scientist had never been able to work out what it was though. He just couldn't think of the words. "We lost another man to the swamp sir." He said, clearing his throat uncomfortably.
The man, who had been staring out of the window, jolted at the scientist's voice and turned around. He looked thoroughly surprised to see another person in the room. "I didn't hear you come in." He said, before taking on a pensive expression as he considered the scientist's report. "Same as usual?
a need for answers
by
Lychalis
A clever flash fiction piece that
leaves the conclusion of the plot
wide open for the reader to imagine.
For more information, including how to suggest a Deviation
to be featured, please visit us at
DailyLitDeviations
.
Thanks so much for supporting the lit community and this project!
~ The
DailyLitDeviations
Team ~
Prepared by: LadyofGaerdon