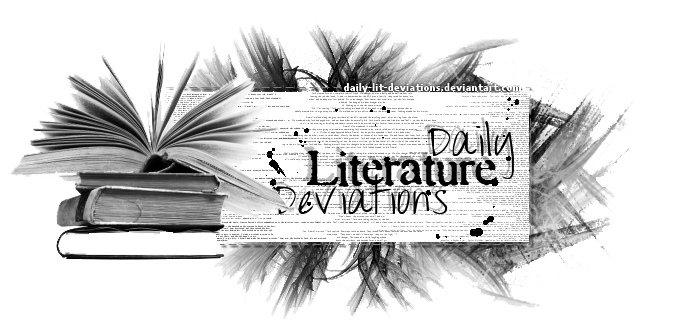 Guidelines
|
How to Suggest a DLD
|
Group Administrators
|
Affiliation
|
Chatroom
|
Current Staff Openings
Daily Lit Deviations for November 8th, 2012
We are proud to feature today's Daily Literature Deviations!

You can show your support by

ing this News Article.
Please comment and

the features and congratulate the artists!

For all of the featured artists:
If you receive a DD for one
of your pieces featured by DLD please note `LiliWrites.
We will include you and your piece in a special recognition news article.

Poetry
Suggested by: ~doodlerTM
Featured by: =DrippingWords

and zero is the biggestraspberry thorns piercing through membranes
of adroit ballerinas with pointe shoes,
bones smashed against the wood;
they are mangled bodies of birds with suitcases tucked in their wings
phrases spilling from their lips:
(i might lose important papers)
scattered along with liquefied brains on the floor.
he was so afraid, that his immune system was having a seizure,
(its brain was falling apart [birds, birds, birds])
and they opened up the zeroth dimension
(you're the biggest zero out there)
infinity upon infinity, negatives, and ten.
among the scattered papers, she will dance with you again
"and zero is the biggest"
by
~
jaani-androphile
Suggester says: "Emotions and imagery
flow together beautifully in this poem -
it has so much to say in an abstract way."
Suggested by: *intricately-ordinary
Featured by: `SilverInkblot
:thumb332940423:
He Will Have cause to Regret
by
!
Fires-of-Winter
Suggester: "The process of time
in this is impeccable. The dialogue
is interspersed so perfectly, this
poem lodges deep within your heart."
Suggested by: ~Hfeather53
Featured by: =DrippingWords

I'm Lying To Myself AgainI feel my taste for beauty waning as the days of my lonely life drag on;
Most evenings see me weary, worried, and withered.
Lost in thoughts of a life yet to unfurl, treasures no longer flow from these fingertips;
Yet, still the urge consumes me.
I could, if the need were too unwieldy, resign myself to mediocrity, but…
No, perhaps a truer ending than death is in order;
Gone are the days of this poet's fancy
Taken, removed from the passing of time or burned by the flame of my breast,
One final niggling itch ripples through my wounded flesh, begging, screaming to
Make these faithless hands love again.
Your final whisper no longer rings like a dinner bell in the shattered halls of my mind,
Suppressing and stinging,
Entreating ravishing thoughts to partake of the bounty of the
Last vestiges of my vanishing humanity.
For you, I will live, my darling; in spite of you, I will live.
Again, I feel the urge approaching;
'Gainst tides of doubt do I struggle.
Always before, when the need ran
"I'm Lying To Myself Again"
by
~
SovereignSin
Suggester says: "I love the

progression this takes. I love how

nicely it flows and how such dark

emotions are written beautifully."
Prose
Featured by ~doodlerTM

Your Three o' Clock is HereI sometimes put Tabasco sauce on my food. Not because I like Tabasco, mind you. Frankly, I despise the stuff. No, I do it because it makes everything delightfully chaotic for a while. The overwhelming taste on my tongue, the intense need of a drink to obliterate it, the moment of utter sadness at the fact that my food has become entirely inedible. All is wrong, all is lost, and oh, where is my salvation in the form of a water glass? Then it's over. Everything lines up once more; I'll live to eat another unsullied meal on another day.
I jump into fountains, too. Clothes on and everything. Oh, and I sometimes burst into song in the elevator or the waiting room at the doctor's office.
"Look at that girl," people say. "How crazy she is, or how brave. How little she cares about social norms. She lives in the moment!"
Yes, that girl certainly does. They all go about the rest of the day, the rest of their lives, never knowing that the girl who lives in the moment is as much of a moment
Your Three o' Clock is Here
by
~
eloquensartifex
A unique story with a chaotic and fresh
main character who seems to consistently
break the fourth wall and reveal much about
herself through random-seeming prose.
Featured by *xlntwtch

SeasideWaves crash outside the French window.
They stir up the dark polished wooden drawing room of the single-floored beachside cottage.  Lace curtains pulled back to savour the salt tang and the cream-coloured dunes waver and shiver in a cold wind.  The north wind is coming off the gigantic swells and wine-dark sea blackening with the fleet of clouds sailing over his house, over the still crystal beach.  
There's a storm coming.
A table sits against the massive thrown-open window, darkening with the gloom.  Such power!  Such fury is about to be unleashed across the seashore!  Even from his high-backed chair, with his shoulder chilled from sitting at the window for hours, he can feel the electric power of the fleet gathering overhead.
Rock features in his thoughts; heavy rocks, thick and ancient and eternally taking an eternal beating from brine and whitecaps.  Out past the point, past the little grove of windswept trees w
Seaside
by
~
DodgingTheBeat
Sensuous and fine flash fiction
about the sea and an artist who
strives to paint the ocean's
strength and her horizon.
For more information, including how to suggest a Deviation
to be featured, please visit us at
=
DailyLitDeviations
.
Thanks so much for supporting the lit community and this project!
~ The
=
DailyLitDeviations
Team ~
Prepared by: =LadyofGaerdon