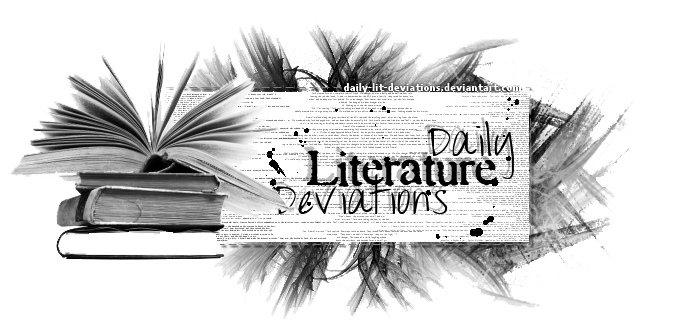 Guidelines
|
How to Suggest a DLD
|
Group Administrators
|
Affiliation
|
Chatroom
|
Current Staff Openings
Daily Lit Deviations for November 6th, 2012
We are proud to feature today's Daily Literature Deviations!

You can show your support by

ing this News Article.
Please comment and

the features and congratulate the artists!

For all of the featured artists:
If you receive a DD for one
of your pieces featured by DLD please note LiliWrites.
We will include you and your piece in a special recognition news article.

Poetry
Featured by: spoems

DaddyThere was a metal door
between his office and me
and sometimes I'd drive
cars into it. It was a garage,
before. Then, filled with
communion wafers,
hidden in desk drawers
like buried treasure,
sacraments for nosy girls.
When outside he finds
the holy departed, he
calls me for a plastic bag.
He picks up my cat,
wracked with rigor mortis
Daddy gives no eulogy.
But calmly he hands us an offering,
repeating the Psalm,
"Why don't we get some ice cream?"
Daddy
by
KarlyNoelleAbreu
The legends of our youth are like
a cup that holds our soul together, as
evidenced in this poetic character study.
Suggested by: GrannyJae
Featured by: betwixtthepages

10.04i.
She sits all alone by the sea
before the empty stretch;
whispered winds wandering through,
without any hope
of a realisation.
ii.
The hush of skin on skin,
such submission in her posture
to shimmy past boulders and pebbles alike
into the vast emptiness --
what a wonderful death it is. To drown.
iii.
Wooden clunk of boats
rocking against the gentle, rippling tides;
brightly painted sides
and glowing edges
and well-ripened lichen and a lining of barnacles
which soothes the onrushing memories.
iv.
Gravel-like hiss of sand on the
sloping route up wooden stairs,
creaky, crumbling boathouse;
faded outlook under grey-blue clouds:
your ship doesn't pass by this place any more.
v.
Maybe that's why these shoes hang,
odd pair as they are,
in these nooses
underneath the water
facing that clear, heavy sky
where we used to walk,
the sun and I.
10.04
by
91816119
I imagine, if one were to write a poem about
the change in seasons without referring to the
seasons at all, this lovely poem by 91816119
would be the result. This is well worth the read.
Prose
Featured by xlntwtch
Essence
by
LadyofGaerdon
Fine flash fiction where the setting
is easily seen and the characters and story
well-rounded in a few wonder full words. Part
of a more work that is its own piece.
Featured by doodlerTM

What I Wanted/Desire

Grandma is dead. She's dead, and I do not know what I am supposed to feel. Certainly, I should feel sad, right? I should be crushed by grief, and go through all the stages, and have group therapy and cry until I think I'm sane enough to go back to a semblance of living. Or should I be indifferent? I haven't known her that well, her living in Illinois and myself being a ten hour drive away. She was the fragile hug and musty-smelling house for a week and a half in May, after school got out. She was an observer as we cleaned the fish we'd caught in the cow pond down the way, marveling at the sunnies that dwarfed my father's hand.
She was the stories of ancient times, when a woman could only be a teacher or a nurse; she was "Take two aspirin and sit on the pot". She was the relic of the past I was awed by as a child, and a living history I want
What I Wanted/Desire
by
Tyrison
With this non-fiction piece, Tyrison
manages to express the confusion of death and
the pondering of life's true meaning and legacy.
Foreign Language
Featured by Exnihilo-nihil

Le deuilMarchant lentement...
Je ne pense plus à toi
C'est un mensonge
Le deuil
by
Alittlebitdreamer
A haiku about mourning,
simple and perfectly written.
For more information, including how to suggest a Deviation
to be featured, please visit us at
DailyLitDeviations
.
Thanks so much for supporting the lit community and this project!
~ The
DailyLitDeviations
Team ~
Prepared by: spoems