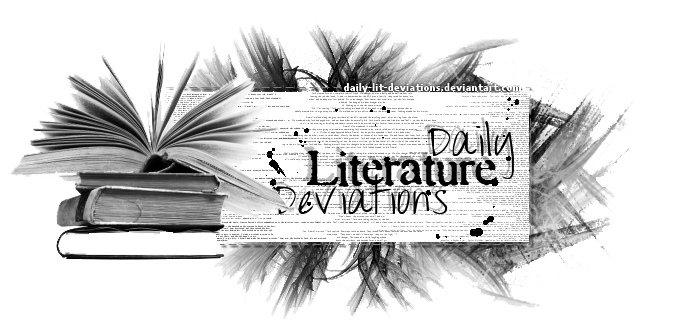 Guidelines
|
How to Suggest a DLD
|
Group Administrators
|
Affiliation
|
Chatroom
|
Current Staff Openings
Daily Lit Deviations for November 4th, 2012
We are proud to feature today's Daily Literature Deviations!

You can show your support by

ing this News Article.
Please comment and

the features and congratulate the artists!

For all of the featured artists:
If you receive a DD for one
of your pieces featured by DLD please note LiliWrites.
We will include you and your piece in a special recognition news article.

Poetry
Featured by: Carmalain7

Half-Past a Different Kind of BrokenTrauma looks like my kitchen clock.
The hours,
minutes,
they are dead
and the second hand stutters,
heartbroken.
I imagine every inconsequential twitch
is a plea for the freedom
it will never see again.
When its futile heart finally gives out,
I won't try to fix the timepiece
because after all its wasted sufferings,
allowing again such a disjointed tic
would be a deeper level of cruelty.
Half-Past a Different Kind of Broken
by
callerofcrows
Meta. Phors. Like clockwork.
Featured by: spoems

they can't be takentheir bleach skin caught my eye
albino white against the wild
hair like bright sky electric in the briars
haloed sister gods shot down like fawn
they can't be taken
by
dy-ad
Short verse that burns past

memory, into permanence.
Prose
Featured by doodlerTM

Commander PinkNEW LOCATION! See comments for link.
"Something gets to him. Something gets to everybody." Luke took a flattened sandwich from his ammo box and pulled it apart with thick brown fingers. That was something Win noticed about everyone here, even the new guy—they all had strong hands. He hated to look at his stupid pale, spindly fingers. "Like me, music gets to me sometimes, you know?" Luke said. "The right song plays, and I'm bawling. There's gotta be something that could break him, you know?"
"Don't be juvenile." Brutus tore his sandwich into huge chunks and looked to Win. "Edwin, you gonna eat or what? Commander'll bite your head off if you waste his time. Like I told you," he said, turning back to Luke, "nothing gets to Commander Pink. He just hasn't got emotions."
Luke looked to Win with raised eyebrows, and he didn't know whether to laugh or feel honored that there was someone here who was too new to see him as the oddball of the unit. Someone who didn't know him as the n
Commander Pink
by
Ready-to-Start
A piece that's almost painful to read about
a man who is inherently stone-cold inside.
Featured by doodlerTM

ParricideChris loves his new doll.
Its china face, with delicate hand-painted features, is framed by curling golden locks. He likes to trace its face with careful fingers. He can see his murky reflection in its glistening shoes and its dress is so soft he can't stop running his hand over the sapphire blue cloth. His parents aren't sure who gave him the doll, but six-year-old Chris can't be parted from it.
When he asks for black patent leather shoes, his dad glances up from the bills spread on his desk and his mom starts looking for her Caravan's keys.
When he asks for his chestnut hair to be bleached, his dad's head tilts and his mom takes him to her salon.
When he asks for his fingernails to be painted a soft rose pink, his dad grins and tosses his wallet over the dinner table to his mom.
When he asks for a blue velvet dress, his dad doesn't look up from his newspaper and his mom later shows pictures on her phone to her cooing book club ladies.
He sits upright at the table without k
Parricide
by
SamNewell
A well-crafted suspenseful horror story
that turns a harmless object into, well,
something far more sinister.
Featured by doodlerTM

Disillusioned

"You girls need a ride?"
October looked up, letting her eyes stray from the gravel beneath her feet. She had been walking along the highway for so long she had started counting her steps to pass the time, hoping that when she finally looked up she would see civilization. Abigail ran to the truck driver's passenger door, haphazardly pushing past October as if she had never ridden in a vehicle before.
October glared at the driver's soiled clothes, greasy hair, and crooked teeth. She imagined his smell which made her gag uncontrollably. It was as if his unkemptness was setting off red flags in her head: "Never talk to strangers. And never accept rides from hillbilly truck drivers in the middle of nowhere."
"Where are you headed?" Abigail questioned playfully. Even though she was a few years older than October, it seemed to make her more reckless than wise. Before the driver had the chance to wheeze whatever location in Kansas he was headed to, October yanked the sultry temptress to
Disillusioned
by
OfOneSoul
With "Disillusioned," OfOneSoul
tells a story of two girls who face the
ultimate horror - themselves.
For more information, including how to suggest a Deviation
to be featured, please visit us at
DailyLitDeviations
.
Thanks so much for supporting the lit community and this project!
~ The
DailyLitDeviations
Team ~
Prepared by: spoems