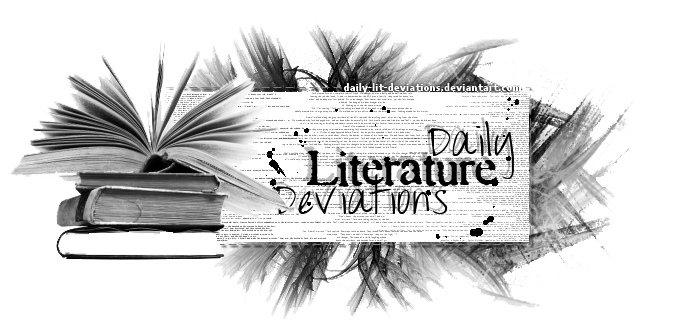 Guidelines
|
How to Suggest a DLD
|
Group Administrators
|
Affiliation
|
Chatroom
|
Current Staff Openings
Daily Lit Deviations for November 22nd, 2013
We are proud to feature today's Daily Literature Deviations!

You can show your support by

ing this News Article.
Please comment and

the features and congratulate the artists!

For all of the featured artists:
If you receive a DD for one
of your pieces featured by DLD please note spoems.
We will include you and your piece in a special recognition news article.

Poetry
Featured by: hypermagical

HonestlyThough there are tears in my eyes
and I can't breathe
don't tell me what you think I want to hear
tell me what you really
have to say
and if you can't speak the words
draw me close
or walk away
just do it
honestly...
Honestly
by
cerealnovels
Truth is more precious than gold.
Featured by: SilverInkblot
Revenge-ku
by
days-be-strange
Perhaps the images is more fitting
for the Halloween season than the Christmas
one, but it's too good not to share.
Suggested by: nightshade-keyblade
Featured by: lion-essrampant

Written WordChildren of the written word
You wield in your minds, voices and fingers
The weaponry you need to fight for truth
In your minds, the ideas
In your voices, the ways to speak your minds
In your fingers, the tools to record them
Stand up and shout out for truth
Fight against the tyranny of evil
Don't sit back while darkness spreads its filth
Address the night as it is
And hand out forgiveness where it is due
For words of passion and love will endure
Rise, oh warriors of truth
Narrate all you can, oh storytellers
Be observant and watchful, oh poets
Let your diction be your sword
As children of the written word, be strong
And spread your words like a raging wildfire
Written Word
by
NathanielFlyingOwl
Suggester says: "A passionate call
to arms to every soul that ever picked up a
pen or wrote down their song and story. It is a
reminder of just how powerful the pen can be. "
Prose
Suggested by: CelestialMemories
Featured by: Gingersanps

on old sanzu - absolutely true fictionlast fall i stole my friend down by the tama river. we sang. we danced. we skipped dead fish like rocks and watched them get swallowed by the undertow. we got sick off of bad chinese food and went skinny-dipping and then a week later she drowned herself.
her uncle was a yakuza, i think, but he really just wanted to be al pacino or something. anyway, she loved him a lot. maybe that's why she went down the way she went down; cement shoes. not real cement, but it was the same idea. she had two cloth bags with yellow-painted cinderblocks inside, and they were tied to her ankles like the prisoners' chains from o brother where art thou.
in my mind's eye i can see her, limping dreadfully close to the edge of the current, her left hand gripping at her breasts through a loose t-shirt. kneeling by the wastelands, elbows in the gravel, crawling forward out into the water. angry like a dermis under wool, all teeth and salt and sand. sleepy, submissive, sublimated.
and then
on old sanzu-absolutely true fiction
by
MindlessThinker
Suggester says: "The style and
the wispy way the deviant writes gave me
the impression that I was going to read a
lighthearted coming of age story. That was
not the case and I was left with a powerful
message by the end of the piece."
Featured by: SilverInkblot

His Better HalfBride/Groom
Wife/Husband
/Widower
His Better Half
by
SCFrankles
Already a master of the six word story,
SCFrankles demonstrates how effective a single word,
or lack thereof, can be.
For more information, including how to suggest a Deviation
to be featured, please visit us at
DailyLitDeviations
.
Thanks so much for supporting the lit community and this project!
~ The
DailyLitDeviations
Team ~
Prepared by: lion-essrampant