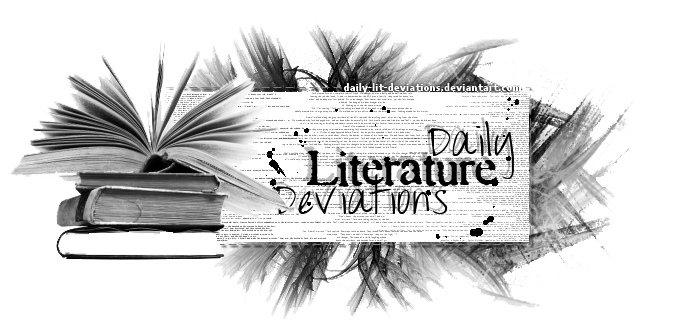 Guidelines
|
How to Suggest a DLD
|
Group Administrators
|
Affiliation
|
Chatroom
|
Current Staff Openings
Daily Lit Deviations for November 28th, 2012
We are proud to feature today's Daily Literature Deviations!

You can show your support by

ing this News Article.
Please comment and

the features and congratulate the artists!

For all of the featured artists:
If you receive a DD for one
of your pieces featured by DLD please note LiliWrites.
We will include you and your piece in a special recognition news article.

Poetry
Suggested by The Favorites Project of LITplease
Featured by: LadyofGaerdon

Elysian AutumnThese are
ginkgo days;
and we,
autumnling,
Arcadian
asphodel,
blooming
away from
the sandals
of shepherds,
who trample;
myrtling victors
and wreathing
the walls of
sea-lucked caves,
Arachne-webbed
and dew-bedecked,
where
jewel-rosetted
nymphs make
play;
and is it because
you are not
quite as
gentle
as me
that I
fear and despair?
chastity chaos
but never was
one so
considerately
fair;
it's simple
to love when
you're watching
the world with
such grace
from a place
in the
grass by
a lake far
away.
Elysian Autumn
by
melodythelittlepony
Lilting rhythm and dream-like
imagery wrap around the reader
like whispered through the wind.
Featured by: spoems

Palaeothic Art     The mind in the cave
     At Altamira
     Paints rock face red with ochred
     Bison, horse, lion,
     Megafauna come to life.
     Yet in one corner
     The tiny stencilled hand print
     Says 'Kilroy was here'.
Palaeothic Art
by
aldwarke
Anthemic of the human
condition, spirit.
Featured by: DrippingWords

of broken hearts and magic.tonight, the stars look less like stars and more like the giant balls of gas people have been telling me they are.
tonight, i cannot find the constellations that i used to call my friends.
tonight, the ocean is a little less mysterious and a little more salty.
tonight i am wishing i knew nothing of magic because this would hurt a little less. i could chalk it up to chemicals and scoff at the idea of a broken heart.
i could leave it at let's be friends [or casual acquaintances] and never worry about what will happen if i run into you at the park.
but i know everything of magic and i felt it in my soul when i was with you and that i cannot forget.
"of broken hearts and magic."
by
modestlyvainglorious
The piece pulls you in
from the very first word,
captivating the readers mind
with it's wonderful imagery.
Prose
Suggested by angeljunkie
Featured by shebledgreenink

Life Mate Nora had been surprised when she found out that the inhabitants of this planet didn't have some sort of marriage ceremony. Åsh had told her that once lovers accepted and claimed each other as a life mate, it was considered to be stronger than human marriage ceremonies. As they couldn't decide what to do, Nora and Åsh decided to compromise and combine the two traditions. Nora got her big family gathering and Åsh got his vows.
"Nora Wing, citizen of New London, section 6, of planet Earth, I claim you as my life mate."
Now it was her turn. Nora took a deep breath and hoped she wouldn't make a mistake. If she did mispronounce his name, it would be considered an insult. "Åshlichtein Bjorkona Ýepsilon Psykeria, Lord of area KX-2081 of planet Nexon Zeblir, I claim you as my life mate." She heard Gabe, an old friend and trusted member of her crew, whistle. He had been teasing Nora about claiming he
Life Mate
by
WishingUnderThatStar
Cute, clever, and an excellent
response to the given prompt.
Featured by xlntwtch

stuck like glueit started with lightbulbs, and it ended with jail.
and when she looked back on it it seemed suitable, like the lightbulb he dropped on her desk was the universe's way of saying that this [whatever this was] was a great idea.
but it wasn't just lightbulbs. every day there was something new, a perfectly random little something dropped on her desk without a word of acknowledgment, like a cat bringing home dead things as gifts [but much cuter, of course] and every day she would tap her fingers with anticipation, just waiting for him to arrive with something new.
and they were always silent in class, barely speaking more than a few words to each other [maybe because he always slept right through the lesson]. but late at night they would spend hour upon hour talking to each other, and she would struggle to keep her eyes open so that she wouldn't have to say goodnight, because she knew, after not very long at all, that he was special.
and for months they were like that - best friends, talkin
stuck like glue
by
aprilwednesday
A surprising and fine vignette,
this shows what a good writer
can do with short prose.
For more information, including how to suggest a Deviation
to be featured, please visit us at
DailyLitDeviations
.
Thanks so much for supporting the lit community and this project!
~ The
DailyLitDeviations
Team ~
Prepared by: LadyofGaerdon