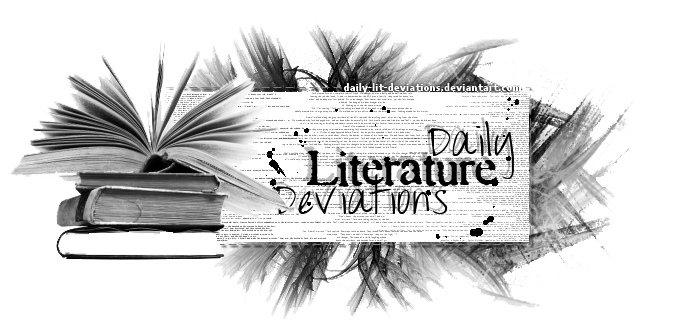 Guidelines
|
How to Suggest a DLD
|
Group Administrators
|
Affiliation
|
Chatroom
|
Current Staff Openings
Daily Lit Deviations for November 27th, 2012
We are proud to feature today's Daily Literature Deviations!

You can show your support by

ing this News Article.
Please comment and

the features and congratulate the artists!

For all of the featured artists:
If you receive a DD for one
of your pieces featured by DLD please note `Kneeling-Glory.
We will include you and your piece in a special recognition news article.

Poetry
Featured by: =TwilightPoetess

Evening Poems9 o'clock and
a nightingale song

clatters forth
from a starling winged night

in perfect mimickry.
The moon and her mandrake
baby screech whites,

peel trees to bone. Blacks
shiver down.
-
The stars meet
at hush- Deaf but eternal

jury. Atlas, stung by

each daughter: a pinhole
truth, still naively serene

after all they've seen: from dove breath
to flame. All
is a curse to the lampbearers.
-
O sleep,
The moon holds court.

Great judge, her metals bleed
into radiance, cleave twilight to hill.
She bobs socketless
through aether and flame, &
to her gleaming calm

all shadows die. No illusions survive
but reflecti
Evening Poems
by ~
a-secret-key
Only subtle differences tell readers that
these snippets were not originally meant to go
together, but the main similarity between them--
imagery of a falling sun, a quiet evening spent
on a porch--ties them together so beautifully,
it's hard to imagine this as anything but a coherent piece.
Featured by: `thetaoofchaos

Love Poem for a Man Who Doesn't Get PoetryI buy milk as if it is the
most important
thing I have ever done; come home and
lay the bag on the floor
at your feet.

The meaning is lost
on you, a man

who is a snap of clean linen;
no, you prefer strait-line
talk, full-throttle motion.

Not wavering semaphore.

I feel silly with my quiet twist of metaphor,
Darling, Buttercup, My Angry Little Arsonist,
saying your name is the breath between
the waves, your heart
the hungry mouth of the bay.

There is a curve between the me and the you
We waited too long, hoping the pause
would not last forever, but just in case,
we hold hands in the dark.

I had forgotten how to give
Love Poem for a Man Who Doesn't Get Poetry
by *
scatteredwords
A poet's heart-imbued lament falls on
deaf ears, or rather, to utilitarianism.
Prose
Suggested by *alapip
Featured by *xlntwtch
Finders Keepers
by *
leyghan
Suspense builds to a pitch-perfect degree
in this story. It doesn't end here, but what's
better than wondering what happens next? Follow
this fine writer to find out.
Featured by *doodlerTM

Infinite Infinitesimal InfinitiesInfinite Infinitesimal Infinities

Everything is infinite; only we aren't. Our inconsequential lives don't allow us the time; we parcel it out individually, as we see fit. A slice to art, a slice to sex, a slice to words, a slice to thought, a slice to cycling trivialities. And no matter how many slices we serve ourselves, there is never enough and we never are full. So we hunger, but there is no mercy; we never starve.

Words are infinite. We, as humans, never tire in our experimentation, twisting and wringing out old verbs and adjectives for new meaning, and usually finding it, weaving tales of wonder for all to gawk at on our looms of drea
Infinite Infinitesimal Infinities
by ~
artistic-foolishness
A thought-provoking and strangely
poetic non-fiction piece about infinity
and humanity's place in the universe.
Featured by *doodlerTM

Across the Sea and Around the KotatsuSpring

Taco Rice

Mom starts with rice. Japanese rice, one, two, three Japanese cup-fulls of rice grains into the cooker, because Sis eats a lot of this stuff. It's one of her favorite dishes, taco rice, and Mom's always happy to make it for her because it's the only way Sis will eat her tomatoes. But back to the rice. "You want to rinse at least three or four times, until the water's kind of clear," Mom says as she cups her hand under the cooker pot, letting the cloudy water wash over her hand.

Rice cooking's easy though – just fill enough water to the point the rice's covered, punch in a time (or set it to "Quick Cook," which with our cre
Across the Sea and Around the Kotatsu
by ~
Cerdisinerias
Magical and enchanting, ~Cerdisinerias
weaves a detailed non-fiction account filled
with connections and traditions.
For more information, including how to suggest a Deviation
to be featured, please visit us at =
DailyLitDeviations
.
Thanks so much for supporting the lit community and this project!
~ The =
DailyLitDeviations
Team ~
Prepared by: `thetaoofchaos