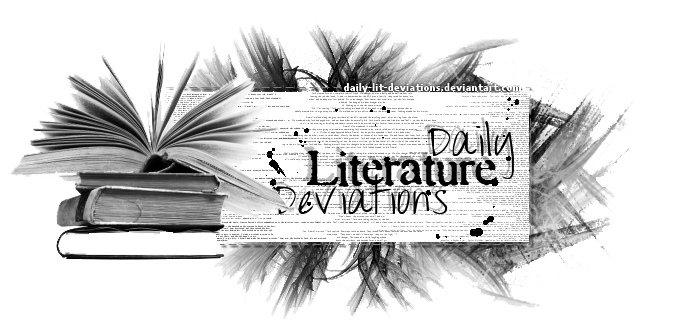 Guidelines
|
How to Suggest a DLD
|
Group Administrators
|
Affiliation
|
Chatroom
|
Current Staff Openings
Daily Lit Deviations for November 25th, 2012
We are proud to feature today's Daily Literature Deviations!

You can show your support by

ing this News Article.
Please comment and

the features and congratulate the artists!

For all of the featured artists:
If you receive a DD for one
of your pieces featured by DLD please note LiliWrites.
We will include you and your piece in a special recognition news article.

Poetry
Suggested by: Halcyal
Featured by: betwixtthepages
:thumb291656243:
Poem 24
by
Pope-Tank
From the suggester: This poem is a well
crafted piece of rhymed and cadenced verse. It's
phrasings and forms are wrought with vivid turns
of text and its landing thrust comes soft and sweet.
Featured by: Carmalain7

Thousand-StarJuly 1st, the Saturday—
before Independence Day at the hall.
My son wanted to buy fireworks
to play with at the children's fair.
Noon time came with its teacupped sunlight
and steaming table cloth of summer.
Sweat leaked from our temples
like too eager tears. And yet,
still he sprang, feet clanging like cans
till I smiled at them, in their shoelaced glee.
All I wanted was a cool drink,
maybe a beer and a few magazines.
So we drove down to the supermarket,
bought a pack for twenty,
labeled, "Thousand-Stars!
You'll be seeing these for years to come!"
And I guess, even now I still see the night sky
as it breaks apart in the trembling light.
My son, now twenty, lives life with
a surly disposition. Quite
unlike the boy, who bought fireworks
with me at that far-kept supermarket
drifting off in the keen air.
He once gave me a look at Thanksgiving
that I couldn't help but want
to drain the clouds from,
to see the sun still behind
such familiar, alien eyes.
Suppose I was there for h
Thousand-Star
by
TheGlassIris
A spiraling story observing the curse of coupling
hindsight with good intentions and distracted conviction.
Prose
Featured by xlntwtch
:thumb161125290:
keys
by
freudenschade
A well-written piece that looks at what,
for some, may seem familar, but is presented
here in a new way, not to mention the unexpected end.
Featured by doodlerTM

Tribute to MemoryThe old woman next door played her depressing version of Happy Birthday to You on her piano again, and Lisa couldn't study.
The music wasn't loud, but it seeped through into her apartment with its slow pace and low notes and bothered her, even though it was ignorable and she was comfortable in good company.
"There she goes again with the sleepy music." Mark placed his Calculus book on the coffee table, leant back into the couch, and yawned. "What's this, the eighth time this year?"
"The first time," Lisa said. "And how's it sleepy music?"
"It's making me drowsy."
"I think it's sad." Lisa stretched against her boyfriend and closed her eyes. She thought of her own mother, grey and unhappy when she last saw her, and now gone. "I think she's sad. Doesn't she always play it like this around this time?"
"I think so," he said. "And if she
Tribute to Memory
by
Swiss-Dilettante
A moving, heart-wrenching story that presents
loss in such a realistic and personable way.
Foreign Language
featured by Exnihilo-nihil

Doublon poetique I - CigaretteJ'ai mis mes bottes oranges puis ma robe blanche J'ai mis mes bottes orages puis ma robe bleue
Pour me promener dans la campagne mouillée, Pour me promener dans la campagne émaillée,
Mes mèches brunes frivoles par le vent volées Mes messes brunes dévotes par vent immolées
Ont l'odeur exotique de contrées de revanche. Ont l'horreur magnifique de confrères pervenches.
Ainsi, je frétille en les flaques endormies, Ainsi, je béquille dans les flaques harpies,
La pénombre me guide à travers les bleuets La palabre me guide à travers les corsets
Qui, pas à pas, jaillissent de la forêt, Qui fut autrefois, jadis, sens de l'adoré
Laissant place à la mer d'édifices hardis. Lassant, face à la chair d
Doublon poétique
by
In-Petto
A very original idea for this poetry :
a classic line for a classic poem, then
another one, written in italics, in a semi-
automatic way, playing with sense and words;
and so on. Bravo!
For more information, including how to suggest a Deviation
to be featured, please visit us at
DailyLitDeviations
.
Thanks so much for supporting the lit community and this project!
~ The
DailyLitDeviations
Team ~
Prepared by: spoems