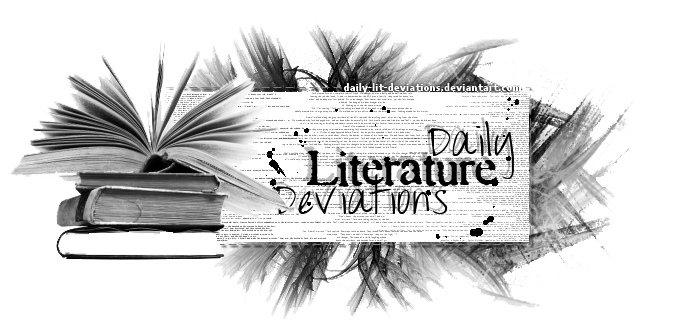 Guidelines
|
How to Suggest a DLD
|
Group Administrators
|
Affiliation
|
Chatroom
|
Current Staff Openings
Daily Lit Deviations for November 23rd, 2011
We are proud to feature today's Daily Literature Deviations!

You can show your support by

ing this News Article.
Please comment and

the features and congratulate the artists!

For all of the featured artists:
If you receive a DD for one
of your pieces featured by DLD please note damina.
We will include you and your piece in a special recognition news article.

Poetry
Featured by: LadyofGaerdon
"Through The Hole In The Glass"
by
CliveBlake
This piece doesn't need a picture to
get an image across, but the addition of
the picture just serves to makes an even
greater impact. It is impossible to look
away from, and the words stay with you
long after you've read them, provoking deep
thought and even deeper emotion.
Featured by spoems

stratawe can climb, vertically
through the region, the continent
a vast terrain like a length of dark cloth laid upon the clay
and when the lost sky comes against us
we can traverse a new path.
but it's hard for me to locate your many strata
within the shifting contour lines
i know only the crawl and fold of the tide
the foam and spit of the wave
and the gravity of rainwater.
to study you
is to be drunk with obscurity
i want your phenomena and your substance
to know your structure like the cap of ice on a
winter lake knows its shape
and how a portion of light strikes a harsh shadow
on the rocky outcrop
i have unfastened you
so i walk in your country
to enter you then, and always return
knowing your palm, your mouth, the smell of your air
to just love without deciding
and forever not so to dark
strata
by
catfacer
This poem relishes in the journey
towards understanding another elementally.
Prose
Suggested by: monstroooo
Featured by: SilverInkblot

3 a.m.

3 a.m.
Patches of stars showed between the clouds as they drifted slowly through the night sky.  The moon bathed the fluffy edges of each one, lending it a silver lining.  Amber streetlights lit up the roads, giving them the appearance of black glass.  The rain had ended a few hours ago and the wet pavement sparkled as if it were dusted with glitter.  
A black boot splashed through the ditch outside Jill's house, crossed her yard, and disappeared behind her privacy fence.
The party was for her sister's twenty-fourth birthday.  Jill had spent the whole week planning it and the whole day enjoying it.  Now she lay on her chaise in the living room by the patio door.  She had left it slid open and the cool night air blew into the house from the west.  
In the side yard between the house and the fence, a figure dressed in black crouched below the windows and lurked into the backyard.  The glint of a kni
3 a.m.
by
RiFlight
From the Suggester: "The storytelling
and atmosphere here are second-to-none.
From the opening paragraph which sets the
scene, to the interplay between the two
characters, the author has created a
breathtaking and unsettling story."
Featured by angelStained

Celebrating the Song Collectors"Doesn't anybody care about truth anymore?
Maybe that's what songs are for."
-Hayes Carll
I've loved music for many years. As I've grown, my tastes have grown with me. And as I'm a poet at heart, I've noticed that what develops most over the years is an increased appreciation for the stories behind and around the music. The passage of time has imbued me with a respect for the importance of songs: something which has been at the front and center of my mind since last weekend, when the final piece of a lifelong puzzle fell into place.
An English folk singer by the name of Vin Garbutt told me the following story, which I'll re-tell in my own words.
When the spectre of war cast its shadow over England in 1914, the village of Fulstow, Lincolnshire, was one of many to rise to its duty. Ten young men left the village one morning to fight for their country – including one as young as sixteen, who was later found to have lied about his age. None would
Celebrating the Song Collectors
by
monstroooo

It's a wonderfully-written and incisive
piece of non-fiction. Well worth a read.
Foreign Language
Featured by kamy-ska

SalvacionMe encontraba sumida en la oscuridad, lentamente acomodándome en ella. Mi corazón no deseaba palpitar, mi alma se rendía ante el sufrimiento y la desesperanza. Suavemente, delicadamente, unas manos tomaron las mías, salvándome de mi soledad. Hiciste que la esperanza volviera a aflorar en mi interior. Quizá al fin se cierren mis heridas.
Bajo la lluvia, ante la mirada atenta de las estrellas, besaste mi alma y alejaste el dolor y la tristeza que allí habitaban. Tus brazos me rodearon, refugiándome, llenando de calor mi ser. La Luna se sonreía al observar las caricias impartidas a lo largo de nuestros cuerpos. Tus ojos grises, el marfil de tu piel, el embriagante aroma de tu perfume, toda tu esencia encerrada en mi memoria. Tu mirada invitaba a zambullirse en ella, a navegar en el mar de tu iris, intentando descubrir tu sentir.
Nuestros labios se rozaban, casi con impaciencia, deleitándose con las reacciones provocadas. Mi boca se dirigi&
Salvación by
anubis-pumpkinqueen
This piece is about salvation,
about how someone can help us to start over.
For more information, including how to suggest a Deviation
to be featured, please visit us at
DailyLitDeviations
.
Thanks so much for supporting the lit community and this project!
~ The
DailyLitDeviations
Team ~
Prepared by: Ebahr