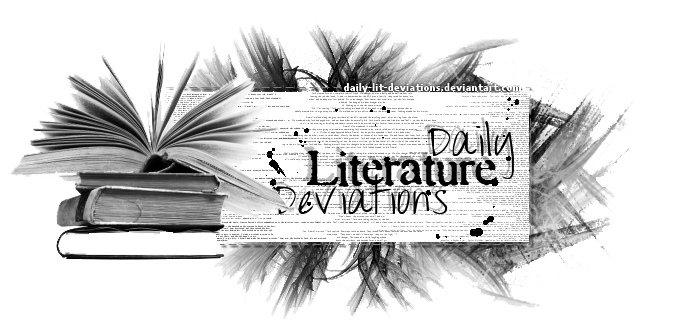 Guidelines
|
How to Suggest a DLD
|
Group Administrators
|
Affiliation
|
Chatroom
|
Current Staff Openings
Daily Lit Deviations for November 22nd, 2012
We are proud to feature today's Daily Literature Deviations!

You can show your support by

ing this News Article.
Please comment and

the features and congratulate the artists!

For all of the featured artists:
If you receive a DD for one
of your pieces featured by DLD please note `Kneeling-Glory.
We will include you and your piece in a special recognition news article.

Poetry
Featured by: =TwilightPoetess

AutumnThe leaves are falling
Like red and gold confetti
Welcoming autumn
Autumn
by *
Created-By-Caz
This beautiful haiku brings the autumn
--specifically, the changing colors of the
trees--to vibrant life. *Created-By-Caz
makes the little things matter in Autumn.
Suggested by The Favorites Project of #LITplease
Featured by: =LadyofGaerdon
"Why we were not made to touch"
by *
crossing-ariel
So much hides beneath
these sea-swept words,
and the glimpse we are
gifted with is hauntingly lovely.
Suggested by: *doodlerTM
Featured by: =DrippingWords
:thumb335317383:
"PT 2635.E68 W4"
by ~
Muragaragah
Suggester says: "The object of this
poem is at first an odd one, but gives
the reader a great feel for the book
selected and for books in general."
Prose
Featured by: =LadyofGaerdon

RosesYou love too much, I am told by a man with a briar heart, thorny sinews and collapsed ventricles bearing down on him, hardly beating in his tight chest. He looks at me with flat, slate eyes, chipping and eroding. His hands are dark with cigarette burns and rough with calluses; I feel them on my shoulders as he looks down at me, face collapsing in at his eyes like a dead man's.

For the first time, I realize he is dead. His briar heart dried up when winter killed his rose; my father, he is all thorns.

He squeezes my shoulders, too tight. You look like your mother, you know, he whispers, eyes shifting to the garden, to the yellow rose I plante
Roses
by ~
AlloenDreams
Desperately sad yet brimming with
hope, the imagery is superb and
the message a vitally important one.
Featured by *xlntwtch

Introducing Joy Ike

A Night at the Cup and Chaucer with Joy Ike

At the University of Pittsburgh's Hillman Library, in a little makeshift café known as the Cup and Chaucer, a woman approaches the microphone with the professionalism of a seasoned performer, yet the candour of someone just stepping into the limelight for the very first time.  On keyboards and leading vocals, the illustrious Joy Ike.  On Urdu drum and backing vocals, her sister, Peace Ike.  Joy and Peace --a combination that connotes elation and calm.  The perfect mixture of happiness and ease that only finds its crossroads between art and commerce.

Thi
Introducing Joy Ike
by *
Yvning
A really fine review about the musician
Joy Ike, and those who know a
"green moment" in music and love to share it -
plus one writer who captures it all so well.
For more information, including how to suggest a Deviation
to be featured, please visit us at =
DailyLitDeviations
.
Thanks so much for supporting the lit community and this project!
~ The =
DailyLitDeviations
Team ~
Prepared by: =LadyofGaerdon