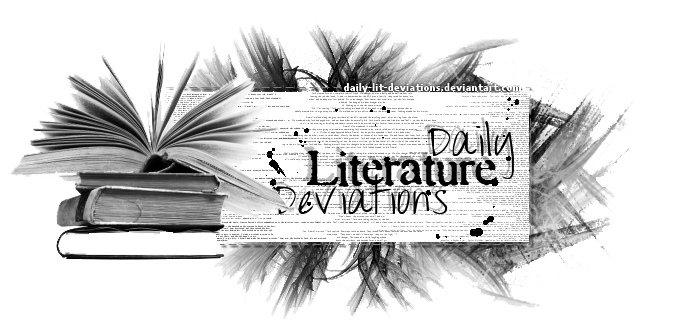 Guidelines
|
How to Suggest a DLD
|
Group Administrators
|
Affiliation
|
Chatroom
|
Current Staff Openings
Daily Lit Deviations for November 21st, 2012
We are proud to feature today's Daily Literature Deviations!

You can show your support by

ing this News Article.
Please comment and

the features and congratulate the artists!

For all of the featured artists:
If you receive a DD for one
of your pieces featured by DLD please note LiliWrites.
We will include you and your piece in a special recognition news article.

Poetry
Suggested by AzizrianDaoXrak
Featured by: LadyofGaerdon

Vishnu Dreams of Marilyn MonroeIn cities of ashen shine you pucker lips
too lush to be anything but bridges.
Winding through windows
the wind chimes slowly,
mingles the threads of your brown hair
with the voice of horses wild, unseen,
brought from the steppes of common place heaven
to the machination of light that surrounds you,
city dwelling fox of the fiery tome
of unreason.
In this catastrophic miracle that is my dream,
in this cosmic clutter of symbols
and names
where the histories are meaningless
and bones turn to stone
and stones fly,
launched from the small hands of children;
in this reckless melody first heard
so many dreams ago, this composition
of burning wolves and howling jellyfish,
random shapes unexpectedly take form,
the nonsense
is all laid out
and spoken with measure. Jungles cease to be
a water paint haze
and become jungles, teaming of song's true form
when from the moistures of a shower
you emerge, deciphering.
Vishnu Dreams of Marilyn Monroe
by
chapaV
chapaV composed this piece for my
group's Inner Divinity Contest, and I have
to say he did a fabulous job conveying a
sense of the deity he chose. Not only that,
the combination of dreaminess and concrete
imagery makes for a wonderful wistfulness.
I love the flow he's created, as well.
Featured by: betwixtthepages
:thumb338535461:
On Waiting
by
Shairese
Writers block isn't always the bane of an
author's existence. Sometimes, writers
block is just the break we need to regroup,
rethink, and rediscover our ways down an
often wordy path. On Waiting, by Shairese,
will make readers reconsider those moments
when they get "stuck" for words.

The Lost PianistThe Lost Pianist
Tears reminisce mahogany boxed memories,
Of ecstatic crescendos and tearful diminuendos.
For deep in eternal sadness lies the lost pianist,
Who once dreamt of glorious symphonies.
As he caresses the goddess of the piano,
She moans of rhythmic joy and pleasure,
Executing works that rival the Siren's song,
Echoing the lost voices of her past masters.
But in time's command, their hearts went astray.
Each lying in their own pool of heartfelt miseries.
While he walks asunder, away from melodic Eden,
She beckons to him, yearning to be loved.
Her sorrowful notes whisper his name,
When he contemplates sweet nostalgia.
They swore to eternity to unite in bliss.
A promise that surpasses a mere forevermore.<i>
"The Lost Pianist"
by
Shadow-Fox168
The author weaves the piece together
with wonderful images and comparisons,
and the piece itself begs to be read aloud.
Prose
Featured by xlntwtch
Belief
by
JassieMaam
Flash fiction that delves deep
into thoughts many have but
don't express, told very well here.
Featured by xlntwtch

The Price of Dying"I want to be interred after I die," Mr. Peters said. He made that clear to his family while he was still lucid, before old age and illness rendered him unintelligible. Seventy wasn't that old, but he recognized the symptoms that were creeping up on his ailing body – the aches, the fatigue, the feeling of helplessness and despair. Despite his daughter's attempts to assuage his concerns, he sensed his own mortality.
The worst part about dying, Mr. Peters thought, was what happened afterwards. Even since he was a small boy, he had been afraid of fire. He could never forget the scorching heat of the orange flames searing his skin, the dark billowing smoke entering his nostrils. The time that his house burned down, the fire almost took him with it. How ironic then, to escape the fire only to be fed into it after death.
So one day, he sat his son and daughter down after dinner. "I want to be buried whole," he said, emphasizing the
The Price of Dying
by
Clevina
This vignette is all about plot,
in more ways than one. Great
description and characterization
also make it a fine story, one that
steps forward in time toward a look back.
For more information, including how to suggest a Deviation
to be featured, please visit us at
DailyLitDeviations
.
Thanks so much for supporting the lit community and this project!
~ The
DailyLitDeviations
Team ~
Prepared by: LadyofGaerdon