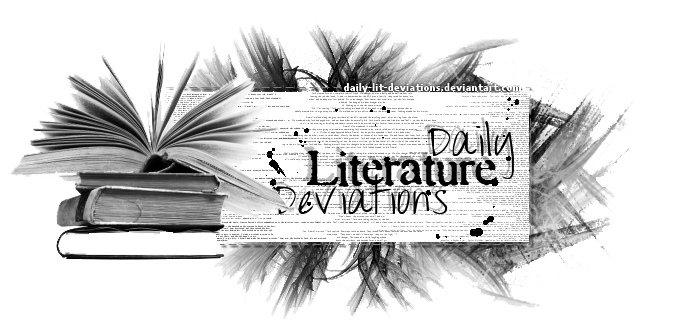 Guidelines
|
How to Suggest a DLD
|
Group Administrators
|
Affiliation
|
Chatroom
|
Current Staff Openings
Daily Lit Deviations for November 20th, 2012
We are proud to feature today's Daily Literature Deviations!

You can show your support by

ing this News Article.
Please comment and

the features and congratulate the artists!

For all of the featured artists:
If you receive a DD for one
of your pieces featured by DLD please note LiliWrites.
We will include you and your piece in a special recognition news article.

Poetry
Featured by: SilverInkblot

intersectionMy father's hair is gray now.
I'm not sure if it was the elevator
or that realization that caused
the lurch in my belly.
There's a little plastic container
on the bathroom counter, housing
blue, yellow, beige pills, designed
to slow the body's inevitable breakdown.
There are lines around my father's eyes now -
I feel his loneliness echoed in my chest,
in the mirror as I prepare for bed.
A blurry, half-remembered moment,
smudged with time, of sitting on his strong
shoulders, laughing in the sun,
so sure that he would always be able
to hold me up to touch the sky.
We live this half-baked life now,
circling each other, moments intersecting,
brief, our real lives hours away, with our
other families, and his silver hair,
little pills, sad eyes make me terrified
that we missed our chance, started
too late, and I will never be
daddy's little girl again.
intersection
by
beautyinreview
A beautiful, melancholy portrait of
age and its effect on families.
Featured by: SilverInkblot

wrists that roarmama says
pull down your sleeves
they'll see, they'll see
but no-one's even looking
i say mama
tigers are proud and strong
and tigers show their stripes
so today i'm a tiger
and who says
i can't be a tiger
when razors made me fierce
and secrets kept me lonely
who says
i can't tiger-roar
when everything unsaid
ripped my throat raw
i made my stripes
with tiger-claws and tiger-teeth
so damned if i'm not a tiger
and damned if i won't roar
mama, i'm a tiger
mama, hear me roar
wrists that roar
by
anniba
I think the title really says it all,
but have a read anyway. Self-harm and tigers
have more in common than you might think.
Suggested by AzizrianDaoXrak
Featured by: LadyofGaerdon
Williwaws and Halny
by
tonepainter
This piece is absolutely breathtaking
from the title onward. The interplay
of sounds (whether as rhymes or
alliteration) is just delicious. The flow
is sweeping - a bit like a forest fire.
Prose
Featured by: SilverInkblot

How one Dead Views the LivingMy life had always been painted in sombre greys. In death, how it blossoms!
When the rains come, the watery drops fall like tears of ink: echoing and dancing across sparkling sapphire puddles. The sun, a golden mystic orb, shedding its beauty on all it touches.
I see rustic weather-beaten cragged faces of the old, set with eyes of faded blue. I behold bright smiles and blushes upon the fat cheeks of the young. My ears prickle with the twirling thousand-noted song of birds. The beauty of all these things I never observed in life, now bursts upon my ripened senses - in death.
In a trance I view this new-found paradise. Life, I have come to realise, is most beautiful to the spectator. The spectator has no need for understanding or judgement.
I look upon a derelict dilapidated street, filthy with squalor. I cast my eyes over the crumbling paintwork of rotting window frames, housing broken panes. Here and there sickly weeds break through mouldering masonry.
Oh what a picture, what a spectac
How one Dead, Views the Living
by
Somnolent-Droid
Life from a spectators point of view. The
narrator has a fantastic and enthusiastic
voice that juxtaposes against the subject beautifully.
Featured by xlntwtch

Changing Sands"May I sit here?"
Alex looked up, the breeze catching her red hair, blowing it back. "The beach is big, I'm sure if you looked hard enough, you could find some other place to sit," she said, her eyes returning to the orange-tinted waters as her fingers dug into the still warm sand.
"I know," the man replied, dropping his surfboard and himself onto the sand beside her. "You're always here. I dunno, but you always look lonely.
Alex frowned. "So, you're my white knight here to rescue me?"
"I just wanted to see what kind of girl would come to the beach and not even swim."
"The kind that doesn't own a swimsuit." She turned her head just in time to see a wide smirk spread across the surfer's face.
"Ah, but clothing isn't exactly required. I'd be more than happy to join you if you decide to take a dip," he offered. He didn't seem to notice the way her green eyes narrowed.
"You know, as sweet as that is, I think I'll pass."
The man picked up a seashell, examining it as if it was something that
Changing Sands
by
TheBloodyEpicPumpkin
This fine flash fiction shows how a
stranger can make a life-changing difference,
if one listens and really hears what's said.
It displays a good case for possible hope.
For more information, including how to suggest a Deviation
to be featured, please visit us at
DailyLitDeviations
.
Thanks so much for supporting the lit community and this project!
~ The
DailyLitDeviations
Team ~
Prepared by: spoems