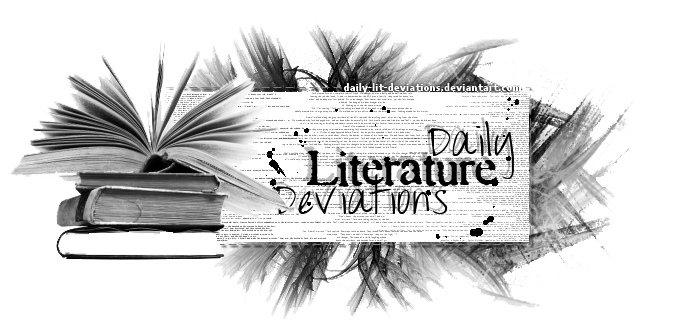 Guidelines
|
How to Suggest a DLD
|
Group Administrators
|
Affiliation
|
Chatroom
|
Current Staff Openings
Daily Lit Deviations for November 18th, 2012
We are proud to feature today's Daily Literature Deviations!

You can show your support by

ing this News Article.
Please comment and

the features and congratulate the artists!

For all of the featured artists:
If you receive a DD for one
of your pieces featured by DLD please note LiliWrites.
We will include you and your piece in a special recognition news article.

Poetry
Suggested by: intricately-ordinary
Featured by: SilverInkblot

SometimesDigital stars make neon scars in the night,
and we are imagining the feeling of sometimes being alive,
and sometimes being in love.
Magazine dreams rip at the seams in the light,
and we are imagining the feeling of sometimes being in love,
and sometimes being alive
Bright coloured cars start highway wars in plain sight,
and we are imagining the feeling of sometimes being alive,
and sometimes being in love.
Tasting the sounds as the ocean pounds against moonlight,
and we are imagining the feeling of sometimes being in love,
and sometimes being alive.
Sometimes
by
PrideofPanem
From the Suggester: "The indefinite nature
of the word "sometimes" is explored."
Suggested by: Solarune
Featured by: Carmalain7
Isaiahdid you hope with me, Isaiah?
or did I merely dream the days of our stand;
of red strings, of stardust,
of too-small hands & too-long hair,
& of the words, the words, the words
(the ones you had me
believe you were worth)
for it was you who said,
"go big or go home.
I will give you the world,
or nothing at all.
this, I promise to you."
so dear to me, the vowels & the verbs,
the air hissing through
your teeth: gateways
to a barren land
words
like wind through the trees,
like ghosts through the tombstones.
have you left me, Isaiah?
I travel north & farther north, still,
for humans do, subconsciously,
gravitate homeward.
but you are nowhere to be found
except in the silence.
& never have I ever known
such a selfish, selfish boy,
who
would warm himself with my faith
then snuff it out
with no change
of light in his eyes
I am a cup, & your words
are not water, but dead earth.
& so you will always have
a part of me
in you:
my grave.
truly,
did you love me, Isaiah?
for it was heartbreak
Isaiah
by
flummo
Suggester: "I don't know if flummo
could write more eloquently than she does in Isaiah,
with its broad, sweeping images and delicate declarations."
Featured by: betwixtthepages

LossKneel. Lick the salt. Pray.
There is a hole here, I say,
pressing to my breastbone.
No doctor can diagnose it.
There is no test to check
how deep you've been ingrained
in my woodwork, pumping muscles
and spitting valves.
And no scalpel can erase this.
The emptiness of unfriendship.
Cold eyes glinting black
where once they glimmered.
This is a flimsy half-light
coming from my cigarette.
Nothing good will come for years.
Kneel. Lick the salt. Pray.
You're gone.
Loss
by
Taralitha
The loss of someone who was once near and
dear to us strikes hard, leaves a gaping wound,
and usually hurts more with more time that passes.
Taralitha portrays this sense of desolation
in the lovely, harsh imagery of this piece.
Prose
Suggested by: DrippingWords
Featured by: SilverInkblot

Hayling (Teaser)The clunker satellite was within his grasp. The gloves of Rise's space-suit rig sent signals to the neural relays attached to his head as he grazed the side of the satellite. The metal felt brittle, and he expected that from a two hundred year old satellite. What caught his interest, however, was the hollow feeling that resonated from his gloves to his head. Satellites were compact and filled with the electronics necessary to equip them with for their job. They were most definitely not hollow.
Rise acted quickly; his shuttle would be out of reach in a few minutes. Clambering around the outside and pawing at the peeling heat tiles-- heat tiles did not belong on a satellite-- he began looking for a handle or a latch of sorts. The metal had felt hollow, but not enough to warrant a sizeable space on the other side and if the satellite was similar to his shuttle that would indicate a panel. Curiosity had always been an undeniable trait of his, and he was determined to investigate further an
Hayling (Teaser)
by
Nichrysalis
Suggester: "When he says teaser, he means it.
As soon as you're finished reading, there is this
yearning to know more and more."
Featured by doodlerTM

The Stick PeopleIn a town called Rushing Water, there lived a woodcarver with no face.
When we were small, my brothers and I, Daddy would sometimes take us to visit her. We would sit there at her kitchen table, amazed, as this woman with no eyes – and indeed no nose or mouth – would pour out our tea without spilling a drop.
I was frightened of her because she looked so strange, so grotesque. All the other days of my life, I encountered people with faces – square faces, oval faces, faces round and smiling like the moon with slanted eyes or big dark ones or little beady bird eyes. Snub noses, Romans or long, thin, birdlike ones like mine. Yet here was a woman with none of that or any of the faculties that come with those organs.
As a little girl, I dreaded our visits to the faceless woodcarver. But now that I've grown up I miss most all the memories of my childhood, even the somewhat unpleasant ones, so I sometimes let them wander through my mind even when they aren't invited. So I remember the woodcarv
The Stick People
by
Dead-Raccoons
An entertaining folktale that warns
against ignoring 'silly' superstitions.
For more information, including how to suggest a Deviation
to be featured, please visit us at
DailyLitDeviations
.
Thanks so much for supporting the lit community and this project!
~ The
DailyLitDeviations
Team ~
Prepared by: spoems