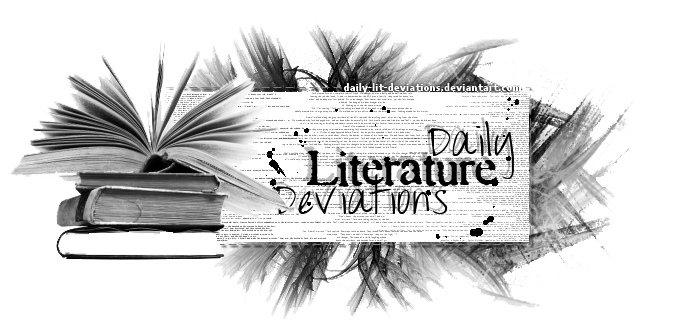 Guidelines
|
How to Suggest a DLD
|
Group Administrators
|
Affiliation
|
Chatroom
|
Current Staff Openings
Daily Lit Deviations for November 16th, 2011
We are proud to feature today's Daily Literature Deviations!

You can show your support by

ing this News Article.
Please comment and

the features and congratulate the artists!

For all of the featured artists:
If you receive a DD for one
of your pieces featured by DLD please note damina.
We will include you and your piece in a special recognition news article.

Poetry
Featured by: LadyofGaerdon

you hold the moon hostage

and sometimes,
the moon goes into hiding
and leaves the sky haunted only by stars
and i find myself wondering
if you've captured her love in your grin.
the wind whispering through the trees
sounds more like a haunting melody
than a soothing lullaby.
i see your face there
every time i close my eyes,
your smile lurking just above the horizon line
as i drift to dream.
but tonight,
the stars have disappeared
and left the sky to storm clouds
and i wonder if this means
the moon lies in your arms.
are you making love to her somewhere,
the covers pulled close
and the stars glistening in the spaces
between her crater-marred heart
and your beautiful soul?
the sky is lonely here without you.
"you hold the moon hostage"
by
betwixtthepages
Quiet, lonely beauty permeates the text,
with delicate rhythm and still, breathless imagery,
creating a sense of deep, reflective solace.
Featured by: LadyofGaerdon
MeowThe feline within me wants to laze on your pillow all day long.
She yowls and cries when locked out of your room
and demands the quilt on your bed as well.
The feline within me wants to sunbathe on the window sill.
She wants you to leave your plants there, too
in case she gets hungry during her nap.
The feline within me is conceited.
She is the most important thing in your life
and she demands you know that.
Pet her. Tell her stories.  Cuddle with her everyday.
If the feline within isn't your one and only princess
she will scratch your furniture and steal your socks.
"Meow"
by
RipfangDragon
A charming, completely adorable poem with words
that unfold with all the lazing, graceful energy of
a feline.
Prose
Suggested by: justlittlemusings
Featured by: SilverInkblot

Spilled Ink On Wet Paper"Do you remember when you were little and you had a bicycle with a bell that you'd ringringring just to annoy your parents and you'd try and carry all of your toys whilst riding but you'd accidentally let one slip and then you'd go flyingflyingflying and your knee would be scraped and you should have been crying but the blood was a pretty red so it was all okay?"
"Yeah."
"Well that's sort of what being with you is like."
Oh, darling. Darlingdarlingdarling, we sure had fun before we got angry; didn't we?
Sometimes, when I'm lying in bed trying to forget my own name, I think about youyouyou. You just look contemplative and smile and don't say a word and that's okay because that's all I expect from you.
"What are you doing?"
"Breathing."
"Is that really worth mentioning?"
"I don't know; is it really worth doing?"
"You tell me, is it?"
"Not enough."
I'm still so curious about you, love. I wanted to ask you all sorts of things; like where all of your birthmarks are and why you never talk ab
"Spilled Ink On Wet Paper" by
Shenanigan-Pancakes
From the Suggester: "This piece has a
wonderfully captivating beginning."
Featured by: Kitri-du-Lac

Perfect ContritionIn a proper Catholic church, everything echoes. Any sound uttered within the building bounces of the floor and the walls and the high, vaulted ceilings, so much so that I imagine that they could easily reach the ears of God himself. It's a rather poetic thought, the voices of mere mortals ringing towards Heaven with the help of good acoustics, but that thought's tempered by the fact that it includes every single noise: the coughs of emphysemic old men, the rustling of an impatient young girl's dress, and the taps of even the softest rubber-soled sneakers are no exception. On rainy days like this one, those shoes tend to squeak, which probably hurts God's ears as much as it does mine. If I didn't feel like I had to be here today, the noise would be enough to drive me out the heavy double doors.
I didn't make it in time for Mass—and I honestly wasn't in a rush for it anyway—so the church is mostly empty save for the few waiting in line for the confessional. This church h
"Perfect Contrition"
by
Hesperie
A deeply personal short story, this offers an
insight into an unfamiliar world. It smoothly discusses
the impact of religion on the young mind, following a
perfectly formed arch and making excellent use of flash-back.
Foreign Language
Featured by kamy-ska

La NadaLa oigo…
Es un susurro lejano,
pero es un sonido claro y musical.
Es él, es su voz, me llama.
Quiere que vaya con él.
Donde todo es nada.
Y la nada, nada es.
Donde podremos estar siempre juntos,
donde dejaré de ser.
Quiero ir con él.
Permanecer a su lado.
Abandonar este mundo;
donde me atormentan los demonios,
criaturas de la noche y sin nombre.
Dejaré bailar la cuchilla al son de su voz
Por mi muñeca de porcelana, desnuda, frágil.
Y sentir cómo alimento la tierra.
Con el fuego de mi interior,
tan rojo y ardiente;
que se desliza por mi muñeca
creando un lago
donde me pierdo en mis pensamientos.
Besando el néctar que fluye por mi piel,
viendo como huyen mis últimos suspiros.
Y todos son por él.
Mi vista se nubla.
Mi respiración se extingue.
Y mi corazón se rompe.
***
El  médico me dijo un día
que todo lo que escuchaba no era real.
Pero tenía que mentir, no podía ser verdad.
Porque er
La nada
by
DulceElixir
This is a poem about nothing, about nowhere...
About a strange concept with thousands of ways.
For more information, including how to suggest a Deviation
to be featured, please visit us at
DailyLitDeviations
.
Thanks so much for supporting the lit community and this project!
~ The
DailyLitDeviations
Team ~
Prepared by: Ebahr