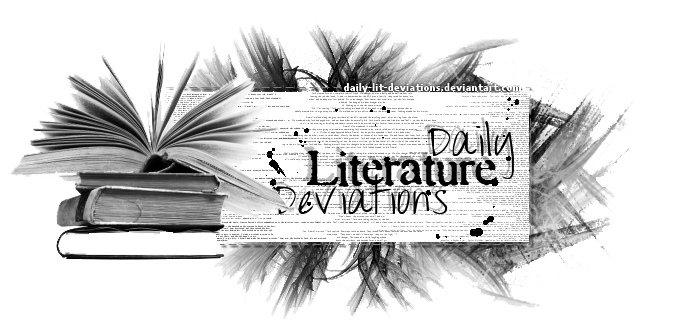 Guidelines
|
How to Suggest a DLD
|
Group Administrators
|
Affiliation
|
Chatroom
|
Current Staff Openings
Daily Lit Deviations for November 15th, 2012
We are proud to feature today's Daily Literature Deviations!

You can show your support by

ing this News Article.
Please comment and

the features and congratulate the artists!

For all of the featured artists:
If you receive a DD for one
of your pieces featured by DLD please note LiliWrites.
We will include you and your piece in a special recognition news article.

Poetry
Featured by: LadyofGaerdon

Fallen Scent .collab.Remember back when we would
Skip math class to go and
Have a cigarette behind the school?
[Things sure changed fast]
the stale smell always stuck to my clothes
I tried washing it off, and yet it still clung to me
I tried washing you off, and yet you still held on too tight
Somehow, I knew your image in my mind would never feel quite right
Sometimes I like to imagine
That we never really met
[And it makes things better for a little while]
I'd spray myself with perfume
The cheap kind you'd find lying around at the back of your wardrobe
And for the shortest length of time, I'd bathe myself in the comfort and scent of faux lavender
Before the smell faded, and I would be forced to bitterly begin to remember
I'd remember back when we used to be pretty, and
When nothing except us mattered
[It's so hard pretending
That I don't miss everything about you]
Back in the autumn
When the trees shone in their gold
Then the winter came, and you lost your b
Fallen Scent .collab.
by
maidenofwar
Aching with longing, lost chances and
hopes, this poem hits you like a
piercing autumn wind, and stays with you
like swirling whispers of scent-memory.
Suggested by:

EmmyIsAZebra


Featured by: DrippingWords
"lukewarm"
by
fervvent
Suggester says: "The first four lines
did me in but the language in this
piece kept me reading till the very end."
Suggested by: alapip
Featured by: spoems

7 November 2012

If you should capture
the whole of my last breath,
I will dwell in you
with contentment,
for a portion of a moment.
If you should share
the whole of your next breath,
I will dwell with you
in them, contented still,
for a portion of a moment.
If all should release
the whole of our breaths,
We will dwell everywhere
with all, more content
for all our forevers.
7 November 2012
by
wh0rem0ans
Per the suggester:

"a sentiment, peaceful

and perfect, quite

sublime I think."
Prose
Featured by doodlerTM

HolesIn the last few weeks, Andy had heard almost all of the veterans of his department talk about the crazy shit they had gone through. It had become a tradition really, to regale the rookie with the golden classics. And though they spread into a number of categories - shootouts, drug busts, betting rings and even the one time Officer Davenport had managed to get his ass kicked by a thirteen year old pick pocket - they all had one thing in common. That is to say that they were still solidly within the realm of sanity.
Right now Andy would have done anything to be in the middle of a crisis. To cringe as the phones rang non-stop and to pay attention and follow the orders barked out as they frantically suited up. He was willing to sell anything, perhaps even his soul, anything to keep from having to watch the walls bleed a vivid green.
Opening his eyes after counting to ten hadn't helped. Neither had taking a nap which had been his original solution. At first he had thought it to be paint. Bu
Holes
by
kiwi2191
A story that uses illusions
and an unreliable narrator to
weave a one-of-a-kind plot.
Featured by doodlerTM

Caught Beneath the LandslideSometimes, I thank God that I cannot smile. Days like today, happy would just be too difficult to fake. I'm not depressed, I'm just in pain. Depression is a mental disorder, and pain is what happens when you get hurt. I am hurting a lot lately, but that is life. Isn't it?
Life is being terrified. It is wondering every night if tomorrow will be the day that the guy you live with finally kills you. You don't want to die but sometimes you just wish he would go ahead and do it so you won't have to suffer anymore. And the people you confide to, they don't understand. It's easy to say it, but you can't be the reason your kids father is locked up. What would that do to them?
Life is when the one person you loved more than anything tells you that you would make a good whore, because you want attention. Then you beat yourself up for saying you needed attention when what you r
Caught Beneath the Landslide
by
MySocksRock
In "Caught Beneath the Landslide,"
MySocksRock opens up herself
in great and revealing prose.
For more information, including how to suggest a Deviation
to be featured, please visit us at
DailyLitDeviations
.
Thanks so much for supporting the lit community and this project!
~ The
DailyLitDeviations
Team ~
Prepared by: LadyofGaerdon