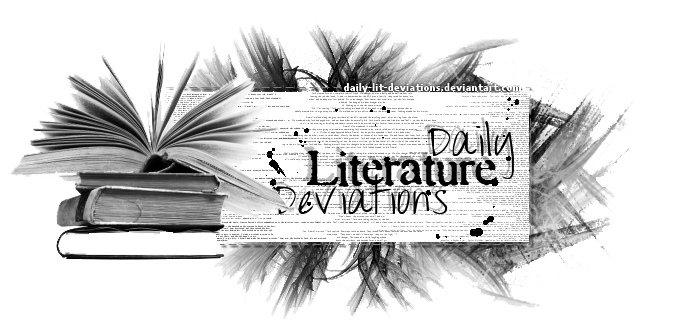 Guidelines
|
How to Suggest a DLD
|
Group Administrators
|
Affiliation
|
Chatroom
|
Current Staff Openings
Daily Lit Deviations for November 13th, 2012
We are proud to feature today's Daily Literature Deviations!

You can show your support by

ing this News Article.
Please comment and

the features and congratulate the artists!

For all of the featured artists:
If you receive a DD for one
of your pieces featured by DLD please note LiliWrites.
We will include you and your piece in a special recognition news article.

Poetry
Featured by: betwixtthepages
:thumb337165607:
Dry Bones
by
TheTerrorOfTheDeep
Regardless of whether you believe we have
one soul mate in our lives or many, we are all
searching for someone to complete us, someone
to make us whole.

TheTerrorOfTheDeep


portrays love--and the search for it--in a
different light in this beautiful piece.
Suggested by: Anonymous
Featured by: DrippingWords

Never Love a MermaidNever love a mermaid;
She'll rip you into two.
To great white sharks and kraken
She'll feed the lower you.
Then with her magic music
She'll lull you into sleep,
And when you wake
You'll find a tail
Instead of legs and feet.
You will never walk again
Or live again on land.
You'll follow her  throughout the deep,
A slave to her demands.
And when she's bored and tired of you
She'll pull out your tail
Force it onto someone new
And leave you there to flail.
To the ocean floor you'll sink
With only half of you,
Still thinking of the mermaid
Who ripped you into two.
"Never Love a Mermaid"
by
Gricken
Suggester says: "I really adored the mother
goose rhythm to this and then the dark tone that
it marries with. It made for a really fun read."
Featured by: betwixtthepages

ResolutionIf I were writing from the other side,
I would say
This road was not on my map.
No one goes there
on purpose.
And then tell you how
I escaped.
I asked for help, for change,
and grief was the answer:
Grief as old and hollow as snowfall,
grief as heavy
as snowfall,
grief that said, "You,
You are the spent ember,
You are the last angry voice
and when you pass
the dark
will have been waiting."
The grief was right. I burn,
I burn cold and heavy,
crouching in the ashes of greatness,
I burn,
and the fuel is low.
The dark is waiting.
But what angel comes
with words of despair? Even Job
had no angels to tell him, "Alas."
This road is not on my map.
No one comes here
on purpose.
Even the locals don't know
where I am.
My signal fire is tired.
Bleary-eyed, reading coals
in case I wrote an answer,
in case no one comes.
I would like to be writing
from the other side. To be saying,
What a funny place I have been. Let me tell you.
Now the map burns.
I will keep the dark
waiting.
Resolution
by
completeaccident
According to completeaccident, we
sometimes need to travel an unknown path to
find the answers we are most desperately seeking.
Resolution is a lovely, multi-layered
piece that will leave readers pondering their
every action in life.
Prose
Featured by xlntwtch

Theme 58- Kick in the HeadTheme 58: Kick in the Head
How lucky can one guy be?
I kissed her, and she kissed me.
Like a fella once said, "Ain't that a kick in the head!"
That song kept playing on a loop inside my mind as I walked home. I couldn't believe it. She probably couldn't either.
The room was completely black.
I hugged her, and she hugged back.
Like a sailor said, quote, "Ain't that a hole in the boat!"
It wasn't the most romantic place for a first kiss, given. It was behind a very noisy nightclub full of drunk and possibly high youths, in a wet alleyway that smelt of wee, with only the muffled bass line of some trashy club song providing the soundtrack.
But it felt romantic.
We had both gone outside to take a break from the chaos inside. However, the yard behind the club was also full of noisy people, so we left through a side gate into the alleyway.
It was horribly dark down the alleyway. The only light came from a lone streetlamp at the far end of the alley. However, even in the gloom, s
Theme 58 - Kick in the Head
by
ellymango
The fine reach back to an icon of the
past shows how affection and love has always
been around and will continue - mysteriously,
musically and wonderfully.
Foreign Language
Featured by Exnihilo-nihil

recueil Manigran Jackrecueil Manigran-Jack :
Une plume tombe doucement,
Blanche avec une nuance de bleu.
Une plume d'ange.
La douce odeur des pins
Rappelant la rudesse de l'écorce,
M'enserre tendrement.
Dans la forêt, la chaleur.
Tout a l'air immobile.
Même le temps.
Le soleil qui se lève
soulève délicatement aux fleurs
leur couverture de rosée.
Malgré le soleil déjà chaud,
le sol a gardé la fraîcheur
de la nuit.
Le seul mouvement
dans mon esprit, c'est la brise
qui fait frémir l'herbe.
Le soleil apaisant.
Sa douce trace sur mon visage.
Je dors en paix.
Odeur du doux nectar,
Gouttes de pluie fraîche sur ma langue,
Le calme m'embrasse.
Dieu commence à pleurer.
L'orage déchaine des larmes
Qui me renouvellent.
L'averse explose.
Dans les gouttières le souvenir du soleil
fait fondre les grêlons.
La mer s'apaise.
Je vois des trésors épars sur le sable,
Des souvenirs douloureux de mon enfance.
Le soleil chaud
recou

and
The Nature Collection
by
Manigran
A beautiful collaboration between two young
poets. You can read two versions of this poems,
about nature and spiritual thoughts : in french
for jack0998 and in english for Manigran

Well done!
For more information, including how to suggest a Deviation
to be featured, please visit us at
DailyLitDeviations
.
Thanks so much for supporting the lit community and this project!
~ The
DailyLitDeviations
Team ~
Prepared by: spoems