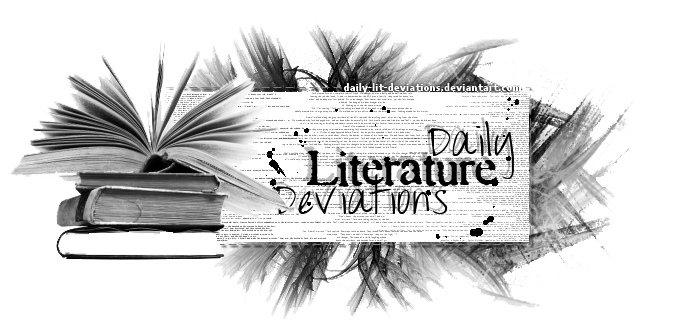 Guidelines
|
How to Suggest a DLD
|
Group Administrators
|
Affiliation
|
Chatroom
|
Current Staff Openings
Daily Lit Deviations for November 11th, 2012
We are proud to feature today's Daily Literature Deviations!

You can show your support by

ing this News Article.
Please comment and

the features and congratulate the artists!

For all of the featured artists:
If you receive a DD for one
of your pieces featured by DLD please note LiliWrites.
We will include you and your piece in a special recognition news article.

Poetry
Suggested by: GrannyJae
Featured by: betwixtthepages

Haiku Ika-Unom

the morning mist fades
a golden sun revealed
her eyes kept westward
Haiku Ika-Unom
by
ragesaavs
There is a quiet, subtle mist
that creeps across the horizon as
the sun is rising; with an inspired
choice of words, ragesaavs tells
the story of a sunrise that goes
unseen for several reasons.
Featured by: Carmalain7

sleepless- On Growing UpSome days drip slowly
Over the edges of the earth,
Leaving us like an itch in tired eyes
As you blink away what you have
In exchange for water and
Privileged lethargy.
On these days,
There's nothing you can do.
Everything has an echo, and everything
Rolls off you as waves.
Death seems quiet, until it's news
Strikes like a church bell
Knocked accidentally and off the hour.
Setting aside the simile
And the gore of the thing, death is quiet, I think.
A complete retreat into ourselves until we're so deep
We're out of ourselves and back
In the bellies of stars.
And it's indeed been a long day
When we resign ourselves to our fears.
sleepless- On Growing Up
by
ClamShellHeart
Concise, purposeful, and universally
applicable truth in every line.
Prose
Suggested by: Sammur-amat (as found in her 'Sundae Treats.' feature)
Featured by xlntwtch

learn to smilethere's this man whose eyes bleed this beautiful, sad blue. he hides it though, behind dark crops of hair and thick eyelashes. sometimes i find myself wanting to count the folds and wrinkles that hide his cheekbones and teach him how to smile. there's times i pass him and he'll be pressing a cup of coffee gently to his lips and it makes me happy. i don't know why but i think it shows me he's alive. he's heart's beating and he's feeling something, anything.
-
he writes postcards to himself from his capital city to make sure he never forgets where he is. he posts them to himself and wonders why he does it. he can't really remember, but he buys new postcards every wednesday on his way home from work. he tells himself who he is and who he wants to be tomorrow. he's never who he wants to be, though. he's always who he wishes he wasn't.
-
on friday nights i walk my dog past the pier. sometimes i'll walk down to the end, watchin
learn to smile
by
rachel-rhapsody
From beginning to end,
this wonderful vignette is one
to read, remember and share.
Suggested by

TheTerrorOfTheDeep


Featured by doodlerTM

this is about forgettingThis is the thing about forgetting:
For weeks you bury your face in the clothes you wore when he was near and the smell is a comfort and a torture. You decide that the torture is not worth the comfort so you leave them draped across the back of a chair and place things on top of them to stop yourself until one day you shove your hands through the pile until your fingers wrap around the fabric and you yank it free only to realize it was pointless. Even his ghost is gone.
The next thing that leaves is the way his voice looked in the dark. Those few sentences become blurred and rough around the edges. What you remember drops in your stomach in a different way.
You run your fingers over your
this is about forgetting
by
linaket
From the suggester: "This piece is
heartbreaking and honest. It's about all
those knots in your stomach coming loose
and realizing they were what was holding you together."
Featured by: SilverInkblot

John at 3:16Dear Jesus Christ,
I went to bed at 3:16 last night and started thinking about John—John who pissed away every paycheck he ever made and only fucked virgins, John who beat up a woman's husband and spent a Christmas in jail, John who shot himself on the front porch of his mother's house. I don't think anyone shed a tear except her. I heard she shed many tears as she cleaned up the mess.
I thought about when I first met him. It was at church. He and I were both eight. He sat next to me and we stared at that stained glass image of you in your white robe with your outstretched, loving arms, and he leaned into me and asked, "Do you believe in Jesus?"
"Of course," I said. "Don't you?"
He didn't answer. But it was Communion that day and he ate your body and drank your blood just like everyone else, and I thought he had to believe in you because you were inside of him.
I asked him once, Jesus Christ, I asked him if he believed in you and he said, "I want to. But everyone says I have
John at 3:16
by
TheEmptyChest
Faith, love, family, abuse, suicide -
this short letter to Jesus Christ has it all.
The honest voice of the questioning
narrator really sells it.
For more information, including how to suggest a Deviation
to be featured, please visit us at
DailyLitDeviations
.
Thanks so much for supporting the lit community and this project!
~ The
DailyLitDeviations
Team ~
Prepared by: spoems