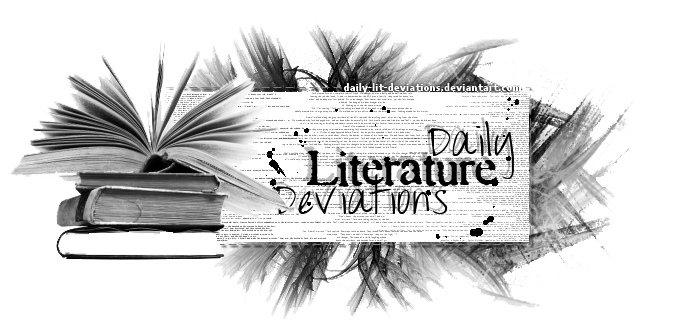 Guidelines
|
How to Suggest a DLD
|
Group Administrators
|
Affiliation
|
Chatroom
|
Current Staff Openings
Daily Lit Deviations for May 26th, 2013
We are proud to feature today's Daily Literature Deviations!

You can show your support by

ing this News Article.
Please comment and

the features and congratulate the artists!

For all of the featured artists:
If you receive a DD for one
of your pieces featured by DLD please note LiliWrites.
We will include you and your piece in a special recognition news article.

Poetry
Suggested by: doughboycafe
Featured by: spoems

Sandsweptsmall sacrifices that
one lick sucked me dry
your desert tongue was a curse
nature called out gentleness
but instead we went dancing
i turned down antlers for diamonds
stole hooves from her womb
collected the beads between her breasts
and sold them for cheap copper
until I lay at your feet - panting
and between the tendons on your ankles
were lipstick stains
you wired my throat
to accept your feigned apologies
your gluttony
your sin
like telephone lines
my vocal cords severed in the gale
then your hoarfrost bones
melted away
leaving a thirst for sand
I found your crater-grave
buried in the cleft of my thigh
now with my forked tongue
lapping the rolling dunes
I am the serpent
owning the desert you abandoned
Sandswept
by
greenleo94
Per the suggester: " I thought
the imagery was really very good"
Suggested by: imaginative-lioness
Featured by LadyofGaerdon

14isabelline fractures
and lilliputian speckles
lonely caramel dew
melancholic and moribund
crimson dwarf stars
in nets of spun gold
a kingfisher beating
breaking through ribs
swallowing grey tuesdays
and drowned wednesdays
and hail and snow gale
14
by
JayDanjerCobain
Suggester: JayDanjerCobain
made the words of this piece the
star, definitely a wonderful piece!
Prose
Featured by doodlerTM
Lifelines
by
LadyLincoln
A stirring non-fiction piece
about the fragile state of life
and those willing to fight for it.
Featured by doodlerTM
'Burn It'"Do you think I could be someone someday?" Becky asked me, looking out across the field. "Not just like every other ordinary person out there who works nine to five at the office and goes home to their kids. But like…really be someone? Someone important!"
Taking a long drag on my joint, I flicked the ash into a hollow bevel in the tree trunk we were sat on. It was blissfully quiet in the field amidst the heads of wild barely and the farmer had given up on chasing us out with threats of air rifles and rice guns.
"Depends what you mean by 'someone'." I replied. "'Someone' could mean anything from a homeless person who just goes around doing good deeds to some diva skank who snorts coke for a living."
Beside me, Becky wrinkled her nose at the prospect.
"Think I'd rather be the homeless person."
She hadn't lifted her eyes from the cluster of yellow flowers at the foot of the tree t
Burn It
by
Meeoko
An intriguing dialogue about
what it means to follow your dreams.
Suggested by: betwixtthepages
Featured by: SilverInkblot

Regrets.I think I hate you, he says as the street lights swim past. I don't want to fall in love. It's four am and my city is quiet, just the tired gold lights of cars in the distance.
Then don't, I say. I follow the curve of the road's dotted lines but I can feel his eyes on my face, hot and searching. He is out of place here, a boy in men's clothing, climbing over fences that shouldn't be crossed. He's not yet disillusioned by the sound of my voice, but that time will come. I can feel him choosing his words and gathering his courage and I know what's coming. The car comes to a stop, and the clouds shift, and for one moment as I climb onto the hood, I can see the sky for the first time in months. He follows me, nervous and primed, his emotions leaping off of him like sparks.
It may be too late, he says, his hand on my leg, trailing fingertips until he's under my dress. I am passive, a third party watching with shaded eyes. He is young and fresh, waiting for the wor
Regrets.
by
sirenseranade11
Suggester: "This short non-fiction piece blends
lessons learned and mistakes not made yet in a
haunting, lilting way. The ending has an "I told
you so" quality that will leave readers wondering
what they weren't told about this couple."
For more information, including how to suggest a Deviation
to be featured, please visit us at
DailyLitDeviations
.
Thanks so much for supporting the lit community and this project!
~ The
DailyLitDeviations
Team ~
Prepared by: spoems