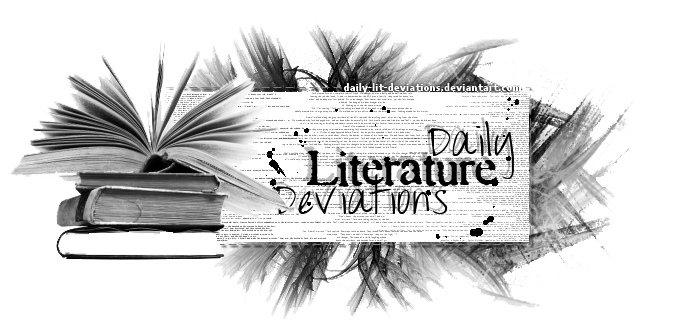 Guidelines
|
How to Suggest a DLD
|
Group Administrators
|
Affiliation
|
Chatroom
|
Current Staff Openings
Daily Lit Deviations for March 31st, 2014
We are proud to feature today's Daily Literature Deviations!

You can show your support by

ing this News Article.
Please comment and

the features and congratulate the artists!

For all of the featured artists:
If you receive a DD for one
of your pieces featured by DLD please note spoems.
We will include you and your piece in a special recognition news article.

Poetry
Featured by: betwixtthepages

how to wish on impossible thingsThere is a girl made up of impossible legends.
She lives in the fragments of wishes that will never come true.
When pennies lose their shine and heads become tails
After every eyelash is lost in the whisper of a breath
Until wishing wells dry up and all the stars fall from the sky,
She will only be the words that created her
how to wish on impossible things
by
reechy
This short poem speaks volumes
about the things we believe...and where
they lurk when that belief fades.
Suggested by: chromeantennae
Featured by: betwixtthepages

Whiskey Woman.I only wish
it weren't so easy
to quit me.
That I was more
of a nicotine girl
lighting lungs
with darkness,
sending nerves
into nervous frenzies
when people finally
got their fix.
Or maybe even a whiskey woman
in a private booth,
the crutch of a broken man
with nothing left
but the promise
of inebriated peace,
of paradise found
at the bottom
of bottles.
But substances
have substance,
and then there's me.
Whiskey Woman.
by
BleedingProphecies
From the suggester: I really think
this piece is cleverly-written and it really
holds some great, stark imagery as well.
Truly a great, powerful poem in my opinion.
Prose
Featured by doodlerTM

Mr. FiveI checked my watch as I strolled down the halls of the Midvane Asylum. My supervising officer hadn't told me what I was walking into, unfortunately for me. A male nurse met me at the building office. His scrubs were smeared with what I assume was saliva, and his glasses were uneven on his face. He had no hair on his head, but there was a black soul patch staring at me from his chin.
"Are you here about Mr. Five?" the nurse scrawled across a clipboard as he spoke.
"Mr. Five?"
"Yes, the patient that we called about. You were told what the situation was, weren't you?"
"No."
The nurse sighed and nodded towards the door of the office and walked out. I followed him down the hall, struggling to keep his pace. He never looked up from his clipboard on our trip through the Asylum halls, even when he had to step around gurneys and patients. I kept the brim of my hat tipped forward throughout the walk. Something about the way crazy people stare, it unsettles me. The nurse tilted his head back towa
Mr. Five
by
TheVoiceofMadness
A fantastic story about a detective,
a man with five personalities, and an important
question: Which personality came first?
Featured by doodlerTM

If You Could Ask God One Question...He died. He died in a clean white bed in a clean white room. There were no tears, no last gasps for breath, no alarms, no dying confessions; he simply stopped breathing sometime in the middle of the night. In the morning a nurse in a clean white uniform checked for a pulse, made a note on a chart at the foot of his bed, then made a phone call to some men in black and gray uniforms. The men came and carefully packed the body away in a gray vinyl bag. A few days later his body was sealed in a vault at the Sunny Vale Mausoleum. There was no ceremony, there were no mourners, there was only a cold body in a stone vault. It could have been sad and lonely.
But it wasn't. It was simply quiet and uneventful. He had out lived all of his friends and family so there just wasn't anyone left to mourn. It was like he was the last person to walk across the tarmac to a waiting airliner, there was no fanfare, no waves goodbye, he was simp
If You Could Ask God One Question
by
kilkegard
An imaginative story about
one man's question of God.
Featured by doodlerTM

Lost in Translation"Hello," a standard human greeting, happened to be a way of expressing that all Tornax were born of questionable parentage. Their standard greeting, "Cocksucker," happened to be a way of expressing that the human subject engaged in excessive fellatio with other species. Fortunately, both races were completely understanding of one another during first contact, each well aware that the other had no way of realizing this before the fact.
However, it is a constant source of contention, as humans insist upon greeting Tornax with "hello," and the Tornax refuse to defer to any other salutation than "Cocksucker." Matters were further complicated when the Duchy of Maternalfornicaters (typically spelled Matrn'al Furnicutres) entered into this burgeoning galactic community. No sooner had this bizarre coincidence been pushed to the wayside for proper diplomatic and cultural exchange to begin than a species which spoke almost entirely in words that seemed to be compound English profanity (the noble
Lost in Translation
by
SgtPossum
This story tackles a humorous linguistic
question about a potential alien species.
For more information, including how to suggest a Deviation
to be featured, please visit us at
DailyLitDeviations
.
Thanks so much for supporting the lit community and this project!
~ The
DailyLitDeviations
Team ~
Prepared by: SilverInkblot