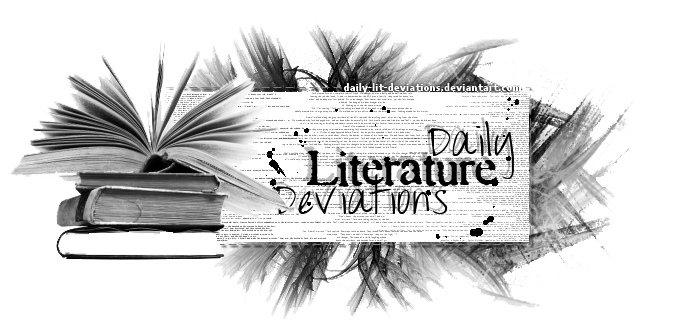 Guidelines
|
How to Suggest a DLD
|
Group Administrators
|
Affiliation
|
Chatroom
|
Current Staff Openings
Daily Lit Deviations for March 29th, 2013
We are proud to feature today's Daily Literature Deviations!

You can show your support by

ing this News Article.
Please comment and

the features and congratulate the artists!

For all of the featured artists:
If you receive a DD for one
of your pieces featured by DLD please note pullingcandy.
We will include you and your piece in a special recognition news article.

Poetry
Suggested by: The Admin of WritersInk
Featured by: betwixtthepages

White noiseI forget now,
what it was I came here to say.
It felt incredibly important
in that moment –
that flash of inspiration –
when I reached for the pen.
But my mind wouldn't wait,
my thoughts refused to pause on
the image I sought to preserve
and, instead, they kept turning
and stumbled over
and ever onwards until,
starved of oxygen,
my memory drew a blank
and I'm left with an empty space
staring back at me
which seems, somehow,
exactly as it should be.
White noise
by
DanielDGriffiths
From the suggester: A beautifully
written poem about the moment when an idea
flutters across your mind but is gone just before
you can put pen to paper. DanielDGriffiths
has written a wonderful piece capturing that flash
of inspiration, the struggle to grasp it, and the
emptiness left when it is gone without being caught.
Featured by: DrippingWords

RestlessI've been living in the same breathy dream
for too many days now; I'm bed-ridden and
stale and I reek of those moments that come
full throttle like a car crash on a winter night
    this is evolution where weak hearts
    are afraid of the shadows and where
    everything changes,
    an apologetic wind births no remorse;
    he will move on—anchored ship
    set sail, I am the sunken wreckage
    that never learned how to swim.
    he will move on, Darwin says
    I never had a chance
I wish I were the textbook sadness,
symptom and solution and endurance
but I've spent too long sleeping on the
thoughts of shooting stars and gravity
and reasons, scientific calculations with
thrice-checked proofs for the skeptics
that don't believe in the sleight of hand magic
reality wants to imply
no,
I am not the insomniac writer with
better things to do than sleep; I am
the heavy bones afraid of what
lies in the darkness beneath
the skeletons of childhood monsters
and p
"Restless "
by
intricately-ordinary
A myriad of imagery is woven into this piece
alongside a hint of melancholy, strong enough to
leave the reader wishing for more.
Featured by: SilverInkblot
Anchor (inked)
by
nattrozanska
A fine example of both visual and found poetry.
The image compliments the words and their place
upon the page beautifully.
Prose
Featured by doodlerTM

Remover

She decided a young woman like her had no business being imperfect. Impurities had to be expelled from her life, no matter the cost. An universal remover promised to be her savior. It lived up to its commercials, doing away with the stains that disgraced her floor and some of the walls.
Would domestic hygiene free her from being flawed? Doubtful. This product guaranteed to exterminate any kind of filth. Could it go beyond the material things? She rubbed the substance on her forehead, and conjured as many negative thoughts as possible. They were recalled, only to vanish from memory a second after.
Satisfied? Not quite. Even the good recollections had portions of impurity here and there. She wouldn't allow that, and began rubbing with furious abandon. There could not be a single mistake, not a lone wound, every hint of imperfection had to disappear ...
Her neighbor would make a visit later. No one answered the door.
Remover
by
Clockchat
The theme of imperfection in this piece is
addressed in a very disturbing way that showcases
the talent of the writer.
Suggested by AnonDesu
Featured by xlntwtch
Pre-Ap
by
lolijoke
A funny and well-written look at how
one person thinks and acts before 'the end
of the world.'
For more information, including how to suggest a Deviation
to be featured, please visit us at
DailyLitDeviations
.
Thanks so much for supporting the lit community and this project!
~ The
DailyLitDeviations
Team ~
Prepared by: DrippingWords