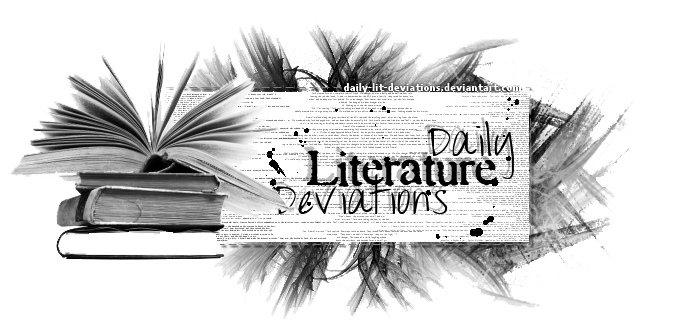 Guidelines
|
How to Suggest a DLD
|
Group Administrators
|
Affiliation
|
Chatroom
|
Current Staff Openings
Daily Lit Deviations for March 24th, 2013
We are proud to feature today's Daily Literature Deviations!

You can show your support by

ing this News Article.
Please comment and

the features and congratulate the artists!

For all of the featured artists:
If you receive a DD for one
of your pieces featured by DLD please note LiliWrites.
We will include you and your piece in a special recognition news article.

Poetry
Suggested by: BrokenTales
Featured by: lion-essrampant

hyperdontiasometimes it feels as if
I have too many milk teeth,
too many parts of me that belong
to a time when I climbed trees to touch the sky
and I swam in sunflowers
and fireflies -
to a time I have long since
painted in sepia tones,
long since pushed
to the back of my mind
with hands so tired
of being filled with splinters
- too many seeds
and not enough light.
there are too many parts of me
that I have placed underneath pillows,
that I have kept behind closed lashes,
that I have slept upon, waiting
for the morning to arrive and them
to be g o n e ,
replaced with coins that I could place
underneath the tongues of the dreams
that I could not ferry to my
frail realities.
but in the morning, they return -
one by one into my mouth,
daring me to speak them,
daring me to sing,
daring me to find someone who will listen.
         listen.
it feels as if
I have too many stories,
too many secrets,
too many sins and not enough space
for the words to fly out of my mouth
and into the world -
I have
"hyperdontia"
by
neonsquiggle
Suggester says: "I loved the slowly building
narrative in this one." The imagery builds a
painting in the readers mind that will linger.
Suggested by halcyonshores
Featured by: LadyofGaerdon

Nightsidethe softest nightside glow
lays her light upon this world
and the edge of the cloud breaks away
in a tranquil translucence of tears
quietly running down the seam in the sky
making their mark on our skin
as they evaporate from touch
staining the ground and the sky with oils
the red, the blue and the glorious white
this is when love needs to end
and yet it lingers on in the landscape
flows along the stream
alongside the paint and the water
streaking with remembrance every rock, rapid and riverbank
to be broken down by time and the lull of seasons
the eventual glacier, floe and epoch
in this silky smooth darkness I lay
floating on the waves of this song
imagine the stones, carefully painted and carved
now covered with moss, but on them still visible
the chiseled words that still ring out
the ochred portrait of the hunt
and the faint outline of the stillborn moon
Nightside
by
talvipaivanseisaus
Suggester: A celestial painting.
A mellifluous, wistful song for
love lost, that deeply touches
and enchants, gracefully
fusing sorrow and sentience.
Suggested by: Nichrysalis
Featured by: spoems

Kachi

見えぬ物
常に見落とす
気付いたら
持つその価値は
一番高い
Mienu mono
Tsune ni miotosu
Kidzuitara
Motsu sono kachi wa
Ichiban takai
Things we can't see
We constantly overlook
When we notice
The value they hold
Is the highest
Kachi
by
ZetsubouDahlia
Per the suggester: "An insightful tanka from
a writer who is passionate about the form."
Prose
Featured by shebledgreenink
Street
by
August-Green
Here's a comment from monstroooo that seemed
appropriate: "I really like that you've let this
woman's story tell itself, mostly just through her
dialog. You haven't dressed it up or tried to force
an emotional reaction - you've just said it straight and
let people make up their own minds. Very effective writing."
Featured by doodlerTM

ProbabilitiesWe eased up to the checkpoint, the only car we'd seen in either direction for many kilometers.  The guard saw us coming from a distance, stepped from his booth and raised a hand for us to stop.
He circled the vehicle, a quick inspection, gun pointed nowhere in particular before approaching my window.  I thumbed it down obediently, blackout glass humming into its recess with a thunk.
"What year is it?" he asked.
"2013," I replied.
"Who is the President of the United States?"
"Barack Obama."
"Not Mitt Romney?"  He glanced around randomly, clearly bored.
"No.  Should he be?"
The guard shrugged.  "Not for me to say. Don't give a shit about politics, it's just part of the drill, y'know?"
I nodded.  "Anything ahead we should be concerned about?"
"Probability gets denser a klick or so down the road. When you see the Fog keep your windows rolled up, you should be fine.&
Probabilites
by
RalfMaximus
An absurd quandary of a story
that demands several re-reads.
For more information, including how to suggest a Deviation
to be featured, please visit us at
DailyLitDeviations
.
Thanks so much for supporting the lit community and this project!
~ The
DailyLitDeviations
Team ~
Prepared by: spoems