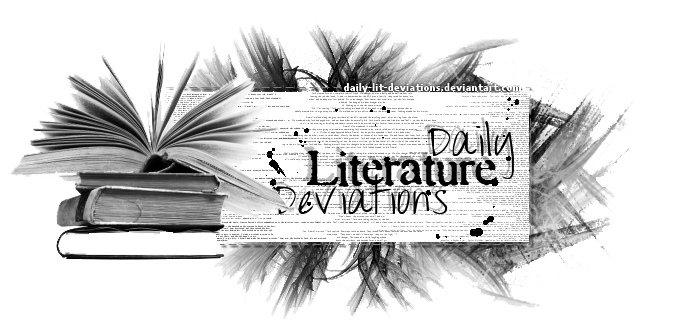 Guidelines
|
How to Suggest a DLD
|
Group Administrators
|
Affiliation
|
Chatroom
|
Current Staff Openings
Daily Lit Deviations for March 21st, 2013
We are proud to feature today's Daily Literature Deviations!

You can show your support by

ing this News Article.
Please comment and

the features and congratulate the artists!

For all of the featured artists:
If you receive a DD for one
of your pieces featured by DLD please note LiliWrites.
We will include you and your piece in a special recognition news article.

Poetry
Suggested by: Disaster-N-Beauty
Featured by: DrippingWords

Wolf and LambBeckon the full moon,
Call out to spirits of past,
Where the white wolf sings…
The harvest moon breaks through the trees,
To a land protected by night seekers.
The silence broken by harmonious melodies,
Sung by the wolves- the midnight keepers.
The full moon breaks the night,
Ravens of mourning taking to flight.
Wolves howl to their lost,
Through the wind and the frost,
Where the world awaits twilight.
Midnight moon above,
Take away hunger of wolf,
Lest he betray sheep…
Violent storm across the sea,
Siren song which holds my fate,
Draws the end of the voyage to me,
To the shores for my greed and hate,
Where I shall wait for all eternity.
Look to the second star on the right,
Praying for hope to last through the night,
No more violent ocean swells,
To bring me to my hell,
But a ray cast from her heavenly light.
Ocean of flock swells,
As wolf hunts on devil's ground,
Dressed in sheep's clothing…
Cast rays of heavenly light,
Toll out the ancient church bell,
Forgive him for
"Wolf and Lamb "
by
DorianHarper
Suggester says: "A very well written
and powerful piece broken into stanzas
to tell multiple little stories, all starting
and ending with the same beauty."
Featured by: SilverInkblot
:thumb358743202:
Haiku III
by
tickersymbol
A beautiful haiku to
herald the coming of spring.
Featured by: SilverInkblot

In barren hearts of fools I call my friendsIn barren hearts of fools I call my friends,
An unrich flower grows; a farmer's rose,
That blooms whichever way air traffic sends
This steerless seed, adrift without repose.
Their lands be arid, acres reft of life;
A dried up desert, nemesis to growth;
Still grows that poppy, overcome all strife
With enemies all other life does loathe.
And though the daffodils might mock its leaves,
The noble rose resent its nimble throne,
No haughty flower has its red outshone;
Cause while these bourgeois plants, uptight, tide well
Inside their wealthy master's garden cell,
All these will wither, wealthy care deprived.
In barren hearts of fools I call my friends
by
Filiuk
The extended metaphor of this
Italian sonnet blossoms into a
lovely message in the final stanza.
Prose
Featured by: SilverInkblot
on wars and the galaxy
by
ersatz-moon
This short war story reads
like poetry, blending space
imagery with the hells of war
in ways that will surprise you.
Featured by xlntwtch
Synesthesia     Water falls drip by drop from the tin roof and Tim gets a sense that time is slowing to a stop. Each speck takes its ten foot dive to earth so slowly that Tim finds it serene to watch, as though nature was jumping to her death. When a drop finally crashes against the concrete the sound explodes in a vivid blue in front of his eyes.
     His heart rams against his ribcage repeatedly, trying to break free. It is almost painful, but not quite, to feel it hammer away at his chest. With each barrage his heart makes his body shakes and he hears a rumble within himself. The growl is fierce and shoots wisps of red into his vision. The beating of his heart begins to dance in step with the water; the blues and reds collide before his eyes forming the beginnings of an image, though Tim could not make out what it was.
     He knows he can't put it off any longer; he turns to face his assailant. The man is taller than h
Synesthesia
by
AtrumMiles
An action-packed vignette
that colors all in a very
well-written and uncommon way.
For more information, including how to suggest a Deviation
to be featured, please visit us at
DailyLitDeviations
.
Thanks so much for supporting the lit community and this project!
~ The
DailyLitDeviations
Team ~
Prepared by: LadyofGaerdon