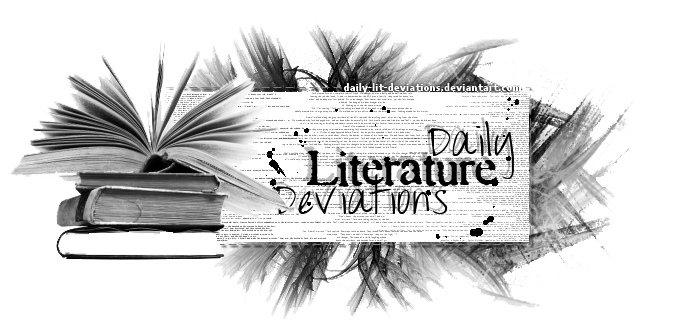 Guidelines
|
How to Suggest a DLD
|
Group Administrators
|
Affiliation
|
Chatroom
|
Current Staff Openings
Daily Lit Deviations for March 20th, 2013
We are proud to feature today's Daily Literature Deviations!

You can show your support by

ing this News Article.
Please comment and

the features and congratulate the artists!

For all of the featured artists:
If you receive a DD for one
of your pieces featured by DLD please note `Kneeling-Glory.
We will include you and your piece in a special recognition news article.

Poetry
Featured by: =SilverInkblot

My Mouth, a GraveyardI buried my words
under my tongue
& turned my teeth
into tombstones.

Here lies hello,
too shy to be uttered,
just left to wither
while my fingers tapped out
its letters,

& here lies goodbye,
so scared of being alone,
it left the roads between
me and we empty.

Love died the day my
heart started beating,
when it pumped out
too much sense &
not enough courage.

Sorry was found murdered,
its meaning stolen,
the day it would have been
relevant.

I smothered help with my claims
that I didn't need it,
then I forgot how to breathe
& no one could see it.

My mouth became a cemetery,
& I chewed on petals
to keep the smell away,
but no matter
My Mouth, a Graveyard
by ~
TheBloodyEpicPumpkin
Where are your words buried
when they die on your lips?
This clever poem has an idea.
Featured by `Kneeling-Glory

Weight1.
Even now it's a long sickness,
deep swamps, the filling
of empty space with mud.

Day after day, this. The body's
welling gravity.

2.
How strange to dig
fingers into the sand and feel
the ocean's rough pulse.
Into the flesh as well,
the ocean there.

Little more than the buzz of nerves.
I know this. I know this. It seems
too much to know.

1b.
Nothing eases it. You can't say
here is the end, here
the beginning, touch it. Pull it to you.

Listen, it sounds
like a hurt animal.

You can only bend at the waist,
choke.
Feel the heavy cringe
in each cell.

2b.
My heart wants to
be shot of itself but

simple things upse
Weight
by ~
saartha
The author uses masterful
line-breaks to create several
different moods in this poem
that explores the weight of our bodies.
Featured by: =DrippingWords

BalanceSunlight evanesces,
Leaving heaviness,
A sort of thrumming between
The heavens and my mind.
A post-war chill freezes time.
Everything looks grey,
A sepia moment captured.
Laughter in the distance
From a family barbecue
Transforms itself into
The maniac cackle of a kookaburra,
High up in the sky somewhere.

The horizon glows pink,
Turns brown and then blue
As it stretches overhead.
Dreams of love and peace
Are forgotten, lost; they flutter away.
While a muffled radio plays on,
Cobwebs and dust cling to each other,
Million-year-old lovers
Dance to the music,
The wind swaying them.
The light gradually creeps away,
In its et
"Balance"
by ~
BlakeCurran
The strong imagery in this
piece, combined with the topic,
will linger in the reader's mind
long after they have finished it.
Prose
Featured by *xlntwtch
A Vulture Picks the Bones
by `
raspil
Who's the "bad guy" in this piece?
That's a question an excellent
writer leaves up to readers in this
fine display of writing action.
Featured by *doodlerTM

Lady of 1876 Ironically, it was my stubbornness which caused me to change my convictions. Though Nathaniel was undoubtedly a kind-hearted young man, he was incurably delusional. He entertained the strangest ideas, and then in his spare time vehemently tried to convince me they were true. People, sentient people, could be built from simple mechanical parts, he insisted.

"All you'd need is a boiler and some clockwork. Just as you've got, Adelaide. Just as your inventor must've done," he'd say. I usually ignored these benign ramblings and proceeded with what I was best at, namely repairing clocks and pocket watches. Nat
Lady of 1876
by ~
chickenpede
A vivid Steampunk piece
that is hauntingly beautiful
and almost poetic in its
descriptions and dialogue.
For more information, including how to suggest a Deviation
to be featured, please visit us at =
DailyLitDeviations
.
Thanks so much for supporting the lit community and this project!
~ The =
DailyLitDeviations
Team ~
Prepared by: =LadyofGaerdon