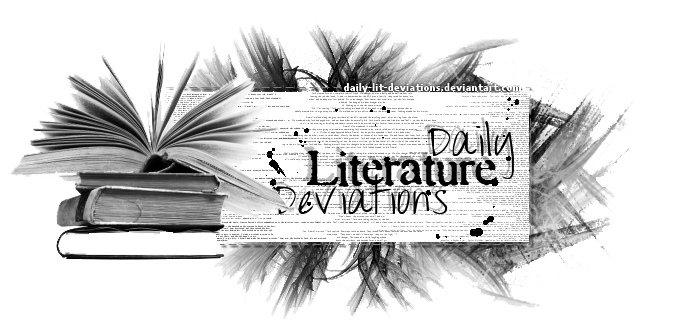 Guidelines
|
How to Suggest a DLD
|
Group Administrators
|
Affiliation
|
Chatroom
|
Current Staff Openings
Daily Lit Deviations for March 10th, 2013
We are proud to feature today's Daily Literature Deviations!

You can show your support by

ing this News Article.
Please comment and

the features and congratulate the artists!

For all of the featured artists:
If you receive a DD for one
of your pieces featured by DLD please note `Kneeling-Glory.
We will include you and your piece in a special recognition news article.

Poetry
Suggested by: `LadyLincoln
Featured by: `thetaoofchaos
Absence
by `
Kneeling-Glory
Per the suggester: "A beautiful poem that has stayed
with me, ever since. [`Kneeling-Glory] speaks from
the heart. All of us can relate to missing that one person
who is always with us, in some form or another."
Featured by `Kneeling-Glory
:thumb356694117:
I'm Awake
by !
HiddenSwordSpartan
The narrative voice in this poem is easy to
sink into, and the experience told in such
simple detail that anyone can relate.
Suggested by: *KaitForest
Featured by: =TwilightPoetess

Polaroiddo not tell me
the caveman sought
his chilled rock cave
alone

that he
without language
passed snapshots by

no

tell me he
shouted in his thickets
crushed his silken fruit
colored red the broken birds

and grass and sky and sea
Polaroid
by *
jswebb
The language used by *jswebb in this beautiful
poem will transport readers to a time when the world was
quieter, when people actually stopped to listen to
the birds instead of taking it for granted that they're always there.
Prose
Feauted by *xlntwtch
My talking alarm clock
by ~
Laeneris
Flash fiction that explores a different
kind of person and how her life progresses.
Great images and dialogue catch her personality
in a short but very interesting piece.
Featured by *doodlerTM

Like FireI've watched the sunrise four times in the past three years. It's never a small occasion.

The first sunset I can remember watching was drowned in oak and cork; it smelled of dust and gravel. Golf courses keep their lawns well cut, so I wasn't coated in dew, but my feet were bare and walking through glass tends to make everything ache. I had two bottles with me, one I emptied into the grass and the other I emptied into my gullet; I suppose it was a solid decision, the whiskey was only a temporary poison. I didn't have long to wait, a sunrise in summer isn't something you have to put effort into chasing.

I put effort into the second. I told y
Like Fire
by =
WyvernLetDie
An acute observation of life through
the author's experiences of watching sunsets.
For more information, including how to suggest a Deviation
to be featured, please visit us at =
DailyLitDeviations
.
Thanks so much for supporting the lit community and this project!
~ The =
DailyLitDeviations
Team ~
Prepared by: `thetaoofchaos