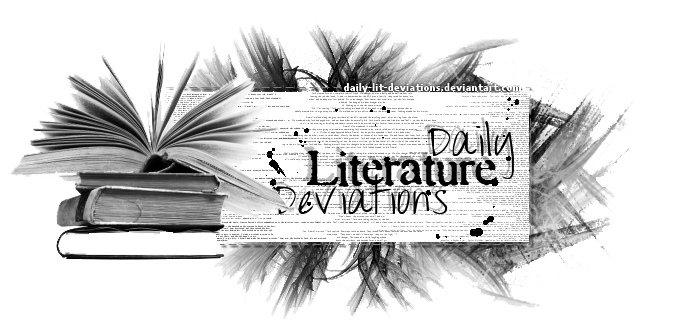 Guidelines
|
How to Suggest a DLD
|
Group Administrators
|
Affiliation
|
Chatroom
|
Current Staff Openings
Daily Lit Deviations for March 25th, 2012
We are proud to feature today's Daily Literature Deviations!

You can show your support by

ing this News Article.
Please comment and

the features and congratulate the artists!

For all of the featured artists:
If you receive a DD for one
of your pieces featured by DLD please note pullingcandy.
We will include you and your piece in a special recognition news article.

Poetry
Featured by: Nichrysalis
Opening Acts
by
Elmara
Opening Acts makes use of a
brilliant metaphor to portray the
characteristics of God. Wherever
your religious beliefs stand, this
poem is relevant and enjoyable throughout.
Featured by: betwixtthepages

whispers in the grave.You whispered about the long-dead-lost
and the long-lost-dead, buried six feet
below the sour mud. Each word trickled
down my spine like ice chips insinuating
themselves in the tiny, tenuous crevices
where bone meets muscle.
I wanted to stop your full, sweet lips
from moving, halt those perfect white
teeth in place so I could pretend your
candy mouth wasn't as sour as the corpse-
filled mud, wasn't as filthy and corrupt.
But they didn't stop, and I wondered what
long-dead-lost and long-lost-dead, what
pale fleshed corpses rested six feet
below your memories - and I wondered if
I would weep the same ghastly tears.
"whispers in the grave"
by
icy-moon-shadow
whispers in the grave is
filled with vivid, dark imagery
that catches the readers' attention
and leaves them feeling slightly off-
balance at the end. This piece is
sure to leave readers wondering which
skeletons are lurking, unseen and
forgotten, in their own closets.
Suggested by: TheGlassIris
Featured by: LadyofGaerdon

Dear Readeron the roof
simpering with
the pigeons
i throw
sheen after sheen
from buckets of paint;
you do all
the work
getting
in the
way.
awnings
spattered
like lips
with the color
of kisses
shiver
and move.
and listen
to this:
the birds
open their mouths
in the rain
spread one wing
then another
and lean out
and over--
the river
opens
onto salt
as the moon
blooms
like a coin
in a fist;
lovers
part lips
while
friends
part ways.
the bartender
peels a lime;
the doorman
pulls at the door
while the waitress
clears the table.
i open
a window,
you open
your eyes:
work
is making space.
here and
i have
made
room
for you.
dear reader
by
antonfrost
Says the suggester: "His simple
vocabulary and concise use of
enjambment provides a very Zen
and enlightened form of free verse.
This kind of writing really captures
the simplicity of fleeting moments and
the complexity of their remaining afterimages."
Prose
Featured by doodlerTM

The Sound of SilenceAre you mad at me?
No answer. It was no use: Kenneth had removed his Ear Ports, which linked Lukia into his mind. She couldn't connect with his brainwaves now. Bottom lip curling into a pout, Lukia sniffled at the rejection of contact. It was so unfair when Kenny got like this, cutting off mental transmissions so she couldn't understand what he was thinking.
It was unnatural to live in such silence. That empty period – when thought streams ceased and when the only words in her head were her own – terrified Lukia. But Kenny enjoyed it. He had once even claimed that the real silence was in the air, and that words were supposed to be formed with lips, teeth, and tongue to be spoken out loud, not passed from brain to brain. He had tried to show Lukia, but the loud, jarring growl that Kenny had labeled a "Whisper" had hurt Lukia's head so much that she'd had to clamp her hands over her ears. Though Kenny had apologized, Lukia had vowed never to take her Ear Ports out
The Sound of Silence
by
Jsaren
A fascinating little science
fiction short story - personally
I find that it is difficult to work
science fiction in with short prose,
but this story managed to pull it off nicely.
Suggested by:

IWasOnceLikeYou


Featured by: SilverInkblot

il n'ya pas de saints vivants...as the passage comes to a close, i find myself in the pages of the book, screaming, "these pills feel too big, and this hope feels too small... and nothing fills me up anymore!" this is a metaphor, the student scribbles hastily, for anxiety: the "pills" are sound, the "hope" is premiered as itself, and this, the hopeless amateur concludes, with a pitiful moment of hesitation, is the character's irrational fear and/or abhorrence of speaking.
--abhorrence of speaking! with a crawling distaste for silence, though she lives it all the same. 
here i am, staring at the empty spaces in my hands--my weird, greying, wet-bird coloured veins wherein the blood skips around in my heart and does a tango in the eerie spaces. i am dancing inside with caffiene and a weird sensation as if someone has pumped my organs full of helium, valium and barium simultaneously. nevertheless, i stare ahead, grey in the face. (il neige, le décor s'écroule...)
...i am
il n'ya pas des saints vivants
by
silklilies
From the Suggester: "A haunting
and intense collection of ideas,
sceaming with imagery."
For more information, including how to suggest a Deviation
to be featured, please visit us at
DailyLitDeviations
.
Thanks so much for supporting the lit community and this project!
~ The
DailyLitDeviations
Team ~
Prepared by: spoems