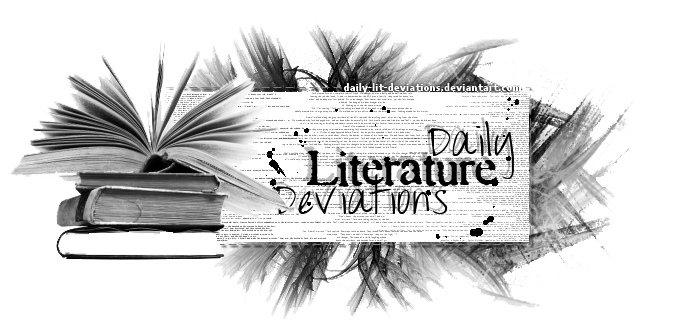 Guidelines
|
How to Suggest a DLD
|
Group Administrators
|
Affiliation
|
Chatroom
|
Current Staff Openings
Daily Lit Deviations for June 3rd, 2013
We are proud to feature today's Daily Literature Deviations!

You can show your support by

ing this News Article.
Please comment and

the features and congratulate the artists!

For all of the featured artists:
If you receive a DD for one
of your pieces featured by DLD please note LiliWrites.
We will include you and your piece in a special recognition news article.

Poetry
Suggested by: Concora
Featured by LadyofGaerdon

Moon-spun mothsPerched in your throat,
it is like a prayer;
an exhalation
against your palms,
soft as a secret
in the womb.
How weightless we are
under the tender moon
in this enchanted twilight.
Moon-spun moths
by
cality
With careful diction, the poet manages to emote so much
with so little in an obscure, yet tender way. A beautiful read.
Prose
Suggested by: alapip
Featured by: SilverInkblot

ForesightDebra Mae was an astonishingly good programmer.  
Her code always worked correctly the first time, and she never missed a deadline.  Her workspace was immaculate, but curiously devoid of personal effects.  No framed pictures, no toys, just her small collection of pens lined up according to color and an inbox for the occasional old-school paper input.
Her computer was equally immaculate.  Nothing extra on her desktop, no stray icons.  If one peeked at her browser history there'd be nothing there but work-related google searches and company stuff.
She dressed neatly but very plainly.  I suspected she had four dresses in her wardrobe and rotated them daily.  On casual Fridays she wore jeans and a plain white top, unlike her shaggy coworkers who went in for clever t-shirts or flannel.
Her space was so depersonalized that visiting salespeople often mistook her desk as vacant, setting up shop for the day.  The first time that happened Debra Mae simply drifted to an absent co-worker
Foresight
by
RalfMaximus
The Suggester says "I just enjoyed reading it,"
and it is a very enjoyable, mysterious read with a delicious ending.
Suggested by: betwixtthepages
Featured by: SilverInkblot

Criminal Investigations The interrogating officer rubbed his eyes and tried again. "Name?"
She sighed and repeated it for him. "Janice Whitmore."
"Occupation?"
"Professional writer."
He nodded, as if she had answered a question correctly. "Yes. Professional writer. What kinds of stories do you write?"
It was going to be a long night, but she played along. Maybe he'd get tired of the game and let her go if she did. "I write murder mysteries."
Another nod, and he produced a stained handkerchief to wipe his bald pate with. "Ms. Whitmore, can you tell me what these are?" An accompanying officer dropped a stack of hardback books on the table.
Janice spread them out in front of her and pretended to study each one. How could she not know these books? Each one had represented over
Criminal Investigations
by
Tobaeus
Suggester: "What would happen if our "alternate universes"
were real...and wanted us tried for our crimes? Tobaeus brings
the written word to life in this short fiction piece."
Suggested by: betwixtthepages
Featured by: SilverInkblot

the girl who is not mesometimes i picture you with a girl who is not me.
i imagine the entire slow tragedy in my mind, a girl who once possessed a younger you and drew you to picturing her face behind your eyelids. cybernetic courting and laughing in the dark, whispering against her lips, touching her smooth face with your fingertips. i imagine how you may have loved her.
i wonder if it all happened too quickly and your fall for her was abrasive, thorny, frightening, curling your stomach. maybe your eyelashes scraped apart across the tight-knit fabric of your pillowcase on a morning and you thought against the glare of the seven a.m. sun, i know now, i love her. did you fall in love with her in the warm comfort of balmy summer evenings exploding with sound, sit next to her on damp grass with right hand locked around left wrist, knees against your inner elbows? did it happen in winter, her cheeks flushed and her chin tucked demurely into a brightly colored scarf, her hair whipping around her head, the
the girl who is not me
by
injuredjaw
Suggester: "This non-fiction piece puts the jealousy—
bright and flammable—we've all felt to words in an emotional, edgy way."
Foreign Language
Featured by Exnihilo-nihil

L'etableJe pris mon premier souffle
Mêlé de poussière de paille et de liquide amniotique
Et nous nous reconnûmes tout de suite
Je tétais son lait en murmurant "maman"
A peine un peu plus d'un jour plus tard
L'un des gardiens me pris et m'installa avec d'autres veaux
Ma mère criait mon nom, je criais le sien
Et mes compagnons m'imitaient ou était résignés par le temps
Toutes les mamans étaient aux champs la journée
Et la grange résonnait de nos pleurs
On nous donnait une mixture mélangée à un peu de lait
Mais nous n'y reconnaissions plus celui de note propre mère
Lorsque je fut assez grande et que la force d'appeler m'avait quittée
On me prit avec d'autres filles pour nous installer dans un champ
Nous y passions un an, parfois dans un froid à se glacer les os
Avec pour seul abri un arbre et un abreuvoir
Les gardiens ne venaient pas souvent dans le champ
Mais lorsqu'ils
L'étable
by
BazarDeLaNature
'L'étable (the cowshed) is a moving poem about the animal condition.
BazarDeLaNature tells us a story with the point of view of a cow,
exploited for her milk and, at the end, killed for her flesh. An engaged poem, well written.
For more information, including how to suggest a Deviation
to be featured, please visit us at
DailyLitDeviations
.
Thanks so much for supporting the lit community and this project!
~ The
DailyLitDeviations
Team ~
Prepared by: SilverInkblot