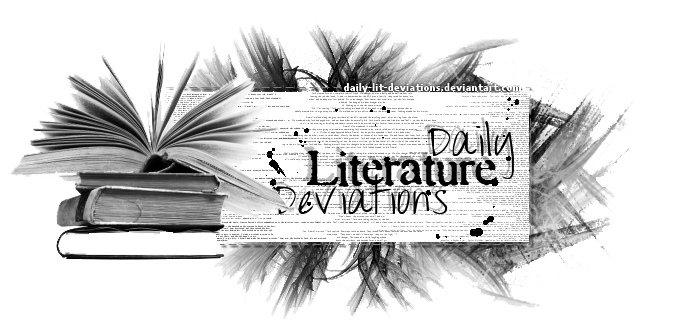 Guidelines
|
How to Suggest a DLD
|
Group Administrators
|
Affiliation
|
Chatroom
|
Current Staff Openings
Daily Lit Deviations for June 2nd, 2013
We are proud to feature today's Daily Literature Deviations!

You can show your support by

ing this News Article.
Please comment and

the features and congratulate the artists!

For all of the featured artists:
If you receive a DD for one
of your pieces featured by DLD please note LiliWrites.
We will include you and your piece in a special recognition news article.

Poetry
Featured by LadyofGaerdon

Before The Stars FadeThe world has grown smaller, more insignificant
Little men run about in the darkness, screaming their inanities
Quiet listening is abandoned in favor of shouting louder
over the top of one's neighbors
Dreams once soft and sweet have become meat for them
to tear apart and grind with their teeth, demanding recognition
But no one is ever fulfilled, untiringly grasping at shadows
The world shrinks a little more, and children grow up fast
I can hear the screaming and shouting from my bed, through
closed windows, all want to make their presence known
Seeing like a cat, hearing like a bat, I feel the need to go out and
shout with them, to howl my existence, to
eat fresh dreams
Dying is no way to live, but its all we seem capable of doing
Last one on earth, please turn off the lights
Maybe we can remember one dream that hasn't been mauled, one last time
One smile before the stars all fade and we're left with nothing
and become nothing
Before The Stars Fade
by
Bark
Every line intensely quotable
and brimming with relevance,
this poignant exploration of
modern life will make us all
long to "eat fresh dreams".
Featured by LadyofGaerdon

balloons and fairy wingsI wish emotions
could be tied to words
the way they're tied
to memories:
like the way strings
are tied to balloons
or the way wings
are tied to fairies' backs –
with a bow and a knot
so the words
are never forgotten
and the emotions
that swayed the heart
and captured the soul
at the time of their birth
are never lost to the snatching,
jealous fist of time
you see, it's quite a journey
being born as a writer's words:
you open your eyes
to a world of vivid color
and (sometimes)
crippling emotion
feeling the sharpness of reality
hearing the noise
of a deaf world weeping
tasting the tang
of a new infant breathing old air
and noticing the scent
of a cruel, unsympathetic universe
an infant word
is like an infant star:
when you grow
(and become loved
by your Creator)
you mature to shine
with your own beauty –
a brilliance
to which very few things
can ever compare
yet you are distant
and your light so very cold…
but I love you
(and the stars)
anyway
balloons and fairy wings
by
MistressofQuills
This piece incorporates an
airy metaphor and fills it with
emotion, tying up the lovely
concept perfectly at the end.
Suggested by: doughboycafe
Featured by: spoems

DryingThere is a book of matches
on my floor here,
somewhere behind the
shelves of paper and wires
coiled in the corners.
And it always smells a little bit
like smoke and ink in here
especially when I open the window;
put myself on display
for a street where
only strangers walk by.
I am an old, tired zoo animal
and the kids don't even tap
on my glass anymore.
Drying
by
FallingAsleepTonight
Per the suggester: "The turn
of phrase is really lovely."
Prose
Suggested by: xlntwtch
Featured by: spoems

Living in Metaphors    You told me once the rain on the rooftop disturbed your slumber, not from the storm, but from the rhythm in the chaos. The thunder was discordant among the count you tried keeping.
   At night you'd wake breathless, not from nightmares, but from crushing claustrophobia, even when you were alone. You said the darkness felt so heavy, that it sat on your chest and tried to eat you alive. Mouth to mouth I'd bring you back, entwined, you'd share your dark and I would share a spark of life. And long did you lament the earth's rotation for not allowing light to reside always on your part of the world.
   
   Sometimes you were a child, but I wanted you, dear man, for all your faults, for all of mine.  
   
   You confessed that the stars made you lonely because they were so many, and even when I was with you we were so few. You sighed, "we are small and insignificant and when the stars twinkle coldly they are laughing at us..."
   
   It was painful to
Living in Metaphors
by
TheLunaLily
Per the suggester: "Great descriptions
of a person's strange reactions to life
and an end for the writer."
Featured by LadyofGaerdon

Brain WaspsBrain Wasps
by kenny
I am on the verge of tears. Why is this so hard? I think furiously, twirling the cylinder of Chapstick around in my fingers. I shut my eyes tight and try again.
I reach out to set the Chapstick on the nightstand beside my bed, but seconds after I release the tube I have to grab it again. Wrong, the brain wasps tell me, you have to get it just right.
I briefly consider hurling the thing across the room, but I know that I'll just have to get out of bed to pick it up again. I am trapped in my own compulsions.
I know it's stupid, and that's part of what's bothering me so much. Why can't I just put the Chapstick down? It's a simple mindless task, but as I look at the clock it's taken me a full five minutes. As soon as I put it down, I have this need to pick it back up again and move it, almost as if two pieces of a puzzle don't fit quite right with each other and I have to try again. And again. And again. And again until i
Brain Wasps
by
kenny1485
Raw, emotive prose thrusts
the reader directly into the
tangled loop of obsessive-
compulsive thinking, making
them frighteningly aware of the
frustration and helplessness
caused by the incessant "brain wasps".
For more information, including how to suggest a Deviation
to be featured, please visit us at
DailyLitDeviations
.
Thanks so much for supporting the lit community and this project!
~ The
DailyLitDeviations
Team ~
Prepared by: spoems