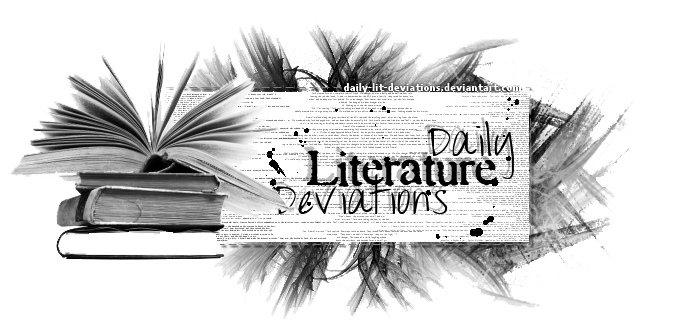 Guidelines
|
How to Suggest a DLD
|
Group Administrators
|
Affiliation
|
Chatroom
|
Current Staff Openings
Daily Lit Deviations for June 23rd, 2013
We are proud to feature today's Daily Literature Deviations!

You can show your support by

ing this News Article.
Please comment and

the features and congratulate the artists!

For all of the featured artists:
If you receive a DD for one
of your pieces featured by DLD please note LiliWrites.
We will include you and your piece in a special recognition news article.

Poetry
Suggested by: Parsat
Featured by LadyofGaerdon

The Guardian Wraith of Starlit SmokeOur sitting here by lantern-light together                
In the thick of a teeming snowfall;
The final golden glow,
Against the ancient sovereignty of night,
Like the last petal off a flower.                        
It is turning three hundred years
He never let the lantern drop.
The illimitable dark and cold and storm,
Whose work is to find out God;
And when they came it seemed with a will  
To carry me with them to death.                                                
                                 
What comes over a man, is it soul or mind-
(The Devil enters like a sapphire wasp)
Twixt what to love and what to hate                  
To find out how to get away from God?
         
No one has seen him stumble looking back                
From having died
Inaudibly in thought;
The sorrow of having been left behind.
         
The land was ours before we were the land's
And having it all made over new                          
From force to matter and back to force,
The alrea
The Guardian Wraith of Starlit Smoke
by
Blacksand459
Suggester: A semi-cento written for
ProjectDFC's May Mixup Madness,
the poem is comprised of 50 lines
from 50 different poems of Robert
Frost's. Virtuosic yet stirring in the
most basic way, the piece takes
themes of love and trust and imbues
them with rare emotional depth.
Suggested by: Sammur-amat
Featured by: spoems

The Length of Every MileBefore the moon turned
shades of sunflower
and brewed a tempest to stir notions
further from coastline
we were tide-locked
and I could see, through the lens,
life on the other side.
And distance was an ocean.
The Length of Every Mile
by
nawkaman
Per the suggester: "There is such a
profound and beautiful cadence in this
piece by nawkaman and I encourage
everybody to go over and gobble up
his gorgeous gallery.

"
Featured by LadyofGaerdon
:thumb379154783:
The Art of Language Acquisition
by
MaggiexMalarkey
The author puts it best:
there is no greater sadness
than speaking your heart
in the wrong words.
Prose
Featured by doodlerTM

Jukebox Cafe A string of bells jingled obnoxiously against glass as Hugh entered the Jukebox Café. The first thing he noticed was the pepless fan rotating just enough to move hot air and the smell of grease from one side of the restaurant to the other. No one came for the food, or at least that's what he assumed upon sight of the sticky red tablecloths and French fries that speckled the checkered floor. That and the fact that he was the only soul in sight.
He walked up to the bar and squinted at a sign asking customers to "Please seat yourself or ring for service." What kind of café required its customers to ring a bell for service? Not sure if there was an employee in the place, he rang it despite the sheen applied by dirty hands, and the shrill sound barely cut through an old tune produced by the jukebox in the corner.
A
Jukebox Cafe
by
illuminara
A magical short story about a mysterious cafe.
Foreign Language
Featured by Exnihilo-nihil
Le Fou
by
MorbidHarlequin
A short poetry by MorbidHarlequin, which
is not a native french speaker. For a first try,
it's excellent - 3 simples lines, well written in
a poetic and enigmatic way about "the fool.
You'll find an english translation in the comment.
For more information, including how to suggest a Deviation
to be featured, please visit us at
DailyLitDeviations
.
Thanks so much for supporting the lit community and this project!
~ The
DailyLitDeviations
Team ~
Prepared by: spoems