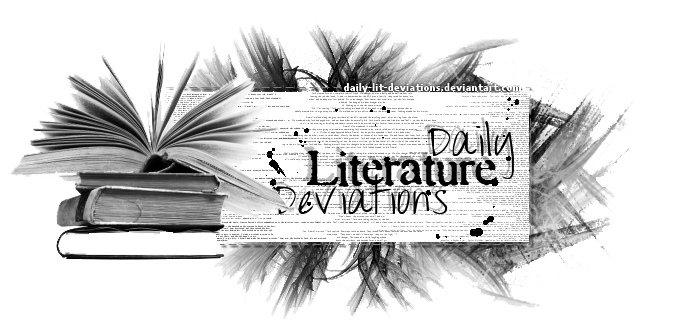 Guidelines
|
How to Suggest a DLD
|
Group Administrators
|
Affiliation
|
Chatroom
|
Current Staff Openings
Daily Lit Deviations for June 17th, 2012
We are proud to feature today's Daily Literature Deviations!

You can show your support by

ing this News Article.
Please comment and

the features and congratulate the artists!

For all of the featured artists:
If you receive a DD for one
of your pieces featured by DLD please note LiliWrites.
We will include you and your piece in a special recognition news article.

Poetry
Suggested by The Favorites Project of LITplease
Featured by: LadyofGaerdon

The Sistersi
Two sisters sat on the edge of a cliff –
and one was old, and one was young
and their mother was not yet born.
They watched the sea below their feet.
The waves chewed at the rocks
as they had built the cliff through ages,
and green weeds flowed with the tide
like the sisters' hair on the wind.
The sisters sat for many hours,
their fingers twined with strands of yellow grass,
their eyes like chips of ocean glass,
fixed on the far horizon.
Without a word, they sang to each other
and rivalled and warred in silence
as siblings do
without a real reason to fight.
And the grass became a violin
beneath the elder's hands.
Her pizzicato challenge lost itself
somewhere between Dover and Calais.
The younger never heard it,
trapped as she was in a book
of her own invention
with half a reality against its spine.
So they stayed, forevers in the hours,
inside an opal fog, so thick they could see everything
except one another,
but no eyes were needed for that.
ii
Two sisters sat on the edge of a
"The Sisters"
by
QuiEstInLiteris
Inventive wordplay and fascinating, resonant
images twine throughout this lovely rumination on
relationships and rivalry.
Suggested by The Favorites Project of LITplease
Featured by: LadyofGaerdon

Artist, Take Up--Oh beautiful artist, take up your
Dark materials and sketch
The skies,
Hold this moment and that
Tight; Caress the grass and the
Trees with your pencil,
Let your pen sing love songs to
The curves of this face,
The soft textures of hair and fur and shirt and skin-
Oh artist, take up
The lonely calling, yours and
The child who waches in her own world,
That painting that lies on the wall...
As a lover, woo:
The world, our playmate and nursemaid,
Loves to be flattered. She will
Stand still for you for years and years,
Mountains holdingh patiently for
Many portraits over millenia,
"Artist, Take Up"
by
JuliusScipio
Inspiring and exhilarating, yet filled with
truth and sorrow, this poem reminds us of the
difficulty of art and of life, and assures of
that none of it is ever in vain.
Prose
Featured by doodlerTM

Dear Stranger
Dear Stranger,
I hope you are reading this letter before you have gone outside. I imagine you will have a few questions on your mind when you see how things are out there. Luckily, you happen to have this conveniently placed "doggy-door" through which I have slipped the letter you now hold in your hands.
First, I would like to apologize for the state of your mailbox. By this point I imagine you have ventured outside and seen a few things worth the raising of an eyebrow or two and I assure you, all will be explained. The mailbox. I am deeply sorry for the condition it is in. You may notice that the box itself is hanging askew, the flag seems to have disappeared(I searched high and low, I promise.), and the post seems to be broken in several places though I have done my best to repair it with duct tape. It might also be worth mentioning that it has been moved several feet to the left.
You see I was driving home late last night from work (They have me working another man's shift while
Dear Stranger
by
SubjugatedSandwich
A delightful and twisted story in an epistolary form.
Featured by Hesperie

The New Justice            James forgot the milk again.
            This was nothing new. In fact, he regularly forgot things: his wallet, the milk, he'd even forgotten their marriage license on that magical day some twelve years prior. On any other day, Angela might have laughed it off before slipping on her shoes and heading to the stores. Today it made her furious. She watched, her lips pressed into a hard, thin line as he trudged – for there was no other word that could describe the slow, stoop-shouldered stride – up the walkway. Leaning back against the counter, she folded her arms as he entered the house. He jerked to a stop as he surveyed the unusually spotless state of their home. It was clear to him, with the certainty that only twelve years of constant companionship can give, that he was in trouble. It was also clear to him that it was far too late to he
"The New Justice"
by
AGMeade
In this short piece, the author manages
to paint an entire world recently changed by
a set of draconian laws, and deftly shows
the consequences thereof.
Foreign Language
Featured by shebledgreenink

Le combat
Le combat
Je voudrais travailler à la pénétration de l'esprit,
Je voudrais travailler à la fortification de l'esprit.
Les racines sont faites pour pénétrer la terre,
Pour coloniser la terre nourricière.
L'esprit est fait pour pénétrer la vie, pour pénétrer le cœur.
Et pour cela j'établis son règne avec vigueur,
Et pour mettre au tapis, l'oisif instinct, perturbateur funeste
Et toute fantaisie, instigatrice de l'erreur et du reste.
Qu'il soit donc sans pitié et sans compromissions,
L'esprit, notre fidèle champion;
Qu'il se nourrisse de l'air et de l'eau claire;
Que la brise du vent, mordante et sanguinaire
Arrache à sa langueur, le rêve parasitaire.
Et qu'il revienne alors, plus sûr et vivifiant
Pour traquer de nos jours le menteur arrogant;
Pour porter devant soi, un glaive plus tranchant
Dont le fil est brillant comme un fil de rasoir.
Ta tâche est d'évoquer ce diamant de gloire
Le combat
by
ArwenGernak
An interesting look at the tense relationship
between the spirit and everything else.
For more information, including how to suggest a Deviation
to be featured, please visit us at
DailyLitDeviations
.
Thanks so much for supporting the lit community and this project!
~ The
DailyLitDeviations
Team ~
Prepared by: spoems