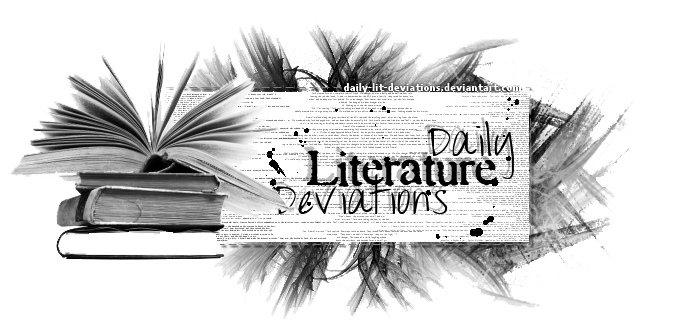 Guidelines
|
How to Suggest a DLD
|
Group Administrators
|
Affiliation
|
Chatroom
|
Current Staff Openings
Daily Lit Deviations for June 10th, 2013
We are proud to feature today's Daily Literature Deviations!

You can show your support by

ing this News Article.
Please comment and

the features and congratulate the artists!

For all of the featured artists:
If you receive a DD for one
of your pieces featured by DLD please note LiliWrites.
We will include you and your piece in a special recognition news article.

Poetry
Suggested by: disrhythmic
Featured by: betwixtthepages

Summertimeit's
riding down cracked-asphalt roads,
sweet tea beside you in the console
while you sit, knees bent back,
languidly slouched so your toes
can soak up the sun heating the windshield,
making the dashboard almost
burn your tender soles
if not for the cooling wind
knotting your hair
like the fingers of a drunken lover
it's
the way the intercostal
is still lukewarm at night;
the memories made at one a.m.
staring down hungry herons,
shrieking like children when
something
brushes its slime against your toes,
and drying off in the stern breeze
that curls your hair
so you don't soak the seats
of the sand-floored van you borrowed
to show your friends the nightlife
it's
the scent of super-heated asphalt
scorching the bottoms
of your knock-off Rainbows
as you weave, in Daisy's cut-offs
and an earth-toned spaghetti strap,
through the glistening crowd
of foreigners, vendors and locals,
and meander around shady tents
peddling everything from hand-crafted,
pearl-and-turquoise wired
Summertime
by
oracle-of-nonsense
From the suggester: This just perfectly captures that one magical
summer everyone wants to have.
Featured by LadyofGaerdon
Wrong shade of blue
by
wordeea
Breathless turn-of phrase and sea-spun
imagery make for a sumptuous read.
Prose
Suggested by: betwixtthepages
Featured by: SilverInkblot

Mr. GravediggerI was cold. I was wet. I was in a shallow, muddy hole.
Digging graves on dark, rainy day was not so bad really. Hard work was good for the soul and such. The one that usually dug the graves – Mr. Gravedigger – sat down using a tombstone as a backrest. He fiddled with a golden locket in his hand.
"Do you know where I got this?" he asked.
I smiled because I knew exactly where he had gotten it from. It was not a pleasant smile. "I suppose you found it somewhere."
"Ayep," he said. "Somewhere I shouldn't be finding things. I, personally now, don't see the sense in burying valuables with the dead. They can't be using it now, can they?"
"No need to explain yourself." I dug and descended down down down into the wet hell of what was once Lambeth's finest cemetery. "God, it's pouring down now."
"There's some pretty hair in this one – this nice locket. You want to see? It's a bit wet now."
The hole was deep enough, I thought. It would do quite nicely.
Once up again, I looked at the
Mr. Gravedigger
by
Rieal-Dragonsbane
Suggester: "The twist at the end of this piece is given in just one line.
This is one flash fiction piece you don't want to miss!"
Featured by LadyofGaerdon
Bored Nearly to Death (Complete)Bored Nearly To Death (A Modern Fairy Tale)
1.
Susanna Victoria Blevins was ten. She had everything a girl her age could ever want. She was an only child in a well to do family and her parents doted on her. The girl lacked for nothing, except for maybe imagination. She was in a constant need for entertainment. She had a wonderful room, full of all the magnificent things she asked for. Her friends loved coming over to play, for Susanna had all the latest and greatest toys. Everything they saw advertised on the television, could be found in there. Susanna had many friends, and it was not just because she had so many nice things to play with. She was a pleasant enough girl and always shared her things with others. She enjoyed her friends because they were spontaneous girls, full of ideas of things to do. Susanna appreciated this because she was prone to boredom. Boredom was something that this little girl loathed. In fact Susanna often thought that if she were ever to get too bored that i
Bored Nearly to Death
by
MojoBrown
This strikingly original story unfolds with precise tension
and just the right touch of horror, the moral reminiscent of the
more sinister of the original Grimm's Fairy Tales.
Suggested by: betwixtthepages
Featured by: SilverInkblot

The Yellow BusThere is a yellow bus trundling on the pothole-riddled road. It coasts from side to side, all drunk and a-sway – bathed as it is in the dawning morning light. Passengers wait in the shade of leaky sheds, covered in dust from head to toe: their clothes, once-vivid, brushed over by shades of subtle grey; their faces, once light brown, nearly indistinguishable from the permanent frown waiting brings. It stops, shuddering to a halt every time someone flags it down. Then the trees fly past, sometimes near, sometimes far; and the yellow bus goes on trundling down the pothole-riddled road.
It's as tall as one-and-a-half buildings stacked on top of one another. Not a very pretty figure to be dancing through snake-like traffic and speeding cars in provincial towns. But the passengers inside, their heads angled to wherever the window is, breathe in the distinct aroma of sleep. It is too early for open eyes; slowly, they nod off to another world.

The Yellow Bus
by
thestaccatobutterfly
Suggester: "The clarity that comes moments after a close-call,
a brush with death, is more powerful than anything else.
thestaccatobutterfly brings this clarity to life in The Yellow Bus."
For more information, including how to suggest a Deviation
to be featured, please visit us at
DailyLitDeviations
.
Thanks so much for supporting the lit community and this project!
~ The
DailyLitDeviations
Team ~
Prepared by: SilverInkblot