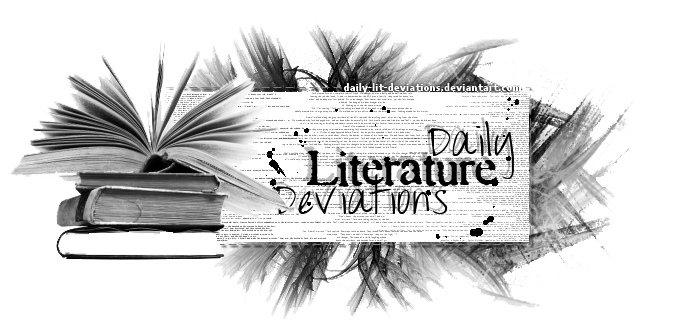 Guidelines
|
How to Suggest a DLD
|
Group Administrators
|
Affiliation
|
Chatroom
|
Current Staff Openings
Daily Lit Deviations for June 10th, 2012
We are proud to feature today's Daily Literature Deviations!

You can show your support by

ing this News Article.
Please comment and

the features and congratulate the artists!

For all of the featured artists:
If you receive a DD for one
of your pieces featured by DLD please note LiliWrites.
We will include you and your piece in a special recognition news article.

Poetry
Featured by: Nichrysalis
:thumb300970178:
In Riposte, J
by
UnspecifiedUnknown
In Riposte, J is a dose of dictional deicide.
Featured by: betwixtthepages

The Gift of WingsThere are feathers in
your hand when you wake
and from somewhere afar you
can hear the song of beautiful
little birds, beckoning.
You want to join them.
A fluttering on the windowsill, now—
capture it in trembling
fingers and whisper
old memories into ears
that will transform your clumsy
human speech; new melodies
will be born out of your sorrow
and perhaps tomorrow
you will feel lighter.
For today, for now, you can hold the bird gently
fling it onto the sky
and smile.
"The Gift of Wings"
by
linderel
This lovely piece reminds readers that sometimes,
with dreams and in life, we just have to spread our
wings and let ourselves fly, regardless of the consequences.
Prose
Featured by doodlerTM

Eyes     Blood did not connect Rafi to her mother, a common fact that the two often forgot.  Her father, too, was not her blood father, although he served his role with the utmost enthusiasm.
     Although her mother and father were darker skinned than she, Rafi was toned enough to pass as their daughter, and company often thought that was the case.
     
     Faron, a neighbor to Rafi's parents, did not see Rafi often, for her job kept her busy. She had been flying to other cities much more often lately due to her high status as a messenger.  He, too, saw Rafi as the daughter of Julie and Krupi, for she was, although he knew not that she was adopted.  Such a trivial thing was rarely on the mind of the family of three; why bring it up? It didn't make them any less a family.
     "You have such a beautiful family," Faron commented to Juli
Eyes
by
TiaTitan
A well-written and thought-provoking vignette.
Suggested by: SilverInkblot

CharlieI had a stalker.
I didn't know his name but I'm sure he knew mine.
I called him Charlie.
He always had a camera hanging from his twig thick neck and he cradled it in his hands; a wispy finger stroking the shutter release. His dark brown hair was a curly mess and his shirts wrinkly and thin. He had the most perfect eyebrows, sweeping and gentle. He must have the most captivating eyes, I thought every time he'd glance my way. We'd never made eye contact. Charlie preferred it that way.
He came into the bookstore once a week, not to watch me leaf through the used books or reach high to shelve the approved ones, but to actually browse them. He read the unknowns; the virgins with their unbroken spines. I imagine he liked the smell of them – aromas preserved for him alone. Charlie appreciated the books wearing dusty coats and factory perfume a decade old.
The rest of the time he spent on the outside looking in. My co-workers were tickled pink. "What a geek." "Poor guy doesn't realize you
Charlie
by
0hgravity
Subtle, quiet, and captivating, and just a little magical.
Foreign Language
Featured by shebledgreenink

la mer | the seala mer me pardonne | the sea forgives me
quand je la demande. | when I ask her.

elle m'embrasse | she embraces me
avec des bras d'eau, | with watery arms,
des caresses éternelles | eternal caresses
ainsi chaudes, ainsi froides,
la mer | the sea
by
Ascahithiel
A vivid and imaginative tribute to the ever-mysterious sea.
For more information, including how to suggest a Deviation
to be featured, please visit us at
DailyLitDeviations
.
Thanks so much for supporting the lit community and this project!
~ The
DailyLitDeviations
Team ~
Prepared by: spoems