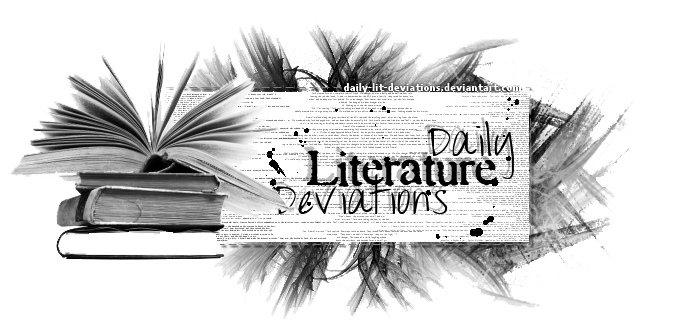 Guidelines
|
How to Suggest a DLD
|
Group Administrators
|
Affiliation
|
Chatroom
|
Current Staff Openings
Daily Lit Deviations for July 28th, 2013
We are proud to feature today's Daily Literature Deviations!

You can show your support by

ing this News Article.
Please comment and

the features and congratulate the artists!

For all of the featured artists:
If you receive a DD for one
of your pieces featured by DLD please note LiliWrites.
We will include you and your piece in a special recognition news article.

Poetry
Suggested by: intricately-ordinary
Featured by: DrippingWords

waking upand imagine my surprise
when my insides bloomed
into so many dandelions,
and in a single breath
i became
hollow.
"waking up"
by
disrhythmic
Suggester says: "In just a few words,
this poem paints a vivid picture and
portrays a beautiful kind of emptiness."
Suggested by: Sleyf
Featured by: spoems

Inferno: Canto XXX.VAnd all around my Guide and I was black.
An oppressive dark that could not be fought,
Though we held a lantern, still light it lacked.
"Hide!" hissed Daniel Webster, as a strange light sought
And revealed not a foot from my head a knife
As well as the sinners who here would rot.
"Here awaits those who desired attention in life
The ones who sought glory that was not theirs
And with their words and actions caused strife."
"Tell me, Carnegie, first among millionaires,
The sins of these men have littered the world with bones
So do you think their punishment truly compares?"
And all about I heard the agonized moans
Of those evading that devastating beam
Only to trip and make music of their groans.
All the sinners slowed, as if walking in a dream
None could outrun the pain of the light
And so howled when their skins began to steam.
Thus the glory, which once did so delight
Seared them, and their glory lust did quell,
And now all they wished was the coming
Inferno: Canto XXX.V
by
LuckySlugger
Per the suggester: "A poem written as an
addition to the original. LuckySlugger
has added his own subtle twist while maintaining
the integrity and form of the classic."
Suggested by: ithaswhatitisnt
Featured by: betwixtthepages

OpheliacTake me back to Elsinore
on a diet of riverwater
and pond flowers.
Wrap me up in satin.
Leave me with my poetry
and love me
like burn marks
love an ashtray.
Trail fingers down my back
and claw my soul to shreds.
Let the water drip down
my living corpse
and love me
like the twisted
weeping willow tree,
Where my dress caught in the bows
with threads of
promise blue
and
periwinkle violet.
And hang me from the battlements
by strands of golden hair
-Emilienne C. Bratt 7/24/13
Opheliac
by
EmilienneCBratt
From the suggester: I think this piece,
besides having a clever title, perfectly
describes Ophelia in a way most people who
have read Hamlet may not have considered
before. She might be insane, but these lines
make insanity look like paradise.
Prose
Featured by doodlerTM

Bo.When Lindsay was born, Bo was there. Standing beside her mother, he was the first thing she ever saw. But he was not her father; her father stood on the other side.
Bo was there until the very moment she died.
-
6
-
The sun shone bright through the windows of her pink-laden room. She loved pink. And black.
"Because Bo is black," she'd told her parents.
Her imaginary friend, they soon concluded.
"Bo is all black," she described one night as her father tucked her in, "His skin and his hair and everything. He doesn't talk a lot."
Her father frowned.
"He sounds scary."
"He's not," she insisted.
Bo sat on the bed and said nothing.
Her father kissed her good night and turned out the light.
"Why can't Dad see you?" she asked.
Bo shrugged.
"Are you real?"
"Are you real?" he replied.
"Of course!"
"How do you know?"
"Because...I just
Bo
by
Silver-cLaw
An intriguing story about a woman who
can see something quite supernatural.
Featured by: SilverInkblot

Shallow WaterIt was just a little kiddie pool in the backyard, unlovely pink-and-yellow plastic under the hot summer sun. But on those nights when Mom came home from the swing shift tired and met Daddy sitting in the kitchen angry, it was Amy's only sanctuary.
She wasn't a sound sleeper. Her parents still talked about how it had taken her infant self six months to sleep more than two or three hours at a time. During the school year, when her life was full of classes and friends and sports, it was easier to drop off, but summer nights were always more difficult. They were hotter, for one thing, and the long, indolent, inactive days often left her feeling too tired to sleep.
But mostly, it was because her parents had their arguments at night, right when Mom got back from the station. Daddy would send Amy to bed -- or at least her room, to pretend to sleep -- hours before. Then he would wait, sitting at the kitchen table and facing the door like a judge, hands folded in front of him
Shallow Water
by
CynicalSyndrome
The author neatly ties in several motifs
into the 1000 word limit and keeps the violence
offscreen, choosing instead to focus on the real
victim when parents are fighting.
For more information, including how to suggest a Deviation
to be featured, please visit us at
DailyLitDeviations
.
Thanks so much for supporting the lit community and this project!
~ The
DailyLitDeviations
Team ~
Prepared by: spoems