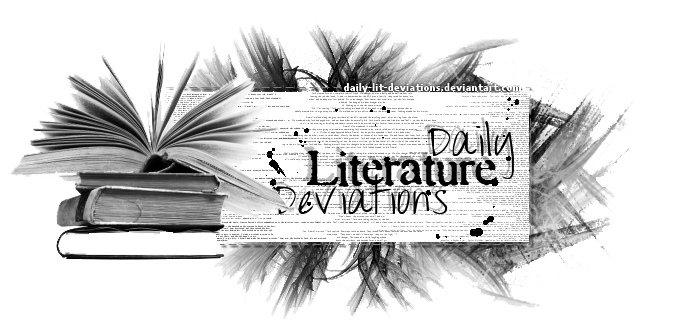 Guidelines
|
How to Suggest a DLD
|
Group Administrators
|
Affiliation
|
Chatroom
|
Current Staff Openings
Daily Lit Deviations for July 25th, 2012
We are proud to feature today's Daily Literature Deviations!

You can show your support by

ing this News Article.
Please comment and

the features and congratulate the artists!

For all of the featured artists:
If you receive a DD for one
of your pieces featured by DLD please note LiliWrites.
We will include you and your piece in a special recognition news article.

Poetry
Suggested by wyldhoney
Featured by LiliWrites

.disease.What is it that you have done to me?
where flow and syllables have taken control.
where lighting is key to a good photo,
even if it's just for your facebook.
And while I would have said,
you two look so cute,
that lovely fuzzy border
with the hearts in the corner,
could terribly use some work.
And while I want to say
the lighting is not right
it really doesn't matter,
because they are not
photographers.
And when they type a few lines
into a facebook status
about how much love hurts,
and I'm sitting here thinking
rhymezone.com could use,
just a few more clicks.
And I type the words lovely,
and all of the sudden,
a critique feels the need,
to show it's ugly head,
on a piece they don't even mean,
to be a form of art.
Art, what have you done to me?
I read petty poetry
from those who are not writers,
and I can't help but secretly
pick it apart.
I look at the photos
by those who do not photograph,
and all I hear in my mind,
is critique.
Art, you, you are not a love,
you are an addicts diseas
84. Disease
by
WorldWar-Tori
Sometimes your critical eye can be a weakness.
WorldWar-Tori explores that predicament in this
scathing critique of an artist's eyes.
Suggested by: DrippingWords
Featured by: LadyofGaerdon

TigressShe is the kind of girl who smothers herself in astronomy,
New Age philosophies and coffee shop poetry.
All fire and dragon scaled-
She hides her tiger stripes behind bruises and ink stains,
living her life by way of verse-
throwing Hemingway around like insults.
Writing her letters to the moon,
she hides her heart underneath her own floorboards,
folding blank paper birds just to set them free at 3AM.
But, it's the lipstick stained collars,
the rose thorned fingers,
and the dead stars in her chest cavity
that tell her- even a tigress can bleed.
Tigeress
by
DearPoetry
Says the suggester: "The imagery of this
piece flows well, creating the character and her
feelings with elegance and poise."
Suggested by: SCFrankles
Featured by: SilverInkblot
:thumb311188890:
Shower
by
flysome
Suggester: "A six word story that is also a haiku.
Witty, technically adept, and "pretentious bastards"
keeps making me collapse with laughter."
Prose
Featured by shebledgreenink

Painting NightsDear Emma,
The truth is I'm not a painter.
The truth is I followed you here from that flower shop on Whitmore Street, two and a half months ago. Please, keep reading.
You actually took my breath away when I glimpsed you holding a bunch of lilies in your slender hands at the flower shop counter.  You stunned me. That's never happened to me before. I was watching you turning the bouquet left to right, you seemed in awe of the flowers' beauty.  Your eyes, your perfect smile, the way you held yourself. It was not a conscious decision to follow you here. I think I was in a trance. I know how it looks; I know it sounds like a movie.
When Miss Vale said it was only the beginning of the painting course, lesson two, I signed up, paid my money on the spot, just to follow you into the room.
Just to keep seeing you.  Just to be near you. I know it's crazy.
I stared at the back of your bobbed hair for that entire lesson. In my mind I was shouting for you to turn around
Painting Nights
by
brassteeth
The main character of this piece is so
honest and so innocent in his love that you
can't help falling for him and his story.
Featured by xlntwtch

Purple Haze, Purple ProseThere was a war going on. Somewhere, people were dying.
Somewhere, at this very moment, somebody was drawing their last breath on ragged lungs, pierced by bullet or blade, or claw or horn.
But not here.
Here, in the midst of all this death, Mike pulled life from the earth. Here, he grew turnips. To their left, he grew carrots, and to their right, he grew beans. There was cabbage and kale, and tomatoes and peppers and a handful of logs with mushrooms sprouting. He had potatoes and pumpkin patches, pots and planters overflowing with fruit and herb.
This was his kingdom. This was his domain. This was the land that he guarded with a quick hand and watchful eye. And when he wasn't standing watch, he foraged.
When their lives fall apart, people stop tending their yards. In abandoned lots and lawns, weeds grew like yellow-tipped wildfire. And wildfire made for good eatin'.
So Mike picked, and Mike plowed. He pulled the choicest clover and made marvelous mustard and dandelion wine. He made sal
Purple Haze, Purple Prose
by
AnonDesu
A great hook starts
this flash fiction "purple prose"
-- writing that packs a real punch.
For more information, including how to suggest a Deviation
to be featured, please visit us at
DailyLitDeviations
.
Thanks so much for supporting the lit community and this project!
~ The
DailyLitDeviations
Team ~
Prepared by: LadyofGaerdon