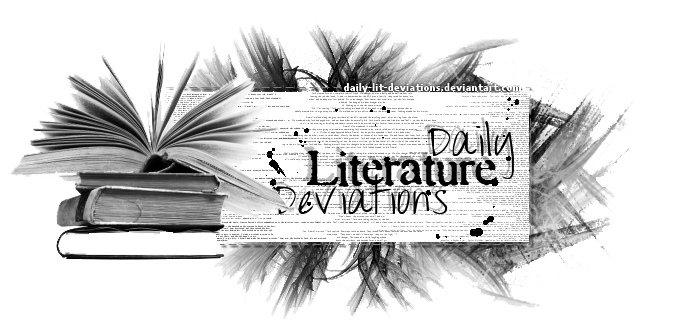 Guidelines
|
How to Suggest a DLD
|
Group Administrators
|
Affiliation
|
Chatroom
|
Current Staff Openings
Daily Lit Deviations for July 22nd, 2012
We are proud to feature today's Daily Literature Deviations!

You can show your support by

ing this News Article.
Please comment and

the features and congratulate the artists!

For all of the featured artists:
If you receive a DD for one
of your pieces featured by DLD please note LiliWrites.
We will include you and your piece in a special recognition news article.

Poetry
Featured by: betwixtthepages

Hospice VillanelleThe day is done, the shadows deep
life is marked in shades of grey
I sit and watch my father sleep
endless TV shows so cheap
seen this show ten times today
the day is done, the shadows deep
no more machines to hiss and beep
food untouched upon the tray
I sit and watch my father sleep
nothing left for me to keep
give the last presents away
the day is done, the shadows deep
all I want to do is weep
wish me happy holidays
the day is done, the shadows deep
I sit and watch my father sleep
Hospice Villanelle
by
RedDragonfly
This villanelle about watching a father sleep
in the hospice is both lovely and heart-breaking.
Any reader who has visited an ill loved one in the
hospital or nursing home knows the desperate hopelessness
that clings to every word. RedDragonfly has
woven an intricately subtle story with this piece.
Suggested by: shebledgreenink
Featured by: Nichrysalis

endingNora,
I understand now
why you held your secret alone.
Death is huge and grasping,
it rocks you, catches the end
of your laugh, turns it inside out.
Death is always secret and always
alone, though
your cello wept with your raging grief
and my words tear themselves
from my throat.
But I know now, you must learn to forgive yourself
your own simple, ugly,
inexplicable human
death,
and let go of dignity
to find peace.
ending
by
sunshinegypsy
From the suggester: This poem approaches death
with such tact. It is neither too dramatic nor too
stoic, neither too optimistic nor too miserable.
It is just right.
Prose
Featued by xlntwtch

Drunken (r)AmblingA minotaur and centaur walked into a bar.
The gryphon, however, flew over it. And the basilisk had the presence of mind to duck.
A chimera whipped out its cell phone and dialed 911. A pegasus promptly responded, treating the minotaur for a black eye and the centaur for a bruised hoof.
And to top it all off, it turned out the offending structure belonged to a satyr, who was also a lawyer. He was promptly . . . disbarred.
Drunken (r)Ambling
by
HaveTales-WillTell
In answer to a challenge to write a vignette
in fifteen minutes, HaveTales-WillTell used
mythological creatures in seventy-seven words,
and produced a hilarious piece.
Featured by doodlerTM

The Virgin House"Let's see…eye of newt, boiled bat wings, mandrake root, and- My, my, tears of a virgin? Where am I going to get a virgin?"
"Perhaps you can place an ad in the paper?"
"Hush, Madrina, I'm trying to think." Aggie rubbed the mole on her chin. Her cauldron boiled happily in front of her. "Let simmer for three full moons," she read from her spellbook. "I have time." Aggie turned on her heel, and her robes spun with her. "Madrina!"
"Yes mam!"
"Go into town and find a man named Richard Sphin. He deals in uncanny business. Tell him I wish to order a virgin."
"Can we get a cat scratcher for my nails?"
"Not enough money."
The bumbling girl shuffled her feet and let out a small meow. "Perhaps we could buy a ball of yarn?"
"No! Do your errands!" The witch waved her Familiar away and went back to work.
---
The day the virgin was to arrive A
The Virgin House
by
ElegantFaith
A short fantasy piece that is
humorous in all the right places.
Suggested by disrhythmic
Featured by LiliWrites
:thumb308850043:
affair with anamnesis
by
ingle-nook
Suggester writes: "This is beautifully and
luxuriously described, and it needs more love. With
lines like ...in Paris, even a final breath
can be misconstrued as something romantic,
it speaks for itself."
For more information, including how to suggest a Deviation
to be featured, please visit us at
DailyLitDeviations
.
Thanks so much for supporting the lit community and this project!
~ The
DailyLitDeviations
Team ~
Prepared by: spoems